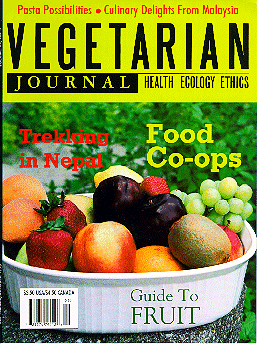 ---
Vegetarian Journal
Excerpts
September/October 1996
Volume XV, Number 5
---
---
Food Cooperatives: Save Money and the Earth
By Barbara Kajos, R.D.


My neighbor, Ann, told me she was spending hours in the supermarket reading food labels because of her son's newly diagnosed food allergy. "I've even been to the health food store," she said proudly. This is the same woman who rolled her eyes when I mentioned the natural foods I buy, the--"far out" foods like tofu, tempeh, and soy milk. I introduced her to the Northeast Cooperative Pricelist, and invited her to come with me to a co-op order meeting. She had never heard of pre-order buying clubs and was surprised to find one nearby. Ann had found new foods at the health food store that her son liked, which gave him more food choices. The idea of a buying club intrigued her, so she joined me at our next meeting.

"It makes eating healthier so much easier," says Carol Coughlin, R.D., a consulting dietitian in private practice and a co-op member. "Customers save money by buying foods at wholesale prices and in bulk quantities," she adds. Food cooperatives or pre-order buying clubs appeal to a wide range of consumers, both vegetarians and non-vegetarians, who buy foods with organically grown ingredients, organically grown produce, and cruelty-free and environmentally friendly household and personal care products.

Northeast Cooperative (N.E.C.), a cooperative distributor of quality natural foods in Brattleboro, VT, sells food products that contain no sugar, no additives, and no artificial ingredients. Northeast uses organic coding to distinguish the percentage of organically grown ingredients in the foods it sells. There are retail member co-ops which sell to the public, such as a health food store. The pre-order buying clubs typically consist of 8-10 households, pooling their time and dividing the work equally among themselves to buy healthful foods at lower prices. They make up about 40% of Northeast Cooperative's business.

Anyone can call N.E.C. for the names of the co-ops in their area or for information on how to get one started at (800) 334-9939, ext. 366. Everyone is expected to participate by performing a job, which can vary from working on a computer to clean-up after an order is dispersed or broken down. Members meet at regular intervals and place individual food orders using the Northeast Pricelist, a monthly price guide. A designated person places the order by modem, fax, or phone. A software program is available free to all members which streamlines all pre-order operations. Members pick up their orders at one of the Northeast warehouses or meet a delivery truck at a pre-determined breakdown site, often a church, club, or public building.

An additional benefit of co-op membership is the opportunity to attend Northeast Cooperative's Annual Meeting and Food Fair. Over 1,500 people attended last year's Food Fair held at the Royal Plaza Trade Center in Fitchburg, MA. Vendors staffed 185 booths with a total of over 220 products to sample. According to Betsy Gentile, Marketing Administrator and Member Educator for N.E.C., "the Food Fair is unique because it is the only food show with direct customer participation." Members taste-tested samples at most booths, placed orders, and learned about new products. Many vendors offered a "line drive" sale in which all items in their product line were discounted 10-30%. The next Food Fair will be held at the same locale on November 2, 1996.

Northeast Cooperatives services accounts in the six New England states , eastern New York, and most recently in New Jersey and Pennsylvania. Cooperative distributors like N.E.C. are located in every geographic area in the continental U.S. For more information on cooperatives around the U.S., contact the National Cooperative Business Association in Washington, DC, at (202) 638-6222.

N.E.C. is a member-owned, member-controlled business. Buying food through the co-op system supports organic food production, sustainable agriculture, and small business development.

On a more personal level, just sharing an idea by word-of-mouth can make a big difference in the quality of someone's life. My neighbor, Ann, joined our co-op, simplified her life, and made some friends, too.



---
This article originally appeared in the September/October 1996 issue of the Vegetarian Journal. We encourage you to subscribe to the magazine.

Thanks to volunteer Jeanie Freeman for converting this article to HTML
© 1996- The Vegetarian Resource Group
PO Box 1463, Baltimore, MD 21203
(410) 366-8343 Email: vrg@vrg.org



Last Updated
September 20, 1997

Graphic design by


The contents of this web site, as with all The Vegetarian Resource Group publications, is not intended to provide personal medical advice. Medical advice should be obtained from a qualified health professional.

Any pages on this site may be reproduced for non-commercial use if left intact and with credit given to The Vegetarian Resource Group.

Web site questions or comments? Please email brad@vrg.org.