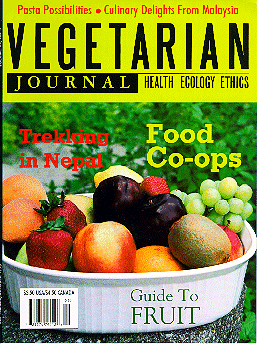 ---
Vegetarian Journal
Excerpts
September/October 1996
Volume XV, Number 5
---
---
Trekking in Nepal
By Cheyne Keith
Cheyne Keith is a freelance writer from Boulder, CO.

Check out the Nepalese recipes!

My desire to continue working as a Head Chef on Wall Street in New York City grew progressively weaker as the urge to travel gained irresistible strength. I needed new taste sensations and wanted to find the roots of my vegetarianism. Something had to give and that something would be my apartment lease--that most holy of covenants in Manhattan. It was time to leave the city and ship out for a trek around Mt. Annapurna in the Himalayas of Nepal.
Arriving in Katmandu, Nepal, prior to the autumn trekking and climbing season, was like being the first to arrive at a party. Frenzied innkeepers and merchants scurried around the empty streets preparing for the imminent onslaught of thousands of trekkers and a lesser number of climbers. My wife and I settled into an entirely deserted hotel and then set out to relieve our building appetites.
Green Village (vegetarian) Restaurant's quiet and restful courtyard is a lovely refuge from the bustle of Katmandu, and we were lucky to find it. We ordered the meal that would sustain us during our upcoming trek: daal bhaat. Composed of basmati rice, soupy daal lentils, and a small taste of green vegetables, it is a simple and nutritious all-you-can-eat affair. It took an hour to reach the table, but was well worth the wait.
On our second day in Katmandu, we found dining nirvana at the Himalayan Yogic Institute. Located away from the city's hectic center, the institute offers Buddhist programs ranging from one afternoon to a lifetime. Lunch there included daal bhaat, a delicious curried potato-cauliflower dish, and a wonderful chili achar relish. There was also potable water in a large earthen crock. The long walk back to our hotel gave us a better taste for the capital city than had the bicycle-rikshaw in which we had arrived.
A few days later, we boarded a bus heading west to start our vegetarian mountain adventure. The Anna-purna Circuit Trek circumnavigates Mt. Annapurna (26,448 ft.) and is dotted with tiny inns providing food and lodging. Avoiding meat was rather easy, but avoiding all dairy was not. The remarkably good natured inn keepers never quite understood the concept of "no dairy." I discovered quickly that vegetarianism is practically unheard of among the Nepalese--including Buddhists! Tolerance, acceptance, and patience proved more valuable along the trek than did strong leg muscles or an unyielding dietary dogma.
A few hours of driving brought our bus to Dumre, where most of the passengers transferred to an extremely overcrowded truck headed toward the trailhead. Because of the late-ending monsoon's rain, the truck bogged down in the mud--leaving everyone to walk for three hours by the delightfully warm light of an October full moon.
Breakfast the next morning was a bowl of tsampa porridge. Tsampa is basically flour, water, and lots of salt over which a very nasty, rancid blue cheese mixture is poured. Things got better, however. As we began walking, the mountains were hiding behind the clouds, and quite surprisingly there were orange trees, wild cannabis plants, and sculptured rice paddies. Where were the fierce blizzards and blinding glaciers for which Nepal was renowned? At an inn along the cobblestone path in Ngadi, we ate several scrumptious plates of tiny golden potatoes fried with garlic and accompanied by a spicy and salty chili relish. There was also glass after glass of sweet boiled lemonade, called "hot lemon. " The simplicity of the food and drink was their strength, and the Nepalese innkeeper and his family at The Kamala Lodge were a delight. We decided to stay a few nights.
Breakfast in Ngadi consisted of fresh chapati bread. Potatoes again for lunch and daal bhaat again for dinner left us feeling confident that there would be no difficulty in finding nutritious meatless meals in the upcoming three weeks.
A porter carried the bulk of our loads onward from Ngadi as we made our way toward higher altitudes, past numerous switchbacks and spectacular waterfalls. Perched on a steep and unlikely hillside in the hamlet of Chamje was the lovely Tibetan Hotel, with an incredibly situated balcony. Their turmeric-flavored curry almost overshadowed the setting. The trek continued for a few hours after lunch, and then we paused for the night.
Upwards and counterclockwise for a week the trek continued, leaving the tropics behind as we moved behind the Annapurna massif. The landscape there resembled Wyoming more than the mountains described in Peter Matthiessen's book, The Snow Leopard, but at least the mountains had finally emerged. In Pissang a group of British soldiers on a climbing trip introduced us to one of Nepal's most tasty dishes: Potato mo-mos.
A mo-mo resembles a Polish pierogie except that mo-mos often came with pebbles or twigs imbedded in them. While always bland, they were served with a spicy and salty chili relish. During the next week, as the altitude steadily increased over 10,000 feet, I began to crave them fried and not boiled. I also began to eat an awful lot of them.
A tent made of yak-hide and crammed full of chanting Tibetan monks surprised us halfway between Pissang and Manang. I felt guilty and sad when I realized that these monks were the actual refugees from the Chinese takeover of Tibet almost 40 years ago; perhaps the bargain "Made in China" sleeping bag I carried was not a bargain after all. The Tibetans generously and unexpectedly shared their daal bhaat with us. The surprise was that it was flavored with dried strips of yak meat! On the edge of the Tibetan plateau we were eating yak with a group of Tibetan refugee monks! What was vegetarianism, I wondered?
Manang was the next village, and somehow in our imaginations we had hyped it up to be a Las Vegas in the Himalaya. The marquee would read: ELVIS IN MANANG! Well, the King wasn't there, but something better was--a bottle of Tabasco! With a belly full of yak, and a few of the culinary comforts of home, a few days of acclimatization were in order.
There in Manang, we ate hash brown potatoes for breakfast. After breakfast our motley group sweated our way up a steep hillside to receive a blessing from a cave-dwelling Tibetan monk. In a ceremony replete with holy water dribbled on our salty foreheads and yellow ribbons tied around our necks, he wished us luck, in Tibetan, on our crossing of Thorung La pass in a few days' time. Ramen noodle and fresh radish soup for dinner that night never tasted so good, and surely the Tabasco hadn't hurt either.
After climbing a 15,750 ft. "hill" on the second acclimatization day in Manang, I ate three dinners in succession and then drank a pot of milk-tea. A flock of ravens, sitting on the dining terrace's snow covered stone wall, squawked at me as I reeled from the impact of so many calories (and, I suspect, from so much MSG). My body craved fat, and was doing its best to appease itself. Up at that altitude your body asks strange things of you. Mine was begging for fatty calories.
Crossing the 17,870 ft. Thorung La pass three days later was grueling work, but the views of Annapurna were simply spectacular. I descended (with a terrific headache) along the air-starved pass, which now joined with the Jomson "Apple Pie" Trek. This side of the trek was relatively luxurious, especially after having frozen one's tail off for the last week. There was a wider variety of vegetables available on this side of the pass and even whole grain breads!
It was a perfect place to be a vegetarian, if one didn't mind bending the definition occasionally. I had begun to eat the (yak) cheese by then, and my ribs were showing prominently as I worried more about my weight than my dietary dogma. At the Thak Khola Hotel and Jimi Hendrix Restaurant (he supposedly stayed there), in the airstrip town of Jomson, there was pizza made with noodles instead of a dough crust. It looked suspiciously like Ra-Ra (ramen) noodles covered with chili sauce and yak cheese.
Fresh pressed apple juice was a pleasant treat in the town of Tukche two days later. Unfortunately, I spent the next 48 hours in the outhouse, with a case of Giardia--regretting ever having left America. As the trail continued to move downhill, day after day, Coca-Cola, which is laboriously carried in on the backs of porters, helped with maintaining my caloric intake. The availability of potato soup, tomato soup, and vegetable-ramen soup ensured that even the most nauseous of travelers could eat. The hospitality continued to be amazing but my ribs were really starting to show. I was beginning to feel bittersweet about the Annapurna Circuit.
Back again in Katmandu a few days later I found myself fifteen pounds lighter and practically drooling beneath a flashy sign poised high above a side street. Who cared if it wasn't really a licensed franchise, this pseudo-Pizza Hut. It sounded, well ... sanitary. I didn't mind that the pizza was made right on the kitchen's dirt floor where two cute babies were playing beneath a statue of the Hindu god, Vishnu. Such things didn't bother me after trekking the Annapurna Circuit. What I desperately needed, though, was a dose of anything resembling home. I just hoped the pizza came with a crust.
---
Recipes
SALTY CHILI RELISH
(Serves 6)

This salty relish enhances the relative blandness of so many Nepalese dishes that the trekker can grow rather fond of it!
4 hot green chilies (serrano or jalapeno) with seeds intact
2 cloves peeled garlic
1/2 teaspoon kosher salt
Water as needed

In a mortar with pestle (or food processor) grind all the ingredients to a pulp. Add more kosher salt if authenticity is the goal.
Note: Roasting the garlic with its skin on and then peeling it, and roasting the peppers, while not authentic, makes this rather plain condiment something to remember. Also try adding fresh ginger or cilantro!

Total calories per serving: 10
Fat: 1 gram
---
TOMATO ACHAR
(Serves 6)



Although not traditional, try replacing one tomato with a mango or even a ripe peach. Amazing!
2 cloves peeled garlic, minced
2 Tablespoons fresh ginger, minced
2 teaspoons oil
2-4 hot peppers, minced
1/2 teaspoon cumin
1/2 teaspoon turmeric
1/4 teaspoon mild curry powder
Pinch of salt
2 tomatoes, finely chopped
1/2 cup water

Saut the garlic and the ginger in the oil for five minutes. Add the pe ppers and spices and saut a few seconds more. Add the tomato and the w ater and reduce heat to a simmer. Cook until the achar is the consiste ncy of catsup.
Total calories per serving: 31
Fat: 2 grams
---
DAAL
(Serves 6)



Mild flavored and soupy, this dish is the perfect companion for bhaat or mo-mos!
4 cloves peeled garlic, finely chopped
2-3 Tablespoons fresh ginger, finely chopped
1 Tablespoon oil
3/4 teaspoon turmeric
1/2 teaspoon cumin
Pinch of salt (optional)
1/4 teaspoon ground cardamom (optional)
11/2 cups daal beans, sorted and rinsed
6 cups water

In a heavy pot saut the garlic and ginger in the oil for five minutes. Add the spices and saut a moment more. Add the daal and the water and bring to a boil. Reduce the heat and simmer uncovered for one hour--or until the daal is tender. The final result should be soupy and mild flavored.
NOTE: The daal bought in Indian or Asian stores often contains more pebbles than the more readily available split peas or lentils. Thorough sorting and rinsing are therefore essential. Also, daal comes in many colors--so mix and match as you choose. In Nepal, a small amount of salty chili relish is often served with daal-bhaat, so spice accordingly.
Total calories per serving: 215
Fat: 3 grams


---
POTATO CURRY
(Serves 6)

Be sure to remove the dried peppers!
6 cups small potatoes (avoid baking [russet] potatoes as they don't ho ld up well)
1/2 teaspoon fenugreek seed
2 Tablespoons oil
1 large onion, coarsely chopped
3 Tablespoons ginger, minced
4 cloves peeled garlic, minced
1 teaspoon coriander
11/2 teaspoons cumin
2 teaspoons curry powder
1 scant teaspoon turmeric
2 tomatoes, coarsely chopped
1-2 dried hot peppers, left whole
Water as needed

Precook the potatoes in water (or in the microwave) until almost, but not quite, done. Drain thoroughly.
While the potatoes are cooking, saut the fenugreek seed in the oil on medium heat until light brown, being careful not to burn them. Add the onion and continue cooking for five minutes. Add the ginger and garlic and cook another five minutes. Add the spices and saut briefly to release their flavors. Add the tomato, the dried whole peppers, and a little water. Simmer until the flavors meld together.
Cook on medium heat for about 30 minutes. Gently add the potatoes, stir, and reduce heat. Cook until potatoes are tender, adding water if the sauce gets too dry. If the sauce is too runny, simply crush one of the potatoes to thicken it.
Total calories per serving: 274
Fat: 5 grams


---



POTATO MO-MOS
(Serves 6)


Serve smothered with daal and accompanied with spicy chili relish or tomato achar.

Filling:
4 cups unpeeled potatoes, diced medium
1/2 teaspoon fenugreek seed
2 Tablespoons oil
1/2 medium onion, diced small
2 Tablespoons ginger, minced
4 cloves peeled garlic, minced
1 teaspoon garam masala
1/2 teaspoon cumin
1/2 teaspoon turmeric
1/2 teaspoon salt
1 large tomato, diced small
3/4 cup water

Parboil the potatoes until tender. Drain thoroughly.
In a deep saut pan, fry the fenugreek seed in the medium hot oil until light brown (about two minutes). Add the onion and saut for five minutes. Add the ginger and garlic and cook for five additional minutes. Add the spices and saut for a few moments more. Add the tomato and the water and simmer on medium heat until half the water has evaporated.

Combine the cooked potatoes with the tomato mixture and mash together, leaving it slightly lumpy. Add additional seasonings if necessary.

Dough:

4 cups whole wheat flour
13/4 cups cold water

Mix the water with the flour as if you were making a pie crust. The dough should resemble pizza dough when completed.
On a floured cutting board, flatten a golf ball sized chunk of dough as thin as you dare. Place a heaping tablespoon of the potato mixture on the flattened dough and fold it over on itself. Seal the edges tightly using a few drops of water if necessary.
Steam the completed dumplings on a bamboo steamer rack for 10 minutes. To avoid sticking, keep the water level in the pot high enough to just cover the mo-mos' bottoms.

Total calories per serving: 498
Fat: 6 grams


---
This article originally appeared in the September/October 1996 issue of the Vegetarian Journal. We encourage you to subscribe to the magazine.
Additional information:
Thanks to volunteer Jeanie Freeman for converting this article to HTML
© 1996- The Vegetarian Resource Group
PO Box 1463, Baltimore, MD 21203
(410) 366-8343 Email: vrg@vrg.org



Last Updated
September 20, 1997

Graphic design by


The contents of this web site, as with all The Vegetarian Resource Group publications, is not intended to provide personal medical advice. Medical advice should be obtained from a qualified health professional.

Any pages on this site may be reproduced for non-commercial use if left intact and with credit given to The Vegetarian Resource Group.

Web site questions or comments? Please email brad@vrg.org.