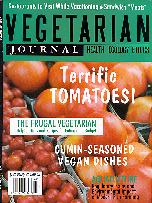 ---
Vegetarian Journal
Excerpts
Jul/Aug 1997
Volume XVI, Number 4

---
---
The Frugal Vegetarian
by Lisa Rivero
---
Check out the recipes!
"I'd like to eat better, but good food is just too expensive. And those fancy ingredients cost a fortune."
"Since we've stopped eating meat, our grocery bills have skyrocketed. Veggie burgers, tofu dogs, and organic potato chips are breaking our budget."
"I don't have time to plan for shopping. More often than not I stop by a deli or store on my way home from work to pick up ready-made items. I wish I could plan better and spend less."
If any or all of these thoughts are familiar, you're not alone. Although many people find that a meatless diet is naturally inexpensive, others struggle to satisfy themselves and their families on a reasonable food budget. If you're spending more money than you'd like on food, you may have fallen into one of these traps:


1. The Gourmet Palate
Many cookbooks offer delicious gourmet-style vegetarian recipes that rival foods served at the best restaurants. The problem is that you may pay restaurant prices to purchase the necessary ingredients. If you love to prepare gourmet foods, you don't have to give up these special meals. Just save them for special occasions. For everyday meals, look for ways to cut costs without greatly affecting the recipe. For example, instead of 8 ounces of fresh shiitake mushrooms, use regular brown or white mushrooms, perhaps with a couple shiitakes thrown in for flavor. Instead of kalamata olives, buy regular black olives. Substitute some shredded red cabbage for radicchio in your salad. No one but you will know that the recipe has been altered. Cut otherwise ordinary vegetables in exciting ways, such as celery and carrots sliced on the diagonal, or potatoes sliced with a curvy-edged blade.
2. Paying for Convenience
Veggie burgers, tofu dogs, tofu-stuffed ravioli, soy-based "cold cuts" ... as tempting as vegetarian convenience foods are, if you're trying to cut food bills, they are best purchased on an occasional basis. Make the mainstays of your diet fresh vegetables, fruits, grains, and legumes, and save the convenience foods for occasional treats. Make your own veggie burgers with texturized soy protein (often sold under the brand name TVP(r)), grains, or legumes. And keep on hand the ingredients for a few "pantry meals" that can be prepared easily with non-perishable ingredients, such as chili made with canned tomatoes, canned or frozen beans, and frozen vegetables.


3. Too Busy to Save
You're on your way home from work and realize that once again, nothing is planned for dinner. So you stop at the deli of a local grocery store and pick up enough oil-based pasta salad, bread, and cookies to feed your family of five. While you're there, you spot a new breakfast cereal, some yummy-looking granola bars, and crackers to munch on in the car. By the time you leave the store you're twenty dollars poorer and mentally chiding yourself for going over the week's food budget.
The secrets to cutting your food bills are relatively simple and revolve around three main ideas: plan ahead, buy seasonal, and think thrift.


Plan Ahead
As simple as it sounds, this is probably the most important piece of advice for cooks trying to cut their food budgets. If you decide on a whim to make your aunt's famous casserole for supper, you'll probably need to make a trip to the store for last-minute ingredients. Because you're pressed for time, you'll be less likely to shop wisely or frugally, and you'll be more tempted to pick up "just a few extras" while you're there.
Instead, set aside about 20 or 30 minutes once a week to draw up a list of meals for the week ahead and the ingredients you'll need. Plan to serve plenty of fresh lettuce salads and other easily perishable foods early in the week. When those vegetables run low later in the week, rely on hardier produce items (broccoli, potatoes, cabbage) or frozen vegetables. Think about how you'll use large quantities. For example, a small family may need to plan how to use up a bag of potatoes before they spoil (some suggestions, hash browns for weekend breakfasts, baked potatoes to be reheated for fast weekday lunches, and mashed potatoes or oven fries for dinner). When you go shopping, bring both the ingredient list and the menu, and don't hesitate to substitute fresher, cheaper produce when possible.


Enjoy Seasonal Fruits and Vegetables
Savor apples, parsnips, pumpkins, and winter squash in the fall; fortify yourself with citrus fruits and plenty of leafy greens in the winter; treat yourself to asparagus, new potatoes, and bibb lettuce in the spring; and enjoy the bounty of berries, tomatoes, eggplant, green and red bell peppers, and zucchini during those hot days of summer. The next time you go shopping, talk to your store's produce manager about what produce is in season and on what day of the week the shipments usually arrive. Vegetables and fruits purchased at their freshest will keep longer in your refrigerator and be less likely to spoil before you get a chance to use them.


Think Thrift
Thrift means more than just saving money. It also means using resources wisely, without waste. Broccoli stems can be shredded to use in slaws, sliced for stir fries, or cut into sticks for munching raw. Leftover cooked rice and other grains are easily turned into non-dairy "milks" for cooking and baking-just blend with water. Extra pasta can be tossed in soup or reheated with a little olive oil and some leftover steamed veggies for a quick lunch. To ensure that leftovers don't end up in the garbage or compost pile, store them prominently in the front of your refrigerator in clear containers, rather than in the back where they'll likely be missed.

Each of the following family-style recipes can be made for about five dollars, or, in some cases, much less. Feel free to substitute seasonal or available vegetables and seasonings when appropriate.


---
Recipes
Homemade Tomato Sauce
(Makes a little over 3 cups)
Enjoy over pasta or pizza.




1/4 cup water
1 onion, chopped
3 large cloves garlic, minced
3 cups canned or fresh chopped tomatoes with juice
One 6-ounce can tomato paste
1 Tablespoon red wine vinegar (use balsamic if you have it)
1 Tablespoon sweetener of your choice
2 teaspoons dried oregano
1 teaspoon dried basil
1 teaspoon dried thyme
Salt and black pepper to taste

In a large saucepan, bring water to a boil. Add onion, and cook, stirring frequently, until water has evaporated. Add just enough water to moisten the bottom of the pan, and continue to cook, adding water as necessary and stirring often, until onions are carmelized (about 20 minutes). Add garlic, tomatoes, and tomato paste, and simmer, covered, for 20 minutes. If necessary, add a little water to thin the sauce as it cooks. Add remaining ingredients, and simmer 5 more minutes.

Total calories per 1 cup serving: 114
Fat: 1 gram

---
Lentil and Carrot Soup
(Serves 4)
Serve with coleslaw and dinner rolls.



4 cups water or vegetable broth
1 medium onion, finely chopped
11/2 cups dry brown or green lentils, sorted and rinsed
2 cups diced carrots
1/4 cup tomato paste
3 Tablespoons molasses
1 teaspoon prepared mustard
Salt to taste

In a fairly large saucepan, bring water or vegetable broth to a boil. Add lentils and onion, stir once, and simmer, covered, for 20 minutes. Add carrots, and simmer, covered, for 10 to 20 more minutes, or until carrots and lentils are tender. Stir in remaining ingredients, and heat through.

Total calories per serving: 275
Fat: 1 gram

---
Fast Chunky Chili
(Serves 6 to 8)
Serve over hot cooked brown rice, barley, or pasta.


1 Tablespoon olive oil
1 onion, chopped
1 green bell pepper, trimmed, seeded, and chopped
3 cloves garlic, minced
4 cups canned or fresh chopped tomatoes, with juice
2 teaspoons chili powder, or to taste
2 teaspoons ground cumin, or to taste
3 cups boiled or canned (drained and rinsed) kidney beans
3 cups boiled or canned (drained and rinsed) pinto beans
Water or vegetable broth as needed
Salt to taste

In a large saucepan, saut onion, green pepper, and garlic in olive oil for 5 minutes. Add chopped tomatoes, chili powder, cumin, and beans. Simmer, covered, for 15 minutes. For a thinner chili, add a bit of water or vegetable broth, and heat through. Adjust seasonings.

Total calories per serving: 260
Fat: 3 grams

---
Vegetable Fried Rice
(Serves 4)
Feel free to substitute chopped cabbage, halved Brussels sprouts, fresh green peas,
or other vegetables for the green beans.


1/2 cup water or vegetable broth
2 medium carrots, scrubbed or peeled and cut into matchstick pieces
2 cups green beans, trimmed and cut
diagonally in 1" pieces
1 Tablespoon peanut oil, canola oil, or
vegetable oil
4 green onions with tops, sliced in 1" pieces
3 cups cold cooked long-grain brown rice
Tamari or soy sauce to taste

In a large skillet or wok, heat water or broth to boiling. Add carrots and green beans, and simmer, covered, until vegetables are tender. Remove lid and cook until water is evaporated. Transfer vegetables to a dish and add oil to the pan. Stir-fry green onions for 2 minutes. Add rice and stir-fry 2 more minutes. Add cooked vegetables and tamari or soy sauce. Heat through.

Total calories per serving: 234
Fat: 6 grams

---
Vegetable Shepherd's Pie
(Serves 4 to 6)
This hearty dish will satisfy your hungriest diner.



4 medium potatoes, peeled and quartered
1/2 cup potato cooking liquid
1/4 teaspoon salt, or to taste
1/4 teaspoon onion powder, or to taste
8 ounces tempeh, steamed and diced, or 11/2 cups cooked or canned (drained and rinsed) garbanzo beans or white beans
1 cup frozen corn, thawed
1 cup frozen peas, thawed
1/3 cup smooth peanut butter
1/2 cup water or additional potato cooking
liquid
1 teaspoon all-purpose seasoning or veg-etable broth powder, or 1 Tablespoon tamari or soy sauce
Paprika

Place potatoes in a large saucepan, and add just enough water to cover. Boil for 15 to 20 minutes, or until potatoes are tender. Drain potatoes, reserving liquid. Mash cooked potatoes with hot cooking liquid, salt, and onion powder. Add additional liquid for desired consistency. Set aside.

Preheat oven to 350 degrees. Combine tempeh or beans, corn, and peas in a 9" pie pan. In a separate bowl, whisk together peanut butter, water or cooking liquid, and seasoning, broth powder or tamari until smooth. Pour peanut butter sauce evenly over vegetables. Top with mounds of mashed potatoes. Sprinkle with paprika, and bake for 30 to 40 minutes, or until potatoes start to brown. Serve hot or at room temperature.

Total calories per serving: 444
Fat: 15 grams

---
Stuffed Manicotti in Tomato Sauce
(Serves 4)
Serve with a green salad.


1 Tablespoon olive or canola oil
1 onion, minced
3 cloves garlic, minced
10 ounces fresh spinach, chard, or kale, washed, de-stemmed, and chopped 1 pound firm tofu, divided
1/4 teaspoon nutmeg
1/4 teaspoon salt, or to taste
8 ounces dry manicotti, cooked until al dente
2 cups Homemade Tomato Sauce or your favorite purchased tomato-based pasta sauce.
1 cup fresh bread crumbs (process 2 slices bread in a blender or food processor)

Preheat oven to 350 degrees. Lightly oil a 9" x 13" baking dish. Set aside. In a large pan, saut onion and garlic in oil for 3 minutes. Add spinach, chard, or kale, cover, and steam until greens are wilted. Transfer to a mixing bowl, and add half of the tofu (8 ounces), crumbled, nutmeg, and salt. Set aside.

In a food processor, blend the remaining 8 ounces of tofu until smooth. Add to vegetable mixture and stir to combine.

Fill cooked manicotti tubes with tofu mixture, and layer filled manicotti in prepared pan. Pour tomato sauce evenly over everything. Bake, covered, for 30 minutes. Sprinkle bread crumbs over the top, and bake, uncovered, for 10 to 15 minutes, or until bread crumbs are toasted.

Total calories per serving: 442
Fat: 11 grams

---
Mini Meatless Loaves
(Serves 4)
Children may try eating these "loaves" with their hands, like muffins, but adults
will probably enjoy Mini Meatless Loaves served hot with a side of gravy or catsup.



1 cup dry texturized soy protein granules
3/4 cup plus 2 Tablespoons boiling water
1 cup Homemade Tomato Sauce or other tomato sauce
1 cup fork-mashed cooked potatoes
1 cup rolled oats
1 Tablespoon dried minced onion, or 1
teaspoon dried onion powder
1 teaspoon dried oregano or Italian
seasoning
1/2 teaspoon dried mustard
1/4 teaspoon garlic powder
Salt and black pepper to taste

Preheat oven to 350 degrees. Oil 8 muffin cups; set aside. Combine texturized soy protein granules and boiling water. Stir, and wait 10 minutes. In a mixing bowl, combine reconstituted granules with remaining ingredients. Stir to mix, then spoon the mixture into prepared muffin cups. (Pack down the top of each loaf with the back of a spoon.)
Bake for 25 to 30 minutes, or until loaves are lightly browned and begin to pull away from the sides of the muffin cups. Wait 5 minutes before carefully removing the loaves with a spoon.

Total calories per serving: 234
Fat: 2 grams

---

The Vegetarian Journal published here is not the complete issue, but these are excerpts from the published magazine. Anyone wanting to see everything should subscribe to the magazine.

Converted to HTML by Jeanie Freeman
© 1996- The Vegetarian Resource Group
PO Box 1463, Baltimore, MD 21203
(410) 366-8343 Email: vrg@vrg.org



Last Updated
September 20, 1997

Graphic design by


The contents of this web site, as with all The Vegetarian Resource Group publications, is not intended to provide personal medical advice. Medical advice should be obtained from a qualified health professional.

Any pages on this site may be reproduced for non-commercial use if left intact and with credit given to The Vegetarian Resource Group.

Web site questions or comments? Please email brad@vrg.org.