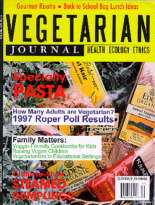 ---
Vegetarian Journal
Excerpts
Sep/Oct 1997

Volume XVI, Number 5
---
---
How Many Vegetarians Are There?
Asks the Vegetarian Resource Group in a 1997 Roper Poll
---
The availability of vegetarian foods has certainly changed in the last twenty years. It used to be that a vegetarian had to make a special trip to the health food store for his or her needs. Now almost every large supermarket carries veggie burgers. Even veggie hot dogs often hide among the meat wieners, and soy milk is sometimes mixed in with the condensed milk. Most stores in major metropolitan areas carry tofu. And some supermarkets even have their own brand of dairy-free ice cream.
There's no question that new food trends have developed and that the interest in vegetarianism has exploded. These changes are a result of people's demand for more vegetarian foods. According to a 1991 Gallup Poll conducted for the National Restaurant Association, about 20 percent of the population looks for a restaurant with vegetarian items when they eat out. In 1994, a study commissioned by Land O'Lakes reported that over half of all American households ate two or more meatless dinners each week and 20 percent of U.S. households ate four or more meatless dinners per week.
Also in 1994, the National Restaurant Association reported that on any given day, nearly 15 percent of the nation's college students select a vegetarian option at their dining halls. The American Dietetic Association reported in 1996 that about 35 percent of the respondents in their national survey said they are doing all they can to have a balanced eating plan.
Based on the above polls and other surveys, The Vegetarian Resource Group estimates that 20 to 30 percent of the population are good candidates for natural and vegetarian foods. This is an important statistic for businesses who want to market vegetarian products, look for investors, or expand their line to include meatless items.
However, marketing aside, The Vegetarian Resource Group was interested to know how many actual vegetarians are out there. Several polls have asked if you consider yourself a vegetarian. In a 1977-1978 United States Department of Agriculture Food Consumption Survey, of 37,135 people surveyed, 1.2% answered yes to "Are you a vegetarian?" However, some of these people also reported eating flesh during the three days on which dietary information was obtained. Answers from later sources have varied from around three to nine percent.
These polls about the trends of the number of people saying they are vegetarian are important because they indicate that there is currently a very positive image about vegetarianism. More and more people want to be called a vegetarian, and the numbers have gone up. The drawback in these types of polls is that you are asking people to define the term, "vegetarian." So the answer is not really indicative of the people who do not eat meat, fish, or fowl.
In a 1994 Vegetarian Resource Group-sponsored Roper Poll we asked, "Please call off the items on this list, if any, that you never eat: Meat (beef, pork, veal, lamb, etc.). Poultry. Fish/Seafood. Dairy Products. Eggs. Honey. Eat Them All. Don't Know." Please note that the key word was never. The numbers would be very different if the word never was omitted.
In 1997, in order to track the trend we again asked the same question. There were no surprises. Basically, the results were almost exactly the same in both years. This does give us even more confidence about the figures being accurate. We will again survey the U.S. adult population in a few years.
POLL RESULTS: In both 1994 and 1997, the number of vegetarians was about one percent. Roper told us that we can have a 95 percent confidence level that the sample is a reliable indicator; that is if we did the survey 100 times, we would probably get the same answer 95 times. In future surveys, we could only be sure of a definite statistical movement if the percentages changed by three percentage points or more.
Similar to the last survey, about one-third to one-half of the vegetarians appear to be vegans. That is, they do not eat meat, fish, fowl, dairy, or eggs. First, the numbers are so small, we don't at all feel comfortable making any conclusions about this statistic. Anybody doing so would be misleading the public. However, it is possible in the United States that a sizable number of people who actually never eat meat, fish, or fowl, tend to become or are vegan. It will be interesting to watch this statistic in future polls, especially if the numbers of vegetarians rise.
When we look at individual categories of foods, the figures are also about the same, changing by 1% or less. Five percent don't eat meat; 2% abstain from poultry; and 4% eschew fish and seafood. However, in 1994, the number of "influential" people never eating red meat was 10% while in 1997 it is 6%. Though, since the absolute numbers are so small, it would be hard to make any conclusions here.
The number of people not eating meat and being vegetarian is highest in the West. Race doesn't make a big difference. About 6% of females don't eat meat while only 4% of males abstain. Five percent of Republicans aren't red blooded meat-eating Americans while 4% of Democrats don't eat the stuff. Opposite of what you might expect. However, because of the low percentages, the numbers are really about the same. Blue Collar gives the lowest response rate as far as occupation. Yet for income under $15,000 the figure is at 6% for no meat, while over $75,000 the figure is at 4%. We want to repeat, strong conclusions can't be drawn from these small differences.
The Roper Poll surveyed a cross section of 1,960 men and women 18 years of age or over interviewed in face-to-face interviews in the respondents' homes. The sample interviewed in this study is a representative sample of the population of the Continental United States, age 18 and up-exclusive of institutionalized segments of the population (Army camps, nursing homes, prisons, etc.) There are about 194 million non-institutionalized adults in the United States, which would give us about 2 million vegetarians.
1997 Sample Poll Results
| | | | | | |
| --- | --- | --- | --- | --- | --- |
| Never eat red meat | 5% | 4% | 6% | 4% | 8% |
| Never eat poultry | 2% | 2% | 3% | 2% | 4% |
| Never eat fish | 4% | 3% | 5% | 4% | 5% |
| Eat none of the above | 1% | 1% | 1% | under 1% | 2% |
---
The Vegetarian Journal published here is not the complete issue, but these are excerpts from the published magazine. Anyone wanting to see everything should subscribe to the magazine.
Converted to HTML by Jeanie Freeman
© 1996- The Vegetarian Resource Group
PO Box 1463, Baltimore, MD 21203
(410) 366-8343 Email: vrg@vrg.org



Last Updated
August 31, 2000

Graphic design by


The contents of this web site, as with all The Vegetarian Resource Group publications, is not intended to provide personal medical advice. Medical advice should be obtained from a qualified health professional.

Any pages on this site may be reproduced for non-commercial use if left intact and with credit given to The Vegetarian Resource Group.

Web site questions or comments? Please email vrg@vrg.org.