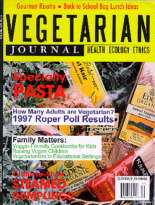 ---
Vegetarian Journal
Excerpts
Sep/Oct 1997

Volume XVI, Number 5
---
---
A Vegetarian in Provence
by Claire Duiker
---
You've just spent the day biking through the sun-drenched vineyards of Provence and are looking forward to a big French meal, but the menu is full of bouillabaisse (fish soup), daube (braised beef) and pieds-paquets (stuffed tripe). When you explain that you are a vegetarian, the waiter stares at you with an expression somewhere between pity and disgust. You end up ordering a green salad while your friends indulge in the local specialties. This is, unfortunately, the experience of many vegetarians in France. France is one of the world's top tourist destinations, but it is also one of the most difficult countries for vegetarians. I lead bicycle tours through Provence, so I have to find ways to combat this problem. I have found that it is possible to eat well without compromising one's principles or insulting one's hosts.
The Markets
Provence is indeed famous for its startling array of edible sea animals. Fortunately, however, there is another side to Provence; the months of blue skies and warm weather make it a vegetable and fruit paradise. The markets are full of colorful vegetables like tomatoes, eggplant (aubergine), zucchini (courgette), onions, and lots of garlic (ail). Among the fruits, you'll find cherries, raspberries, nectarines, peaches, and melons. The Provençal market is a gastronomic delight, offering vats of olives, bushels of nuts, dried fruits, pickled vegetables, and bouquets of fresh herbs. In the small principality of Uzès, I met a nun who was selling jam and wine produced from her convent's orchards, as well as a local merchant selling lavender sachets and cologne. I also found an organic bakery selling whole grain breads, some made with chestnut flour (try it with a bit of the nun's jam!). The market in the ancient Roman city of Arles is large and colorful, attracting locals and tourists alike. A stone's throw from the Roman amphitheater, the market stretches out in a ring around the city. On this tree-lined avenue you'll find vendors selling spices, garlic, fruits and vegetables of all kinds, and pastries, as well as fabrics, household goods and cheap cassettes. We loaded up our bicycle paniers with goodies from the local markets and headed out for a glorious 30-kilometer ride through the Rhône Valley. We stopped in St. Rémy-de-Provence, once the seat of Roman Gaul and home to Van Gogh and Nostradamus. Just outside of town lie the ruins of ancient Glanum-the Greek, then Roman, city dating back to 600 B.C. Just a few yards away is the Clinique de St. Paul, where Van Gogh went to rest after slicing off his earlobe in Arles. You can't visit the clinic, which is still in use, but you can rest in the quiet beauty of the asylum's medieval cloister. We toured both sites, then spread out our picnic in the shade of an olive grove next to the clinic: a sourdough baguette (pain au levain), a round whole-wheat loaf (pain complet), fresh tomatoes, hummus and carrot salad bought in a little grocery store (épicerie), black olives, a green olive paste, some dates and dried figs, a bag full of blood-red cherries, and some handmade chocolate truffles from the local patisserie.
The Food
When you're tired of picnics but can't find a vegetarian restaurant, there are still plenty of things you can eat in the local restaurants. The bigger problem might be communicating the details of your request. For example, since every region prepares its own version of classic dishes, you might have to find out whether or not a particular chef puts cheese or anchovies in his tapenade (an olive paste). You can't go wrong with the classic Soupe au pistou, a rich summer soup made from fresh haricot beans and a base of pistou (the Provençal equivalent of pesto-a basil/garlic paste). However, some cooks put grated cheese into the pistou, and others top the soup with whole prawns. If you order the soup, be sure to ask first if they put cheese or seafood in it (see lexicon). You might also be tempted by what looks like an onion pie (une pissaladire), but this is usually made with anchovy paste.

Your best bets, then, are the classic vegetable dishes: Tomates Provençales (baked tomatoes topped with garlic, basil, and bread crumbs), ratatouille (a vegetable stew), papeton d'aubergines (an eggplant flan), courgettes farcies (stuffed zucchini-just make sure you asked what they're stuffed with!). Some nicer restaurants might even offer the beautiful and delicious fleur de courgette farcie (the flower of the zucchini stuffed with the flesh of the zucchini itself), or an inventive gratin of céléri (celeriac) mixed with raisins in an apricot sauce. If all else fails, you can always ask for une assiette de crudités (a salad of grated vegetables in a vinaigrette sauce) or a plate of pasta (des pâtes) with whatever vegetables they have on hand. Every local café or brasserie is sure to have a salad, tomato pizza (ask them to leave off the cheese), or vegetable sandwich. For snacks, especially if you're in the metropolitan areas colored by North African influence, see if you can find falafel at one of the sidewalk shoarma stands. Breakfast is usually offered at most hotels, and you'll be in heaven if you love strong coffee and croissants. If, however, your body starts to crave whole grains, skip the hotel's breakfast and do your own on the road. Provençal bakeries offer a variety of whole-grain breads: rye (seigle), whole-wheat (complet), bran (son), and multigrain. For cereals and other vegetarian staples, look for the health-food grocery store La Vie Claire, which has everything from granola to tempeh to organic juices.
A Tourist's Lexicon
| | |
| --- | --- |
| "I don't eat..." | "Je ne mange pas de ..." |
| "meat" | "viandes" |
| "fish" | "poissons" |
| "seafood" | "fruits de mer" |
| "animals" | "animaux" |
| "eggs" | "oeufs" |
| "dairy products" | "produits laitiers" |
| "Do you have any dishes for vegetarians?" | "Avez-vous des plats pour des végétariens?" |
| "Do you have any dishes without meat?" | "Avez-vous des plats sans viande?" |
| "Could you omit the meat in this dish?" | "Pourriez-vous faire ce plat sans viande?" |
| "Is there cheese in the sauce?" | "Est-ce que la sauce contient du fromage?" |
| "Could I have a plate of vegetables?" | "Pourraise-je avoir un plat de légumes?" |
| "Could I have a salad of mixed vegetables?" | "Pourrais-je avoir un plat de crudités?" |
| "Is there a vegetarian restaurant in town?" | "Y a-t-il un restaurant végétarien en ville?" |
| "Where can I by organic food?n?" | "Oú pourrais-je acheter de produits biologiques?" |
The Restaurants
There are a handful of vegetarian restaurants in Provence, and here are a few you might try. In Marseilles try Le Kashmir (18, rue de la Paix, tel: 04-91-54-99-72), or the Seventh Day Adventist chain Country Life (14, rue Venture). There's also a vegan-friendly restaurant, the Auberge In (25, rue Chevalier Roze, tel: 04-91-90-51-59), which also has a small health food store. In Avignon, former home of the Popes (14th century), try Terre de saveur (1, rue St. Michel, tel: 04-90-86-68-72), run by the famous vegetarian chef Elysée. In Orange you'll find good vegetarian food at Au goût du jour (9, place aux Herbes, tel: 04-90-34-10-80). For French and International vegetarian food in Montpellier there's the Tripti-KulaiL'Arbre à Pain (12, rue Constantin, tel: 04-42-96-99-95). Many restaurants are getting more vegetarian-friendly: try lunch around the pool at La Bégude Saint-Pierre in Vers-Pont du Gard, an elegant dinner at Les Bacchanales in Aix-en-Provence, or a fresh salad at Vitamine in Arles. Other restaurants may offer a vegetarian menu (a fixed price meal), like the Oppidium in Oppède-le-vieux, and even the extravagant L'Oustau de la Baumanière in Les Baux (where lunch will run you about $100-without wine!).

If you're not planning on going to France any time soon, try these simple Provençal recipes, to be consumed with a crusty loaf of French bread and a slightly chilled bottle of Provençal rosé wine. Bon Appétit!
---
Recipes
Tomates Provençales
(Serves 4)
This simple recipe can be altered. Try seeding the tomatoes, then sprinkle with salt and invert to drain the liquid, then stuff with spices, bread crumbs, fried onions, or tapenade. This dish can be prepared in advance and freezes well. Can be eaten hot or cold.

4 medium-sized tomatoes
Garlic, bread crumbs, fresh thyme and
parsley, salt, pepper, and olive oil to taste

Cut the tomatoes in half. Place them, cut side up, in an oven-proof dish. Sprinkle the tomatoes with chopped garlic, bread crumbs, thyme, parsley, salt, and pepper. Drizzle with oil. Bake in a 400 degree oven for 30 minutes. Grill briefly, sprinkle with chopped parsley, and serve. Add a bit of water to the dish if the tomatoes are dry.

Total calories and fat will vary depending on amount of bread crumbs and olive oil


---
Soupe au Pistou
(Serves 4)


This summer soup is made with fresh haricot and cranberry beans, but you may substitute canned or dried beans.

1 cup dried white haricot beans (any small white bean will do)
1 cup dried cranberry beans (any pink or
red bean)
1 cup fresh green beans, trimmed and cut into bite-sized pieces
2 zucchini, diced
2 tomatoes, seeded and chopped
1 large potato, cubed
1 large onion, chopped
1 cup small pasta (I use broken spaghetti)
Salt and pepper to taste

If using dried beans, wash and soak overnight. Drain beans, and boil in 3 quarts of water for 45 minutes. Add vegetables and simmer for 30 more minutes. Remove the zucchini and potatoes and mash or pure in a separate bowl, then add back to the soup. Add salt and pepper. Toss in the pasta and let simmer.


---
Pistou




6 cloves garlic
One handful fresh basil leaves
1 Tablespoon olive oil

Mash the garlic with a mortar and pestle (or in a food processor), add the basil leaves, one at a time, and process until uniform. Drizzle with olive oil and whisk until you have a smooth paste. Add one cup of soup stock and blend well until creamy.

To serve: Pour soup into individual bowls and stir a little pistou into each. Put the pistou on the table so people can help themselves to more.

Total calories per serving: 509
Fat: 5 grams


---
Tapenade
(Makes about 1 cup)



Ideal for spreading on bread or crostini, or use as a base for sandwiches. 1/2 pound black olives, pitted (I used the
oil-cured ones-not from a can!)
1 teaspoon capers
2 Tablespoons olive oil

Process olives and capers in a food processor. Drizzle in olive oil until you get a smooth paste. Store in a sealed container in the refrigerator for a month.

Variations: Add a touch of lemon juice, red wine vinegar, or mustard.

Total calories per tablespoon: 63
Fat: 7 grams


---
Ratatouille
(Serves 4)



The quintessential Provençal dish can be prepared in many ways. For more zing, try adding a handful of black olives with the vegetables, and 2 tablespoons red wine vinegar and 1 teaspoon capers before serving to make Caponate.

1 large onion, chopped
Garlic and olive oil, to taste
1 large eggplant, cut into cubes (salted, drained, and blotted dry if desired) 2 red peppers, sliced
3 large tomatoes, seeded and chopped
2 zucchini, chopped
Salt and pepper to taste
Herbes de Provence (Rosemary, Basil, Marjoram, Savory, Thyme)

Sauté onion and garlic in olive oil, add the eggplant and fry a few minutes. Add the peppers, tomatoes and zucchini. Add spices to taste. Let cook over medium-low heat for 30 minutes, stirring occasionally. Serve hot as a main dish, or cold as a side dish. Can also be used to stuff into pita bread, roll up in tortillas, or make into a vegetable pot pie.

Total calories per serving: 152
Fat: 4 grams

---

The Vegetarian Journal published here is not the complete issue, but these are excerpts from the published magazine. Anyone wanting to see everything should subscribe to the magazine.

Converted to HTML by Jeanie Freeman
© 1996- The Vegetarian Resource Group
PO Box 1463, Baltimore, MD 21203
(410) 366-8343 Email: vrg@vrg.org



Last Updated
September 20, 1997

Graphic design by


The contents of this web site, as with all The Vegetarian Resource Group publications, is not intended to provide personal medical advice. Medical advice should be obtained from a qualified health professional.

Any pages on this site may be reproduced for non-commercial use if left intact and with credit given to The Vegetarian Resource Group.

Web site questions or comments? Please email brad@vrg.org.