Winter 1996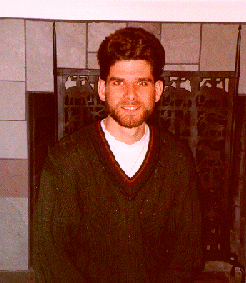 Intern Profile: Chip Law
My name is Chip Law. I am currently taking the necessary prerequisite courses to enter a Masters level program in Nutrition and become a Registered Dietitian.
Recently, I had the opportunity to spend three days at The Vegetarian Resource Group as an "intern" to learn exactly what it is that they do. I assumed it took a lot of work to put together the Journal, but I was not aware of everything that goes on behind the scenes. Debra, Charles, and the rest of the VRG staff stay incredibly busy.
In just the few days I was there I wrote an article for the Journal, researched the cost of a table drape for VRG convention tables, put address labels on envelopes, entered new addresses in the data base, stuffed over 300 envelopes with a variety of VRG information and books, proofread a letter to VRG members, typed three pre-written book reviews into the computer files, and manned a VRG booth at a local nutrition conference. And I'm just a temporary, volunteer "intern"! Imagine the amount of work Charles, Debra, Brad, and the rest of the VRG staff put into this organization. They are to be commended for all the time and hard work they invest in making this a successful group. Without their tireless efforts, the rest of us would not be so fortunate to have a great place to turn to when we need current information about vegetarianism.
One of the highlights of my trip was being able to staff a VRG booth at the "Nutrition in the Nineties" lecture series at Johns Hopkins Hospital. Charles and I were at the conference from about 7:30 a.m. to 3:30 p.m. Fannie Fonseca-Becker, M.P.H., R.D. (a VRG volunteer and consultant), presented three sessions on the "Effects of Vegetarian Diets on Health Status." There were 120 dietitians, students, and other health professionals in attendance. Ten other companies also had exhibit booths. VRG was the only exhibitor who took a preventive approach to healthcare. Nine were selling drug-related nutrition treatments and one was selling puréed food for the sick (i.e. adult baby food).
After spending the day handing out VRG information, attending the lectures and talking with the participants, I was very excited. Not everyone was interested in vegetarianism, but the conversations I had with those who were, really fueled me to do more in vegetarian nutrition. To see someone else "light up" when a new idea entered their mind because of our conversation was very energizing.
I now realize, as I embark on a career in vegetarian nutrition, that even the smallest seed or thought is just as important as the big events, such as presenting new research to a group of health professionals or writing a book. The potential of that one small seed is enormous.
I'd like to thank all The Vegetarian Resource Group supporters for giving me the opportunity to "intern" at VRG. It was a great learning experience and gave me a different perspective of the group. I encourage anyone interested in learning more about VRG to volunteer their time as an "intern." Every task is important as they strive to educate others about the many benefits of a vegetarian lifestyle.
© 1996- The Vegetarian Resource Group
PO Box 1463, Baltimore, MD 21203
(410) 366-8343 Email: vrg@vrg.org



Last Updated
September 20, 1997

Graphic design by


The contents of this web site, as with all The Vegetarian Resource Group publications, is not intended to provide personal medical advice. Medical advice should be obtained from a qualified health professional.

Any pages on this site may be reproduced for non-commercial use if left intact and with credit given to The Vegetarian Resource Group.

Web site questions or comments? Please email brad@vrg.org.