Posted on July 12, 2012 by The VRG Blog Editor
Vegans, like the general population, sometimes need to be following a special diet. The Vegetarian Resource Group has some gluten-free, food allergy, and weight loss books that might make your life easier.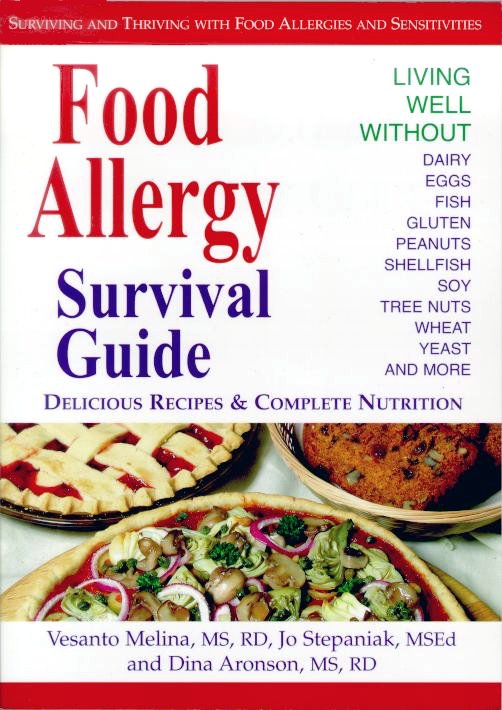 Food Allergy Survival Guide
By Vesanto Melina, MS, RD, Jo Stepaniak, and Dina Aronson, MS, RD
If you or someone you know has a diagnosed or suspected food allergy, here's help! Three leading authorities in dietetics, nutrition, and vegetarian cooking give invaluable advice for those with food sensitivities and their families. The authors offer a unique combination of scientific research, culinary expertise, and practical tips abase on sound experience to help you plan nutritionally sound and satisfying meals.
With their help you can:
Discover how to avoid the foods and ingredients that trigger reactions.
Pinpoint the foods that can cause or contribute to symptoms of arthritis, asthma, ADHD, candida, celiac disease, dermatitis, depression, digestive disorders, fatigue, migraines, and other conditions.
Learn how to substitute healthful, plant-based ingredients for allergenic ingredients in recipes.
Find "hidden" culprits in prepared foods.
Understand the latest food labeling regulations, and become an efficient and sophisticated food shopper.
Prepare over 100 recipes, free of the most common food allergens.
A diet free of "problem" foods doesn't have to be limiting or boring. Uncover a new world of delicious and nourishing dishes, from the familiar to the exotic, that will appeal to everyone, whether or not they have food sensitivities.
Enjoy:
Wheat- and dairy-free cakes, cookies, quick breads, pie crusts, and pizza
Soy-free meatless entrées
Main-dish salads and baked potatoes
Dairy-free sauces and soups
Egg-free breakfast dishes and desserts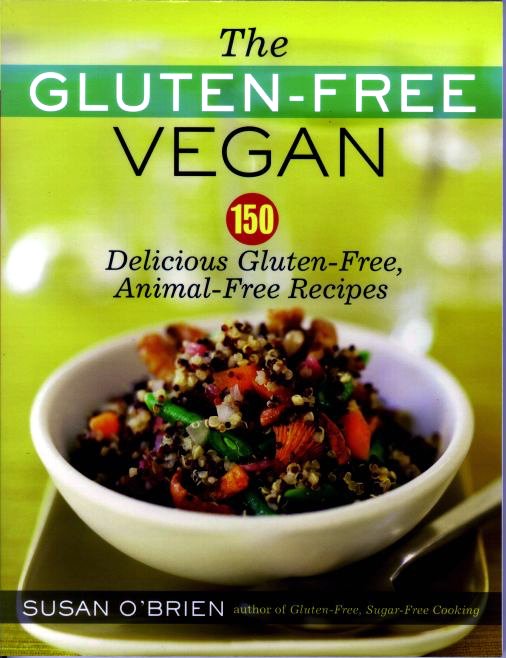 The Gluten-Free Vegan
By Susan O'Brien
If you have a gluten sensitivity or food allergy, you know how difficult it can be to eat well without feeling deprived. Now, great-tasting gluten-free, dairy-free, animal-free meals have never been simpler. With 150 recipes, The Gluten-Free Vegan makes it easy to get creative and healthy dinners on the table.
Gourmet cook Susan O'Brien, author of Gluten-Free, Sugar-Free Cooking, is a food-allergy sufferer herself. In The Gluten-Free Vegan, she shows you how to make a wider range of dishes that are both gluten-free and vegan, including:
Mexican Quinoa Salad
Yam Enchiladas with Pomegranate Sauce
Peach and Blueberry Cobbler
Stuffed Butternut Squash
Asparagus Risotto
Pumpkin Scones
No-Bake Chocolate Cookies
Italian Style Pasta and No-Meat Meatballs
Fresh Avocado and Cucumber Soup
Coconut Pancakes
Also included are tips on food substitutions, raw and organic foods, quick preparation, and resources for easily finding ingredients. Whether you have celiac disease and want to adopt a vegan lifestyle or are already vegan and trying to eliminate gluten from you diet, The Gluten-Free Vegan offers solutions for anyone seeking a new—and delicious—approach to healthier eating.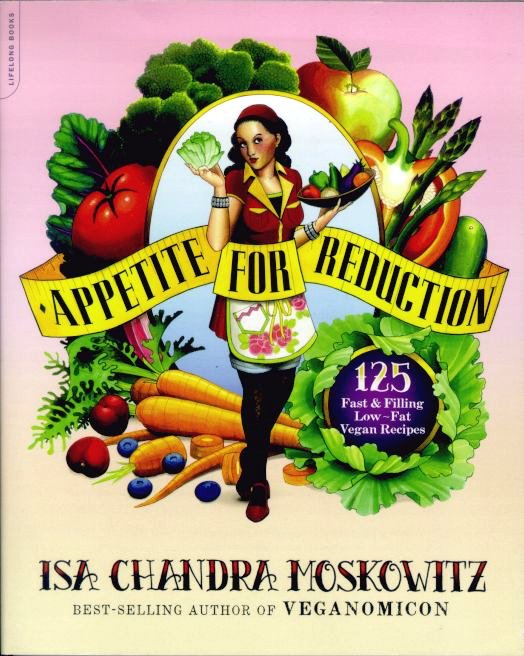 Appetite for Reduction
By Isa Chandra Moskowitz
A lot of people assume that most, if not all, vegans are slender. Ms. Moskowtiz understands this is a myth and has authored a weight-loss cookbook to help vegans and other readers shed extra pounds. Appetite for Reduction features 125 recipes that are low in calories but rank high for substance and creativity. Symbols indicate if a dish is gluten-free and/or soy-free and whether it can be prepared in fewer than 30 minutes. Helpful hints are also found throughout this work. Many people hear the word 'salad' and think 'diet food.' The salads in this book, however, are quite hearty. Examples include Sushi Roll Edamame Salad with Green Onion-Miso Vinaigrette and Catalan Couscous Salad with Pears with Romesco Dressing.
Among the side dishes, you will discover a Cranberry-Cashew Biryani, Scallion Potato Pancakes, and OMG Oven-Baked Onion Rings. Great vegetable-based choices include Jerk Asparagus, Pineapple Collards, and Braised Cabbage with Seitan.
Isa's main dishes are divided into several categories, including bean dishes such as Caribbean Curried Black-Eyed Peas with Plantains. You'll find the likes of Tamarind BBQ Tempeh and Sweet Potatoes among the tofu and tempeh dishes, and the pasta and noodle entrées feature Ginger Bok Choy and Soba and Cajun Beanballs and Spaghetti. You'll also find a variety of satisfying soups, stews, curries, and chili, including Cauliflower Pesto Soup, Chili Verde con Papas, Kidney Bean and Butternut Jamba Stew, Potato-Spinach Curry, and Smoky Split Pea Soup.
There are no dessert recipes; after all, this is a weight-loss book. You will, however, find gorgeous color photos in this cookbook, as well as nutritional analyses.