Posted on August 23, 2012 by The VRG Blog Editor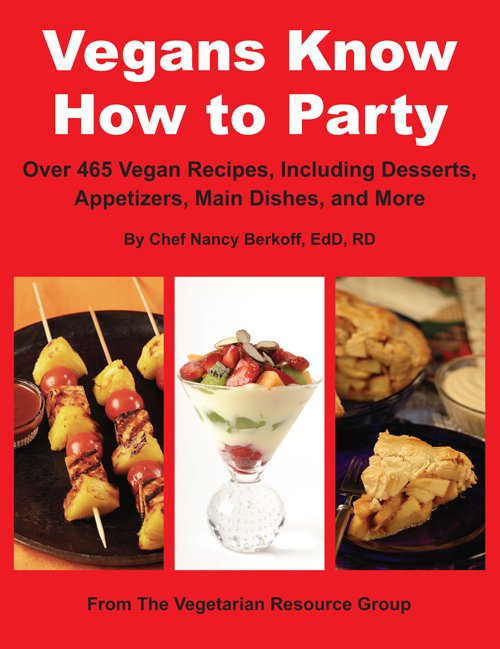 Enjoy these recipes from Vegans Know How to Party at your Labor Day gathering with family and friends!
Fresh Peach Pie
Makes one 9-inch pie serving 8
One unbaked 9-inch pie crust
4 cups peeled, pitted, and sliced ripe fresh peaches
2 teaspoons unbleached flour
1/4 cup peach preserves
1 teaspoon fresh lemon juice
1/2 teaspoon ground cinnamon
1/4 teaspoon ground nutmeg
Preheat oven to 400 degrees. In the unbaked crust of your choice, arrange the peach slices, in overlapping circles. Sprinkle peaches lightly with flour. Combine peach preserves, lemon juice, cinnamon, and nutmeg in a saucepan and heat until just bubbling. Pour glaze over the peaches, then place in oven and bake for 10 minutes. Turn down heat to 375 degrees and continue baking for an additional 30-35 minutes, or until crust is golden. Serve at room temperature or cold.
Total Calories Per Serving: 200
Total Fat as % of Daily Value: 17%
Protein: 2 gm
Fat: 11 gm
Carbohydrates: 23 gm
Calcium: 7 mg
Iron: <1 mg Sodium: 164 mg Dietary Fiber: 2 gm Chilled Tomato Gazpacho
Serves 8
1 cup tomato paste
2 stemmed, seeded, and diced fresh chilies (you select the heat!)
1/3 cup balsamic vinegar
2 Tablespoons lime juice
1 Tablespoon sugar
1 Tablespoon minced garlic
1 Tablespoon ground cumin
1 teaspoon Tabasco sauce or other hot sauce
1 teaspoon freshly ground black pepper
7 cups tomato juice
3 cups seeded and diced fresh tomatoes
2 cups peeled, seeded, and diced cucumbers
2 cups peeled and diced fresh jicama (if jicama is not available, use 2 cups cooked,
peeled, diced potatoes)
11/2 cups stemmed, seeded, and diced green bell peppers
11/2 cups stemmed, seeded, and diced red bell peppers
11/2 cups chopped green onion
1 cup each diced zucchini and diced summer squash
1/4 cup freshly chopped parsley
1/4 cup freshly chopped cilantro
In a blender or food processor, place the tomato paste, chilies, vinegar, lime juice, garlic, cumin, Tabasco sauce, pepper, and 3 cups of the tomato juice and process for 2 minutes or until smooth. Transfer the mixture to a large glass or plastic (not metal) bowl. Add the rest of the tomato juice and stir well to combine. Add the remaining ingredients and stir well to combine. Cover and chill for at least 2 hours before serving in chilled bowls.
Note: Will last well in the refrigerator for up to 3 days.
Total Calories Per Serving: 134
Total Fat as % of Daily Value: 1%
Protein: 6 gm
Fat: 1 gm
Carbohydrates: 31 gm
Calcium: 76 mg
Iron: 3 mg
Sodium: 1,074 mg
Dietary Fiber: 7 gm
Vegan "Chicken" Chili
Serves 8
Vegetable oil spray
3 pounds of chunked Chik'nTM, Tofurky™, Wheatmeat™, or other vegan poultry-style meat that can be chunked
1 cup diced red bell pepper
1 cup diced green bell pepper
1 cup diced onion
1 deseeded and diced fresh chili (about 1 Tablespoon, you choose the heat!)
2 cups cooked or canned, drained kidney beans
2 cups canned, diced tomatoes (with liquid)
2 teaspoons cumin
1 Tablespoon chili powder
1 Tablespoon black pepper
1 Tablespoon hot sauce (or as desired)
2 Tablespoons shredded vegan cheese (optional)
2 Tablespoons vegan sour cream (optional)
Heat a large soup pot and spray with oil. Sauté vegan meat for 1 minute over high heat. Reduce heat to medium and add peppers, onion, and chilies. Continue to stir and sauté for 3 minutes or until onions are soft. Reduce heat to simmer. Add beans, tomatoes, cumin, chili powder, black pepper, and hot sauce. Cover and allow to simmer for 20 minutes or until flavors are blended. Place in a serving bowl. If desired, immediately before serving, garnish with vegan cheese and vegan sour cream.
Notes: For a buffet, purchase two or three round sourdough loaves. For a seated meal, purchase round, crusty rolls. Hollow out the center. Save the interior bread for fresh or dried bread crumbs. Serve chili in the sourdough "bowls" on the buffet or as individual servings.
Total Calories Per Serving: 409
Total Fat as % of Daily Value: 16%
Protein: 5 gm
Fat: 10 gm
Carbohydrates: 35 gm
Calcium: 96 mg
Iron: 6 mg
Sodium: 1,099 mg
Dietary Fiber: 14 gm