Posted on October 21, 2015 by The VRG Blog Editor
The first item handed to me when I walked into the Baltimore Convention Center for the Natural Products Expo East on September 17th, 2015 was a free cookie sample. What a pleasant start to my visit! While not open to consumers, the 2015 Natural Products Expo East trade show and conference attracted over 25,000 attendees from independent retailers to big box chains searching for products to sell to consumers. These attendees viewed over a thousand exhibiting companies representing the natural, organic and healthy living marketplace. Their website describes the Natural Products Expo East as "an event focused on innovative products, sustainability and growth opportunities in the natural products industry."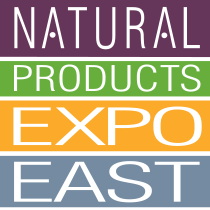 The Vegetarian Resource Group's booth was situated with other vegan-friendly company booths. One part of my experience at the Expo was staying at the VRG booth to offer information about our organization and about veganism to interested attendees. The people who approached the booth were curious and gladly flipped through some of our print resources. The second part of my experience at the Expo was walking around the immense showrooms. Booths of companies selling a vast variety of products (not all of which were vegan or vegetarian) packed these showrooms. Representing VRG, we visited a number of these booths and sampled some delicious and interesting vegan foods, some of which we noted for potential Veggie Bits reviews in future issues of Vegetarian Journal. Walking around the show floors, I noticed the sheer number of booths and attendees that filled the space. It was heartening to see the popularity of vegan products, ranging from cosmetics to frozen meals to snacks. I noticed some novel products such as enhanced waters, floral ingredients, and natural gum, but there were also plenty of the standard meat replacements, vegan cheeses, chips, bars, and more. The showrooms were filled with small, new and up-and-coming companies but also large, well-known companies.
I felt fortunate to witness an event in which a diverse group of people gathered into one community to share their interests in natural products, but most of all, it was extremely encouraging to see how some companies took their passion for veganism and transmitted the energy into sharing the vegan message.
Hana Takemoto is doing an internship with The Vegetarian Resource Group for her senior high school Gifted and Talented Intern/Mentor program.
For information about Vegetarian Resource Group internships, see http://www.vrg.org/student/index.php