Posted on October 27, 2016 by The VRG Blog Editor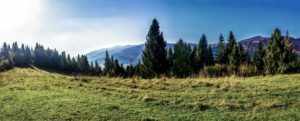 By Heather Francis
I went with Vegetarian Resource Group Volunteer Coordinator, Brigette where she did a brief talk for an office of canvassers for an environmental group. They have a tight schedule, since they're constantly knocking on doors to receive signatures for a cause, so it was awesome we were able to squeeze in some time to give a talk about Environmental Veganism.
Brigette began by asking the group of canvassers if they were Vegetarian or Vegan. Out of about 12 people, most of them were vegetarian. One was a "carnivore" as she put it, and another stated she was vegetarian but ate fish occasionally (which is technically a pescatarian). There were a few people who wanted to become vegan but getting rid of eggs was the hardest part. I was mostly surprised that most of these people weren't already vegan. Environmental issues is one of the main reason many people stop eating meat, so it was interesting seeing that those working for an environmental group weren't already vegan.
Our point in doing the brief was to talk about Environmental Veganism. Brigette went over 4 contributing factors to the problems within our environment: Air, Land, Water, and Transportation. We can help save the environment in these areas just by reducing our meat consumption or choosing to not eat meat at all.
Of course, we all (should) know that the number one contributor to Greenhouse Gas Emissions is Animal Agriculture. What is even more devastating, is how if someone is living near a CAFO (Confined Animal Feeding Operation), they may have to walk outside with masks because the air is so polluted.
After giving the group of canvassers VRG's Save Our Water The Vegetarian Way brochure, this caused a lot of discussion based on how much water is used for Animals. They seemed surprised. For example there is about 13,000 Liters needed for one Kilogram of Beef whereas for Soybeans it's only 1,900 based off of Hoekstra and Chapagain. See: https://www.vrg.org/environment/water_brochure.pdf
After speaking, we opened up for questions.We spoke a bit on how to find vegan foods on a budget. We had empty boxes of veganic food to show them, brochures, and a few articles out for the canvassers to take. Vegan on a Shoestring was highly popular because as young people it's hard to find healthy nutritious food that is cheap. In the long run, it is healthier especially buying bulk, but dependent on the fruit/vegetable season and if you need to purchase fake meats as part of your transition, it may be harder to find simple and cheap vegan recipes. So below is an attachment to the article, if you're interested:
http://www.vrg.org/journal/vj2015issue1/2015_issue1_vegan_shoestring.php
The brief came to a close, and I felt personally it was beneficial for me because I always assumed younger people involved with environmental causes were already vegan. It was interesting to see a different side. At the end one of the canvassers told Brigette that she had opened her mind.
So I know there is a lot more work to be done, and the environment is just one part of why anyone should or does go vegan. Brigette became a vegan when she worked as an environmental canvasser, so it wouldn't surprise me if others did the same. I myself turned vegetarian, then vegan for health reasons. Yet, as a vegan I know that I'm not a vegan for health, I'm a vegan for the environment, ethics, and health. Watching the canvassers leave to go ban fracking, Brigette and I were confident we had helped at least someone realize the problems with animal agriculture on our ecosystem.
For information about The Vegetarian Resource Group internships, see http://www.vrg.org/student/index.php
To support The Vegetarian Resource Group outreach, donate at www.vrg.org/donate
Or join at http://www.vrg.org/member/2013sv.php