Posted on April 05, 2017 by The VRG Blog Editor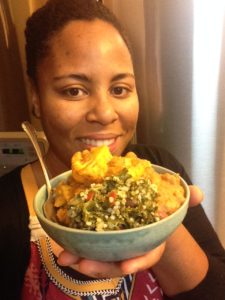 By Julia Mathew, VRG Intern
Ariel Bangs is a vegan and gluten-free chef providing wholesome and nutritious food through her catering company, Healthy Creations. She also has a donut line called 'FLAVORGASMS' and is currently starting up her own donut shop in the Seattle, Washington area. Ariel will be featured in a future "Veggie Action" segment of the Vegetarian Journal. In the meantime, here is a full interview with Chef Ariel Bangs.
Q1: You seem to focus a lot on providing nourishing foods sourced from plant-based ingredients. How did you become vegan yourself? 
When I became vegan, I didn't know that veganism existed or was a way of life. I am from an Italian, East Indian, and African American family where culture, healthy eating, herbalism, and natural health is our way of life. Over a short period of time I ate various meat dishes as I had always done, because animal consumption was a part of my lifestyle. After becoming ill, each time I tried to eat animals I stopped. I thought maybe I needed a break; I didn't think it was food poisoning because I made each of the foods that I ate and growing up in a family of nourishers and healers, I knew that food poisoning was not it. So, I decided to stop eating animals for a while; in my mind I thought thirty days. At this time I lived in downtown Seattle, near Pike Place Market and fresh foods were easily available. Because I worked close to the market as well, and I worked in the athletic field, it was easy to stop by the market on my way home from work. My upbringing made the transition easier, mainly because in my family food was always grown, herbs and spices were our staples, and my mom made everything from scratch. My whole family did. My family members have always been farmers and nourishers. They focused on from scratch Italian cooking. My great grandmother came from Italy to Washington cooking all day by choice for our family. My mom, aunts, and uncles were blessed to smell calzones, spaghetti sauce, and other traditional dishes floating into their nostrils as they walked down the street home to my great grandmother's love. The entire neighborhood was blessed as well.
Q2: How do you think your culinary education/background has affected your approach to veganism? 
My approach to veganism was affected more by my family's way of life, than by my culinary background. When I was attending school, veganism, food allergies and such were not looked at as valid nor were they a focus until I requested it in each culinary task appointed to me. I always asked to create vegan and gluten-free dishes. I had one chef that encouraged me while I was in school, while the others would blatantly inform me "Sure, but if you do not create to the ability of my instructions and if the creations did not come out as instructed, I would be failed." So, that was a challenge I happily took on and succeeded each time. The chef that encouraged me immensely is Chef Antoine Rondent at The Art Institute of Seattle. I appreciate every experience I was exposed to at AIS; it allowed me to have thicker skin and to believe in healing through food on a new level. Something changes when you are being instructed by chefs from France, Italy, and Four Star and Michelin Star establishments. As a woman in the culinary industry and a woman of color, you have to put in 300+%. My only regret about culinary school is that I felt I was not prepared for a career in the culinary industry, as I was unable to gain employment because I had no culinary work experience.
Q3: What is the story behind your company, Health Creations? How did you get started and what were your inspirations & goals for the company?
I didn't intend to open a business; I wanted to help people that were afraid to eat due to their food illnesses and allergies. It's scary when you don't know you have an allergy or illness but everything you eat makes you sick. I have always researched about Monsanto, Dupont, GMO's, healthy eating, nutrition in foods and culture; so it became second nature as people began asking me to help them. When I started HC, I met a woman that kept having miscarriages and I suggested a few dietary changes and questions to ask when visiting the doctor. From that moment on, I began giving her ideas, recipes and suggestions and that is how it all began. Then I continued meeting others and the more I shared, the more people would try to pay me. It took me about five years to accept others money because I was focused on helping people due to my knowledge and compassion. Now, years later, I cook for families with allergies and create vegan gluten-free donuts, through my donut company FLAVORGASMS. My goals are to continue to inspire and help people on a mobile platform, with my cooking classes, private chef services, and donut business.
Q4: Your company concentrates on Caribbean, Cuban, and Venezuelan cuisines. How did you go about 'veganizing' these cuisines and did you face any struggles along the way?
Almost all countries began anciently as vegan, because you grew your food and shared with the community. Many communities didn't eat animals because the animals helped you till the land and other such activities. I researched a lot about which non-animal products were being grown and how they were eaten in the communities I studied. Then I started talking with elders and learning from them. After asking them if I could share what I learned, I started creating for others with the knowledge I had learned.
Q5: I've heard that you are currently starting up your own vegan bakery in Seattle. How do you think people (vegans and non-vegans alike) will respond to your new bakery?
My donut shop will not be just vegan, it will be gluten-free, and cater to other allergies, such as nut allergies. People are very receptive to the donuts, however right now most of the population that eats my donuts are non-vegan and gluten-free folks. I believe that those that will love my products will come from every walk of life, because they are a flavorgasmic enjoyment for those with allergies and everyone else.
Q6: I've heard great things about your donut company, Flavorgasms Donuts! Was it a true process of trial and error to create more wholesome donuts from bean, grain, and seed flours?
It is always food science when you are focusing on alternative ingredients, which for me is fun because I am a natural experimenter. Creating my mixtures has definitely been trial and error. As with catering to those with food allergies, you are constantly working to create mixtures and products that will be healthy and not harm them. My goal in my products and services is to always create deliciousness that does not taste like it is such (i.e., vegan, gluten-free, etc.)
Q7: How do you think your passion for gardening translates into your food?
Gardening is life; it is our connection to the Earth to the universe, and it is our job as humans to own this responsibility and to give as we receive. So, in gardening it is a cycle of beautiful life. Gardening began as therapy for me and continued to grow into a passionate love as I come from a family on both sides of farmers, herbalists, healers, and nourishers.
Q8: What tips would you give parents who are trying to get their children to shift to a vegan diet? Do you have any suggestions for quick, easy, and kid-friendly meals?
My best advice is to make eating a fun experience. Involve them in growing, harvesting, washing, and preparing meals. Eat what you want them to eat. Consume more fresh and whole foods, versus processed vegan foods. This is where I think we in the vegan community go wrong; we replace animal products with processed vegan products. It's fine to enjoy them sparingly, but as regular parts of our diet, they are not designed for that. I think its best to start practicing making your own vegan meats out of nuts, seeds, beans, and whole grains. Play around with more whole grains like bulgur, quinoa, amaranth, millet, and GMO-free organic corn. Pick a new fruit and vegetable each week or month. Make it a game with the kids. Also pay attention to what kids have aversions to, because sometimes you can add those fruits and veggies to smoothies, popsicles, ice creams, etc. I offer online classes and spring up 30: a spring clean eating meal plan that compiles a group of people looking to transition into healthier eating,and whom need guidance, recipes, etc. as they take their journey.
Q9: How do you think your cooking and approach to food has transformed people's view of veganism in your local community?
Because everyone is from a culture, loves some form of culture, and everyone loves to eat, it's best in my opinion to educate, incorporate love of culture, and bring people together to connect, communicate, respect, and honor culture. While they are doing so, introduce them to the foods that most inspire all of this as one…culture. Because I am an educator in nature, people are drawn to me because I educate them while they are eating and being nourished. I also make the experience comforting, love filled and like being at grandma's house.
Q10: What is your most popular dish and dessert? What sort of flavors do you think really entice consumers?
I cater to a wide audience. This week my beloved dishes are Pupusas, Curtido, Salsa, Japanese Sweet Potato Donuts, and Cacao Mole Donuts. It is hard to answer that because each consumer is different. Overall what entices customers are wonderful tasting products that are wholesome, taste great, have respect for the culture, and the food as a whole, whether you grow it, buy it or it is given to you, are beautiful. We eat with our eyes, nose, and ears before anything goes into our mouths.