Chapter 20: Working with a Caterer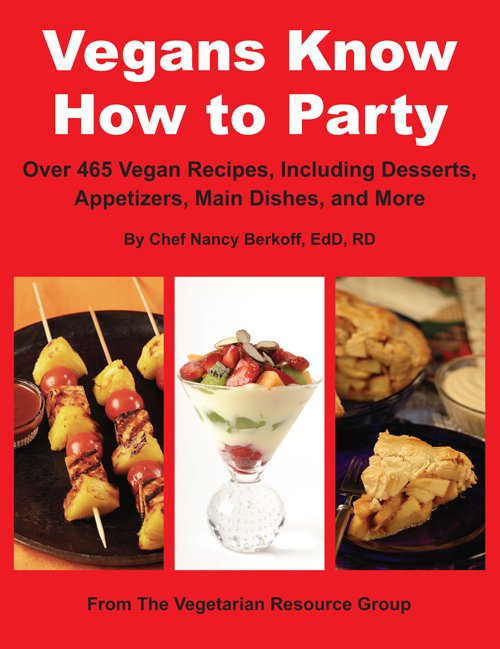 Excerpted from Vegans Know How to Party
By Chef Nancy Berkoff, EdD, RDB
Finding a Caterer
Just as it is with any cuisine, caterers have varying abilities to work with vegetarian menus. You may be able to locate a vegetarian caterer in your area or a caterer who offers vegetarian menus along with other cuisines. If you can't get recommendations from friends, you may want to contact vegetarian restaurants or markets that offer prepared vegetarian cuisine. Other catering-locator resources may be the food editor of your local paper or institutions that offer vegetarian cuisine, such as Jain or Seventh-day Adventist groups.
When selecting a caterer, be certain to sample the food they offer. If a vegetarian restaurant or market offers catering services, taste menu items they have prepared before making your selection. If you will be using a caterer, ask for a menu tasting. Be reasonable when you do your tasting. If you are having a small buffet event, with less than 25 people, you should expect only very small samples. If you are having a larger, served event, more than 100 people, you may expect to see and taste an entire plate, so you can get an idea of how the menu items will appear and if the flavors are well matched.
Lots of Catering Concerns
We will leave the finances to you. Needless to say, have a firm idea of your budget before you start "auditioning" caterers. Many caterers charge by the "head," or number of people attending the event. In addition to the menu chosen, prices will differ for served versus buffet meals. Per-head charges may include some or all of the following:
appetizers
entrée and side dishes
bread and condiments
standard dessert (not specialty cakes)
hot beverages (coffee and tea)
service style (e.g., buffet vs served)
standard linen (table clothes and napkins)
room rental
standard centerpieces
taxes and gratuity
Catering charges differ greatly, as events and locations differ greatly. The following items are usually not included in per-head charges:
alcoholic beverages
nonstandard cold beverages (such as sparkling cider)
nonstandard desserts (such as wedding cakes)
nonstandard-colored linen
entertainment (such as live music)
audiovisual equipment (such as microphones, projectors, etc.) parking
specialty centerpieces (such as ice or vegetable carvings, seasonal decorations, etc.)
flowers or room decorations
meals for nonguests (such as parking valets, musicians, hostesses, etc.)
specialty rentals (such as outdoor tents, podiums, champagne fountains, etc.)
The above mentioned items are in no way absolutes. Every caterer has a different way of handling costs. You need to be aware of what can be charged for and don't be afraid to ask questions. Negotiations are always a possibility. For example, if a caterer quotes you $25 per head for a seated wedding meal, you need to find out what this includes. Most caterers will have referrals for items they don't handle, such as flowers or music. Be certain to audition the non-food people the same way you auditioned the caterer.
The caterer will want a guarantee for the number of meals to be served. Remember that the final guarantee you give, usually three to four days before the event, is the number for which you will pay. Also remember that the caterer is only responsible for preparing meals for the number given in the final guarantee.
Do not assume that the caterer will "have it" or "do it." For example, if flowers are not discussed, there probably won't be flowers on the table. If centerpieces are not discussed, the caterer will probably place their standard centerpiece on each table, if they have one. If you do not ask for a microphone, the caterer cannot magically produce one.
This is your party. The more details you communicate, the more the event will please you. If you select a buffet, coordinate with the caterer how people will proceed to the buffet tables. If the meal is to be served, specify the order of service. For example, you may want the head table or the guest of honor to be served first. If you are having presentations or speeches between courses, tell the caterer. This way they can keep the salad cold and the entrée hot. Let the caterer know if it is all right for the servers to serve food and beverages or pick up used plates while speeches are being made.
If you have guests with special dietary needs supply the caterer with the information and ask how this will be handled. If you would like a small reception table set up at the room entrance, or an extra table for gifts or awards, you must tell the caterer, so they can order sufficient amounts of tables, chairs, and linen. You get the idea. The caterer can make certain the food is tasty, served at the correct temperature, and looks good. Beyond that, the caterer needs you to help with the "choreography" of the event.
Vegetarian Concerns
In addition to the linen, flowers, and music, the caterer may need direction in selecting and preparing menus that meet your specifications. Since there are so many nuances to vegetarian cuisine, even the most experienced vegetarian caterer should be offered a "short course" in the types of ingredients you do and do not prefer to have included in your meals.
Caterers are busy people and may not have the time or level of understanding to read a lot of information. The remainder of this chapter is designed to help you communicate your food preferences to caterers. Read them yourself so you are familiar with the contents. Make copies and highlight the areas that are important for the caterer. Rather than just handing the caterer a "reading assignment," be certain to review the information, so everyone is on the same page.
Basic Vegetarianism
If you see that it is necessary, use the following information to purvey pertinent vegetarian information to your caterer. You can make copies of this article, or visit www.vrg.org and download "Vegetarianism in a Nutshell." Before giving this to your caterer, review it and see if you need to make any additions or deletions, depending on your food preferences.
Vegetarianism in a Nutshell
What is a Vegetarian?
Vegetarians do not eat meat, fish, and poultry. Vegans are vegetarians who abstain from eating or using all animal products, including milk, cheese, other dairy items, eggs, wool, silk, and leather. Among the many reasons for being a vegetarian are health, ecological, and religious concerns, dislike of meat, compassion for animals, belief in non-violence, and economics. The American Dietetic Association has affirmed that a vegetarian diet can meet all known nutrient needs. The key to a healthy vegetarian diet, as with any other diet, is to eat a wide variety of foods, including fruits, vegetables, plenty of leafy greens, whole grain products, nuts, seeds, and legumes. Limit your intake of sweets and fatty foods.
Making the change to a Vegetarian Diet
Many people become vegetarian instantly. They totally give up meat, fish, and poultry overnight. Others make the change gradually. Do what works best for you. Being a vegetarian is as hard or as easy as you choose to make it. Some people enjoy planning and preparing elaborate meals, while others opt for quick and easy vegetarian dishes.
Vegetarian Nutrition
Protein Vegetarians easily meet their protein needs by eating a varied diet, as long as they consume enough calories to maintain their weight. It is not necessary to plan combinations of foods. A mixture of proteins throughout the day will provide enough "essential amino acids." (See "Position of the American Dietetic Association: Vegetarian Diets," JADA, July 2009; Simply Vegan; and nutrition information on www.vrg.org) Good protein sources are: beans, lentils, tofu, nuts, seeds, tempeh, chickpeas, peas... Many common foods, such as whole grain bread, greens, potatoes, and corn, quickly add to protein intake.
Iron
Good iron sources are: dried beans, tofu, tempeh, spinach, chard, baked potatoes, cashews, dried fruits, bulgur, and iron-fortified foods (such as cereals, instant oatmeal, and veggie "meats"). To increase the amount of iron absorbed at a meal, eat a food containing vitamin C, such as citrus fruit or juices, tomatoes, or broccoli. Using iron cookware also adds to iron intake.
Calcium
Good calcium sources include: broccoli, collard greens, kale, mustard greens, tofu prepared with calcium, fortified soymilk, and fortified orange juice.
Vitamin B12
The adult recommended intake for vitamin B12 is very low. Vitamin B12 comes primarily from animal-derived foods. A diet containing dairy products or eggs provides adequate vitamin B12. Fortified foods, such as some brands of cereal, nutritional yeast, soymilk, or veggie "meats," are good non-animal sources. Check labels to discover other products that are fortified with vitamin B12. Tempeh and sea vegetables are not a reliable source of vitamin B12. To be on the safe side, if you are vegan and do not consume fortified foods regularly, you should take a non-animal derived supplement.
Children and Vegetarianism
According to The American Dietetic Association, vegetarian and vegan diets can meet all nitrogen needs and amino acid requirements for growth. Diets for children should contain enough calories to support growth and have reliable sources of key nutrients, such as iron, zinc, vitamin D, and vitamin B12.
Vegetarian Catering: Helpful Hints
Vegan menu items are easy to prepare and offer. Here are some suggestions.
Entrées
Three-Bean Tamale Pie: alternate 3 types of cooked beans with salsa, top with prepared cornbread mix, bake Chili Sauté: add chopped bell peppers, onions, and garlic to vegetarian chili and sauté quickly; serve over steamed brown or white rice or cornbread Veggie Shepherd's Pie: top vegetable stew (try a mixture of carrots, celery, onions, and mushrooms) with prepared mashed potatoes, bake Pasta Bake: toss cooked pasta with marinara sauce, chopped tomatoes, and diced mushrooms, season with fresh basil and oregano, bake Lentil Stew: combine cooked lentils with cooked quartered new potatoes, sliced carrots, diced celery, and chopped tomatoes, season with pepper and dill, allow to simmer, serve
Side Dishes
Garlic Mashed Potatoes: from scratch, roast whole garlic heads, peel and mash with potatoes; for speed scratch, add granulated garlic to mashed potato mixture Herbed Potatoes: coat new potatoes with olive oil (use a spray to save time and cost), toss with dried herbs, and bake until crisp Refried Beans: mash cooked pinto beans with sautéed onions, and bell peppers, sauté to heat O'Brien Potatoes: add diced peppers, chopped onions, and cut corn with hash browns, bake or sauté Rice Pilaf: sauté rice in a small amount of vegetable oil, then steam in vegetable stock, garnish with cooked peas, carrots, mushrooms, and slivered almonds
Grab-and-Go
Very Veggie Pita Pizza: coat the inside of a pita with marinara sauce, stuff with sliced mushrooms, chopped tomatoes, onions and bell peppers, minced garlic, and diced olives, heat in oven or microwave, serve hot
Veggie Size: serve veggie burger of your choice with vegetarian chili and chopped veggies, serve on whole-grain bun or in a pita
Burrito Wrap: fill a large tortilla or wrap with vegetarian refried beans, sliced chilies, chopped tomatoes or salsa, sliced onions and avocado slices, heat in oven or microwave, serve hot
Grilled Vegetable Brochette: skewer cherry tomatoes, whole mushrooms, chunks of bell pepper, zucchini, eggplant, and tomatoes, marinate in teriyaki or soy sauce for several hours. Grill until veggies are lightly brown, serve hot or cold
Desserts
Couscous with Berries: toss cooked couscous with thawed, frozen berries and chopped fresh mint, serve alone or with sorbet
Peach Cobbler: top frozen or canned pie filling with strips of piecrust, chopped nuts and raisins, bake
Baked Apple: stuff cored apples with chopped dried fruit, cinnamon, ginger and orange zest, sweeten with orange juice concentrate, bake
Apple Bread Pudding: combine shredded bread with apple pie filling (use applesauce for additional moisture), bake
Fruit Compote: stew dried fruit (raisins, apricots, prunes, apples work well) with peeled, sliced apples and pears, season with cinnamon, mace, and lemon zest. Serve hot or chilled, alone or over sorbet.
Vegetarian cuisine is becoming more and more popular. Making your kitchen and menu veggie-friendly includes creativity and a veggie mindset. No new equipment or expensive ingredients are required.
Who Wants What: Before adding menu items, ascertain what your guests' needs are. After assessing your needs, educate your staff. Include both staff and guests in mini-taste panels, product samplings, and cooking demos.
Secrets of the Storeroom: Review your inventory and identify vegan ingredients. Here are some suggestions of items to have on hand (you'll be surprised at how veggie-friendly you already are).
Freezer: frozen vegetables and fruit, frozen potatoes, frozen pie crust (made with vegetable shortening), fruit juice concentrates (to be used as a cooking sweetener in place of sugar)
Refrigerator: fresh produce, fresh herbs, fresh garlic and ginger, fresh potatoes, tortillas (made with vegetable oil), assorted breads, vegan margarine, prepared salsas, chutneys, oil-based salad dressings (made without dairy or eggs), juices
Nonperishable storage: canned tomato products, canned and dried beans (lentils, pinto, kidney, navy, garbanzos, black-eyed peas, split peas, white, lima, etc.), pasta, rice, potato mixes (made without dairy), grains (couscous, kasha, oats, bulgur, etc.), peanut butter and other nut butters, fruit preserves, vinegars, mustard, oils, dried herbs and spices, flavoring extracts, and zests Inspect the labels if you are using processed products, such as bakery mixes, frozen entrées, prepared salad dressings, etc. Some animal-derived ingredients are obvious (powdered egg, dried milk, bacon bits) and some are less obvious (casein, rennet, or enzymes used)
Speed or Scratch: Preparation of vegetarian menu items can be made from scratch or speed-scratch. If your kitchen and staff have the time and capacity, beans, veggie burgers, and pasta dishes can be made from scratch (these items stand up well to cook- chill). If time and skill are lacking, utilize speed-scratch ingredients, such as canned beans, frozen or chilled veggie burgers, and frozen pasta entrées. Add your own touches to create signature dishes. Vegetarian ingredients are versatile, easily adaptable to different dishes. Canned or "scratch" lentils can be mashed with stewed eggplant, fresh tomatoes, onions, and garlic and used as a dip for vegetables, a spread for garlic bread, or as a sandwich condiment. Tomato salsa can be a salad dressing, chip or vegetable dip, flavoring for soup, and an ingredient in casseroles. Orange or apple juice concentrate can flavor a salad dressing or marinade, replace sugar in baking recipes, or add "zip" to a sweet and sour sauce (served over grilled vegetables). Cooked black bean beans can be tossed in salads, simmered in soups, baked into breads, smashed into spreads or can stand on their own, garnished with sliced red onion and avocado.
Think efficiency: Develop timesaving production techniques for times when you are preparing both vegan and non-vegetarian menu items. For example, preparing steamed vegetables with vegan margarine or olive oil, rather than butter, or using vegetable stock or base, rather than meat stock, means making only one batch for everyone. Purchase canned vegetarian refried beans (the price is the same), canned fruit packed in juice or water, and frozen fruit, processed without sugar.
Soy Speak
Soy products have been around for the last two thousand years or so. Incorporate them into your menus for health and interest. The following information will provide your caterer with an introduction to soy-based vegan ingredients.
Tofu: Tofu is probably the most familiar soy product. Nothing more than "firm" soymilk (think: cheese making), tofu is available in different firmness and flavors. Silken tofu is custard-like and can be the "cream" in pies, soups, puddings, and sauces. Soft tofu blends well and can be used instead of dairy in smoothies, salad dressings, and dips. Firm and extra-firm tofu can be marinated, chopped, diced, sautéed, baked, etc.
Tofu has a neutral flavor so it will take on whatever personality you give it. Marinate tofu in fresh or dried herbs, salad dressings, vinegars, barbecue sauce, chili sauce, etc. If you need really firm tofu, such as for grilling or roasting, you can drain blocks of extra- firm tofu. Place tofu between weights, such as several china dinner plates, and drain for several hours. This will condense and compress the tofu and works well for tofu "steaks," fajita strips, and barbecued tofu sandwiches.
There are commercially available flavored tofus, both sweet and savory. Try almond- flavored tofu for dessert items, and barbecue, Southwestern, Mediterranean, and Asian flavored for entrées.
Freezing is okay for tofu and makes it chewier in texture. Drain tofu and slice before freezing. To use frozen tofu, let it thaw in the refrigerator, squeeze out excess fluid, and marinate or cook the tofu.
Soymilk: Soymilk is available in several flavors and fat levels. Soymilk is naturally high in protein but low in calcium, vitamins A, D, and B12. If nutrition is a concern, look for fortified brands. We have seen vanilla, almond, mocha, and chocolate soymilk available in individual and food service packs.
Tempeh: Tempeh is a firm cake of pressed, fermented soybeans, sometimes mixed with grains, such as rice or wheat. Tempeh's mild smoky flavor and chewy texture works well in chili, casseroles, stir-fries, and hot sandwiches. Tempeh is sold in blocks and is usually available in various flavors.
Soynuts: Soynuts are roasted soybeans and have a nutty, peanut flavor. Use them in Thai dishes, as salad toppings, and as an ingredient in baking and trail mixes.
Soy Cheese and Yogurt: Soy cheese and yogurt can be used just like their dairy cousins. Soy cheese is available in various types, such as mozzarella and cheddar. Look for vegan soy cheese that does not contain casein (an animal product). Soy yogurt is generally available as a sweetened, fruit-flavored product. Use it as is in sauces or freeze it for a fast dessert. Frozen soymilk and rice milk are the vegan equivalents of ice cream and are available in many flavors and forms (sandwiches, cones, etc.).
Soy Protein: Meat analogs, such as tofu hot dogs, burgers, crumbles, breakfast strips, and "fake" sandwich meats are generally made from soy protein and are designed to mimic their animal counterparts. Experiment with different brands to find the type that have the flavor and texture acceptable for your guests. For example, several brands of soy burgers should be fried, which may defeat the purpose of your healthy offerings.
Food Safety
Food safety procedures are important for all vegan protein products. Except for aseptically packaged products (tofu and soymilk are available in this packaging), all soy and protein products must be kept refrigerated until used and have use-by dates to which you must adhere. Once opened, all soy and protein products must be handled just like meat or eggs. Avoid time-temperature abuse, cross-contamination, multiple reheating of leftovers, etc.
Although not a soy product, seitan is a popular vegetarian meat substitute. Seitan is compressed gluten (wheat protein). It is available in blocks, strips, and crumbles and can be frozen until ready to use. Seitan has a very firm texture and will hold up to poaching, roasting, grilling, and baking. Serve it as a "steak" (marinated in lemon or lime juice, garlic, and onions) or add it where you would use beef or chicken strips. There are commercially available meat analogs made with seitan, some in the shape of roasts, which can be flavored and served just like roast beef.
Tofu, tempeh, soymilk, and seitan (wheat gluten that can be used in place of meat) can be frozen. They must be thawed in the refrigerator. The frozen tofu, tempeh, and seitan will be tougher when thawed and the soymilk will be watery. Plan on using thawed products as ingredients rather than as stand-alone items.
All soy products are available in organic or standard forms and may be fortified or not. The products used to process them may differ. For example, some tofu is process with calcium, some with nigari (a sea vegetable). Save the labels, as some of your customers may request this information.
Soy Instead
| | |
| --- | --- |
| Instead of: | Soy Substitute |
| 8 ounces ricotta cheese | 8 ounces mashed firm tofu or 5 ounces okara (soy pulp remaining after soymilk production) |
| 8 ounces milk | 8 ounces soymilk |
| 8 ounces yogurt | 8 ounces blended silken tofu or soy yogurt |
| 1 large egg | 2 Tablespoons blended firm tofu |
| 1 pound ground beef (for burritos, meat sauce, etc.) | 1 pound diced firm tofu, 12 ounces crumbled seitan or tempeh (marinate for extra flavor before cooking) |
Soy Suggestions
Tempeh: marinate in Italian dressing or barbecue sauce and grill; dice and mix into soups or chilies; or slice and grill and serve as a "tempeh" dip sandwich
Soymilk: use in place of cow's milk in puddings, custards, and sauces; make hot chocolate or coffee beverages; or use in soups
Soy Crumbles: sauté, bake, or grill with fresh or dry herbs and use as pizza toppings, in chili, in "beef" and mac casseroles or "meat" sauces, and in tacos; or with tofu as a "morning scramble"
Soft Tofu: use instead of ricotta cheese in stuffed shells and lasagna, make fruit smoothies, use in salad dressings; or scramble instead of eggs (remember to season with pepper, hot sauce, sautéed veggies, etc.)
Silken Tofu: use instead of mayonnaise or sour cream in recipes, use to make pudding, pie fillings or custard; smooth out sauces (tofu Alfredo or primavera) or soups; and make a frosting by blending a small amount of tofu with an instant vegan pudding mix
Firm Tofu: add to brochettes instead of meat; use in stir-frys; cut in cubes to make an egg- less or chicken-less salad (toss with celery, onions, pickles, vegan mayonnaise); or grill, roast (use the same seasonings as you do for meat), or bake with bread stuffing
Soy Product Manufacturers
Eden Foods, Inc. 701 Tecumseh Road Clinton, MI 49236 www.edenfoods.com

producers of soymilk and soy sauce

Follow Your Heart/Earth Island
PO Box 9400
Chatsworth, CA 91309
www.followyourheart.com

produces vegan soy cheese, mayonnaise, and chicken-free chicken

House Foods America Corporation
7351 Orangewood Avenue
Garden Grove, CA 92841
www.house-foods.com

producers of Japanese-style tofu

Lightlife Foods
PO Box 870
Greenfield, MA 10302
www.lightlife.com

producers of soy hot dogs, sausage, and deli Slices

Morinaga Nutritional Foods
2441 W. 205th St.
Torrance, CA 90501
www.morinu.com

producers of Mori-Nu aseptic packaged tofu

Toffuti Brands, Inc.
50 Jackson Drive
Cranford, NJ 07016
www.toffuti.com

producers of soy-based frozen desserts, vegan soy cheese, and soy cream cheese

Turtle Island Foods, Inc.
PO Box 176
601 Industrial Ave.
Hood River, OR 97031
www.tofurky.com

producers tempeh, veggie "meats", and pizza

Vitasoy USA, Inc.
1 New England Way
Ayer, MA 01432
www.vitasoy-usa.com

producer of soymilk

White Wave, Inc.
1990 N. 57th Street
Boulder, CO 80301
www.whitewave.com

producers of soy yogurt, tempeh, tofu, and soy beverages including creamer

WholeSoy and Company
Sacramento St.
San Francisco, CA 94111
www.wholesoyco.com

producers of soy yogurt, tempeh, tofu, and soy beverages including creamer
Suggestions for Vegan Replacements
| | |
| --- | --- |
| Instead of: | Use: |
| Hot roast beef in a sandwich | Hot Field Roast™ with mushroom sauce |
| Sausage and egg burrito | Soyrizo™ and scrambled tofu or vegan breakfast crumbles and tofu |
| Roast beef, lamb, or pork in a French dip sandwich | Sliced veggie meats with onion sauce |
| Steak in a steak dinner | Grilled whole portobello caps, seitan, or Tempeh |
| Meat loaf | Combination of soy ground round and TVP with chopped vegetables, formed and baked into a loaf |
| Pork loin for a pork roast dinner | Sliced Tofurky™ with an onion-garlic gravy |
| Ground beef for tamale or shepherd's pie | Crumbled Field Roast™ or soy ground round |
| Filling for lasagna | Thinly sliced eggplant, zucchini, summer squash, mushrooms, tomatoes, vegan cheeses, olives, and smoked tofu |
| Filling for enchiladas | Chopped tomatoes, bell peppers, chilies, mushrooms, shredded vegan cheeses, mashed or whole beans, brown rice, cut corn |
| Turkey in hot turkey sandwich | Sliced Tofurky™ or extra-firm tofu marinated, poultry seasoning, served with Vegetable gravy and cranberry sauce |
| Burger with the "works" | Veggie or mushroom burger with sliced tomato, shredded carrots, shredded beets, sliced cucumbers,diced bell peppers, sliced chopped onions, and shredded red and green cabbage |
Additional Explanations
If you need to get more in-depth with your caterer, the following goes into label-reading and acceptable vegan ingredients.
Wine: The Fruit of the Vine May Have More Than Fruit
How can wine (and vinegar) not be vegetarian, you ask? It's true that wine usually contains only grapes or other fruit, yeast, and perhaps a small amount of sulfites, which are added and created during fermentation. Wine and vinegar ingredients are vegetarian and vegan. It's the processing of wine and vinegar that may introduce small amounts of animal products. Don't be surprised if vegan customers inquire about the brand of wine or vinegar you use.
Most people prefer their wine and vinegar to be clear. A clarifying or fining agent makes wine clear by removing proteins from the wine. The agents eventually settle out of the wine. Different proteins serve as clarifying agents depending upon both the type of wine and the desired flavor. Lab trials determine both the clarifying agent and quantities used. The fining agents have an opposite polarity to that of the wine. Therefore, the agents solidify with the protein and they remain in the wine, although they can be removed.
Some finers are animal-based products and some are earth-based. Animal-based agents include egg whites, milk, casein, gelatin, and isinglass. Animal-based finers are generally less expensive. Isinglass is prepared from the bladder of the sturgeon fish. Bentonite, a clay earth product that is vegetarian, serves as a popular fining agent.
Egg whites from chicken eggs are used for red wine clarification and are removed before the wine is bottled. The egg whites are not specially processed or separately distributed for the wine industry. They are regular, store-bought eggs or farm eggs. Two or three egg whites can clarify a 55-gallon wine barrel.
Winemakers in areas of France generally utilize egg whites in their production because they can use the whites of the eggs after the yolks have already been added to food products. Large producers of wine in the United States do not usually use egg whites as a fining agent. They may select potassium caseinate as a substitute for eggs. Whole milk and casein are two other possible fining agents in some red wines.
Gelatin can clarify either white or red wine. Gelatin pulls suspended material out of wine, and less expensive wines may use this material. One ounce of gelatin can clarify 1,000 gallons of wine.
Fining agents coagulate on the bottom of the wine tank or barrel. They are then removed through either a settling process or a cellulose fiber filter. The ingredient list of a wine will not state the clarifier as an ingredient because it is removed from the final product. Calling or writing to a particular wine company may be the best way to discover which fining agent they use. Also, keep in mind that some vegans choose not to consume alcohol for religious reasons.
The animal-fining issue includes vinegars that are produced from wines. Search for vegan sources of wine or vinegar online.
Vegan Sugar
Refined sugar is avoided by some vegetarians because its processing may involve a bone char filter. An activated carbon filter, sometimes made of bone char, whitens sugar through an absorption process. While the bone char filter is used by some major sugar companies, it is not used to produce all refined sugar.
The two major ingredients in refined sugar produced in the United States are beet sugar and cane sugar. Cane sugar is mainly grown in Florida, California, Louisiana, Hawaii, and Texas. Beet sugar is grown in states located in the middle part of the United States. Much sugar cane is actually imported. According to beet sugar producers, beet and cane sugar are nutritionally equivalent and one cannot usually taste any difference between them. They are both composed of sucrose.
Beet sugar refineries never use a bone char filter in processing because this type of sugar does not require an extensive whitening procedure. Beet sugar can be refined with a pressure lead filter and an ion exchange system.
Bones from cows are used to make bone char. Bone is heated to an extremely high temperature, which results in a physical change in the bones composition. The bone becomes pure carbon before it is used in a refinery. Refined sugar does not contain any bone particles. The bone char removes impurities from the sugar, but does not become a part of the sugar. Individual pieces of bone char, like granular carbon, can be used for several years. They must be continuously washed to remove the sugar deposits.
Some labels on sugar packages seem to indicate that the product is raw sugar, but all commercial sugar has undergone some refining. Genuine raw sugar cannot be bought and sold to the general consumer in the USA according to FDA regulations, as it is considered unfit for human consumption.
Turbinado sugar is a product that is made by separating raw cane sugar crystals in a centrifuge and washing them with steam. Turbinado sugar does not pass through a bone char filter because its brown color is desirable. You may also find date palm sugar and other "fruit" sugars that have not been filtered. They have a slightly different taste, texture, and absorbing ability. You'll want to try out a small-batch recipe before using these sugars in large batches. The good news is that organic sugars are usually free of bone char. (See page 20.)
Even the Maple Syrup?
The process of making maple syrup requires an agent to reduce the foam on the syrup by adding a small amount of fat to the liquid. The traditional process of reducing the foam in maple syrup has included the use of lard. Previously, local producers would hang pork fat over a tub of maple syrup and let drops of fat drip into the syrup. Others used milk, cream, or butter. If animal products are used in the form of lard or milk, the amount is minute. For example, eight to ten gallons of syrup will involve a quarter of a teaspoon of cream or a pea-sized drop of butter. Vegetable oil is a common defoaming agent. It can be applied to the end of a wooden stick and dipped into the foaming part of the maple syrup. Most manufacturers of maple syrup now use vegetable oil or synthetic defoamers instead of lard.
The List Goes On
Red food coloring, frozen French fries, and ready-to-use pie crust may contain animal products, as may many other items perceived as vegetarian. Read the label and select the products which best meet everyone's needs.
The Ins and Outs of Vegetarian Label Reading
The following can help as you attempt to decipher if particular processed foods are veggie or not:
Natural flavors: "natural" does not necessarily equal "vegetarian." Natural only means that ingredients are derived from unprocessed products, such as herbs, spices, eggs, dairy, meat, or fish.
Are all French fries vegetarian? Not necessarily; most commercial French fries are blanched prior to freezing. Blanching may be done in animal fat. Also, fries are sometimes seasoned with beef or chicken flavor. Check the label or with the manufacturer.
What is cochineal (carmine)? Some red food coloring is made from the shell of the cochineal beetle. This can be labeled as cochineal, carmine, or carminic acid. Cochineal is not considered vegetarian.
What about whey? Whey is the liquid that remains after most of the protein and fat has been removed from milk during the cheese-making process. It is also the liquid that rises to the top of yogurt. Whey is vegetarian but not vegan.
How about when I see "enyzmes" listed on the label? Enzymes are proteins added to foods to enhance flavor or improve texture. They can be animal, vegetable, bacterial, or plant-based. Those used in cheese-making may be animal-derived, so even a vegetarian who eats cheese may not eat brands of cheese made with animal-based enzymes. Examples of enzymes are: lactase (bacterial), lipase (animal or plant), papain (vegetable), pectinase (fruit), protease (animal, vegetable, bacterial, or plant), rennet (animal), and trypsin (animal).
Are mono- and diglycerides okay? Monoglycerides and diglycerides are common food additives used as emulsifiiers and/or preservatives. The commercial source may be either animal (cow- or pork-derived) or vegetable, or they may be synthesized in a food laboratory. They are often found in bakery products, beverages, ice cream, chewing gum, shortening, whipped toppings, margarine, and confections. Once again, you need to check with the manufacturer to find out the source.
Stearic acid comes from steers, right? Stearic is used as a binder or flavor agent in foods. Its source may be either animal or vegetable. It is found in vegetable and animal oils, animal fats, cascarilla bark extract, and in synthetic form. It is used in butter flavoring, vanilla flavoring, chewing gum and candy, fruit waxes, and may not be vegetarian.
Calcium lactate sounds as if it comes from milk (as in "lactose"). Believe it or not, calcium lactate is typically vegan. It is generally fermented from cornstarch or beets.
What are agar-agar and guar gum? Both are very traditional, vegan thickening agents. Agar (also known as agar-agar) is a vegetable gum obtained from seaweeds used to thicken foods. Guar gum is also a vegetable gum.
Where does casein come from? Casein is a milk derivative. It is sometimes used to improve texture in soy and rice cheeses, yogurt, and sour cream. This means that some soy and rice products may be vegetarian, but not vegan.
I see "lecithin" on a lot of labels. Is it vegetarian? Lecithin is naturally found in egg yolks, dairy products, and meat, as well as some vegetables such as soybeans, peanuts, and corn. Lecithin is commonly used in foods that require emulsification or blending. Nowadays, most manufacturers use soy or corn as a basis for lecithin product.
Is "gluten" a protein from meat? Gluten is a mixture of proteins from wheat flour and is generally a vegan product. It may also be called wheat gluten or seitan.
Is kosher gelatin vegetarian? Kosher gelatin can be made with fish or beef bones. This means that it is not always vegetarian. Some Kosher jells are vegan.
Putting it all Together
The proceeding information should give your caterer a solid base for vegan menu planning. You may want to share menu-planning ideas or recipes from previous chapters in this book, to make your party meal as close to perfection as possible.
If you are looking for some "upscale" ideas for your caterer, you might want to share the following two menus. These multi-course, elegant menus were designed and prepared for many upscale events by Executive Chef Michael Valvik in the Indianapolis area.
Upscale Menu # 1
Tofu and Vegetable Sushi Rolls with Mizuno Salad Mix laced with soy-ginger emulsion accompanied by Lotus Chips, Anoka Mushrooms, Pickled Ginger, and Wasabi
Marinated Portobello and Roast Vegetable Napoleon topped with fried Leeks laced with Port Wine Reduction accompanied by Six Grain Rice, Herb, and Pecan Medley, Rapine, and Petite Carrots
Strudel Purse filled with Fresh Fruit and Hazelnuts bound with Lavender Rice Syrup, Baked Golden Brown, and Dusted with Powder Sugar and Chocolate Sauce
Upscale Menu # 2
Potage of Tomato and Basil Purée, garnished with Roasted Corn, Asparagus Tips, and Polenta Croutons
Marinated Grilled Eggplant Roulades filled with White Bean Ragout, Roasted Peppers, and Broccoli Flowerets on a bed of Rice Noodles tossed with Fresh Spinach and Mushrooms, and Drizzled with Balsamic Reduction
Vanilla and Pear Sorbet topped with Berries, Candied Pecans, and Fresh Mint
EXCERPTED FROM VEGANS KNOW HOW TO PARTY
BY Chef Nancy Bakeoff, RD
Available from
http://www.vrg.org/catalog/index.php?main_page=index&cPath=1