Posted on February 18, 2010 by The VRG Blog Editor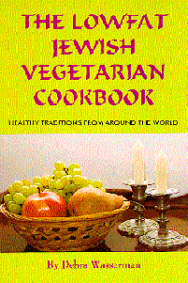 Here's an eggless version of hamentashen, the popular baked treat served during Purim. If you are unable to purchase prune or poppy seed filling in your local supermarket, simply puree a few prunes with a little fruit juice.
1½ cups unbleached white flour
1½ cups unbleached wheat pastry flour
1½ teaspoons baking powder
1/3 cup canola oil
2/3 cup water
½ cup applesauce
3 Tablespoons orange juice
5 Tablespoons prune or poppy seed filling
Preheat oven to 350 degrees.
Mix all the ingredients, except filling, together in a large bowl. Knead dough for a few minutes. Separate into 3 balls. Cover balls with a slight damp towel and refrigerate dough for about 3 hours. Remove from refrigerator and roll balls of dough out to 1/8-inch thickness. Cut out approximately 15 four-inch rounds. Place 1 teaspoon prune or poppy seed filling in center. (Filling can be bought in supermarkets and some natural food stores). Form a triangle out of the dough by folding in edges, but still leaving some space in the middle of the dough for the filling to remain mostly uncovered.
Bake at 350 degrees for 30 minutes until dough is brown. Serve.
| | |
| --- | --- |
| Total calories per pastry: 141 | Fat: 5 grams |
| Total fat as % of daily value: 8% | Protein: 3 grams |
| Iron: 1 mg | Carbohydrates: 22 grams |
| Calcium: 8 mg | Dietary fiber: 2 grams |
Need vegan recipes for Passover? Right now we're offering a special: get both Vegan Passover Recipes and No Cholesterol Passover Recipes for just $12 and free shipping!
Call 410-366-8343 to order.