Posted on July 01, 2010 by The VRG Blog Editor
By Veronica Lizaola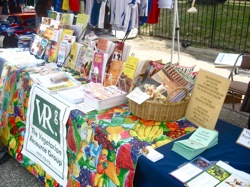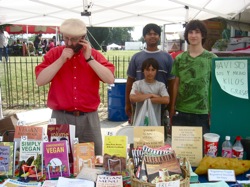 LatinoFest in Baltimore, which took place on June 26 and 27, 2010, was full of culture, vibrancy, and very hot weather. The scorching 100 degree weather, however, did not prevent such a vast array of Latin American cultures from interacting with each through conversation, food, music, and dance. The Latinos – Mexicans, Salvadorians, Hondurans, Puerto Ricans, and Cubans to just name a few – each added their own spice and flair to the festival. Vendors sold all kinds of unique items; ranging from soccer jerseys to platano maduro (fried plantains) to handmade jewelry and clothing.
Representing the Vegetarian Resource Group was truly an interesting experience all in its own. In addition to the Walters Art Museum that was also there, we were the only nonprofit organizations to help educate the public.
The VRG had all kinds of items that made our stand visually appealing to the eye and it definitely helped draw in children and adults. All of our colorful books, the vibrant table cloth with depictions of fruits and vegetables, our bilingual signs, different bags of beans that acted as paper weights and as conversation starters, free copies of the Vegetarian Journal, a multitude of handouts, and the model of what 5 lbs. of body fat looks like all caught the attention of any onlooker.
Many of the people that were attracted to our table were Latino. There was a lot of diversity in our audience, which included those who only spoke Spanish, some who spoke both Spanish and English, or those who only spoke English. There were men, women, adolescents, and children of all different Latino heritages, each with a different interest.
Booth visitors included attendees who were already vegetarian and were looking for help in transitioning to vegan, omnivores who were interested in transitioning to vegetarian, and others just simply interested in eating healthier, or were interested in different unique recipes. We gave individual copies of Vegetarian Journal, and encouraged the children to take one copy of each of the three different coloring books available, including a test of our new Spanish coloring book.
The majority of the Latino population was really interested in the information we had about diabetes and the vegetarian diet. Those that only spoke Spanish took the sixteen page handout in Spanish and were really happy about the sample menu inside. Those that could speak English took our free copy of VRG's book on diabetes. So many people were impressed with our commitment and complemented us for taking the time to be there. It was definitely really helpful that Mark Rifkin, a registered dietitian, was present to help answer any questions. Many people had very specific queries about problems they were facing, such as with blood pressure and each case differed from the rest. There was even a young woman who had joined the Peace Corp and was going to be sent to Kazakhstan and wanted information so that she would be able to continue her vegetarian diet!
A really popular handout that was given was the Baltimore dining sheet that has helpful restaurant information for vegetarians/vegans. Since there wasn't a great amount of vegetarian food at the festival, people were really receptive to restaurant suggestions. The coloring books were also very popular for the children and I was really happy that I gave out copies of our Spanish coloring book, El Arco Iris Vegetariano (The Vegetarian Rainbow). With the Walters Art Museum stand directly across from us, children could use the markers that were available there and color our coloring book pages.
I was able to learn so much myself! Since this is my first visit to Baltimore, I was able to see the Latino population here flourish in front of me. It really helped me interact with the Latino population, something that since before the start of my internship, I had made a priority, as I am of Mexican heritage. I was also able to learn so much about the amount of sugar in so many products ranging from brownies and cookies to soda. Mark had different test tubes labeled as these products filled with the amount of sugar each product contained. I was so surprised to know how many teaspoons were present in each of these and I think this definitely has made me more aware of what is being consumed. I have no doubt the individuals that talked to us left with that same awareness or even more! It was an enlightening experience to be able to share so much of this information to all of the individuals that were present at Patterson Park Latino Festival.
Thanks to Brandi, Shamim, Eric, Ann Marie, Mike for volunteering at VRG's booth.
To support VRG's outreach efforts and presence at such events as LatinoFest, click here