Posted on May 22, 2012 by The VRG Blog Editor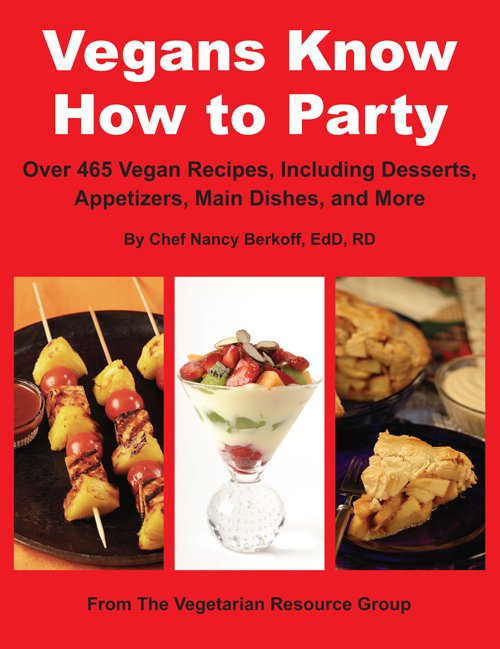 Grilling on Memorial Day? Check out this recipe for fresh fruit kebobs from Vegans Know How to Party By Chef Nancy Berkoff, RD, which contains over 465 vegan recipes including desserts, appetizers, and main dishes! Purchase a copy »
Grilled Fresh Fruit Kebobs with Ginger and Mint
(Serves 10)
Marinade:
1/2 cup rum or orange juice mixed with 1 teaspoon rum extract
2 Tablespoons maple syrup
2 Tablespoons fresh lemon juice
1 teaspoon minced fresh ginger
Kebobs:
8 green apples, cored, peeled, cut into 10 pieces each
8 ripe pears, cored, peeled, cut into 10 pieces each
8 small bananas, peeled and sliced into 10 pieces each
1 medium cantaloupe or small honeydew, seeded, peeled, and cut into chunks (or
use a melon baller to create balls)
1 medium fresh pineapple, peeled, cored, top off, and cut into 1-inch chunks (about
21/2 cups)
10 red seedless grapes or small fresh strawberries, washed
Dip:
2 cups plain or lemon-flavored soy yogurt
2 Tablespoons maple syrup
1 Tablespoon minced fresh ginger
1 Tablespoon minced fresh mint
Prepare marinade by mixing all marinade ingredients in a plastic or glass bowl together until well combined. Place apples, pears, bananas, melon, and pineapple in the marinade. Allow kebobs to marinate in the refrigerator for at least 1 hour.
While fruit marinates, prepare dip by mixing all dip ingredients together until well combined. Place dip in a serving bowl and refrigerate until needed.
Remove fruit from marinade and retain marinade. Preheat broiler or heat barbecue grill. Assemble kebobs by threading one type of each fruit on 10 skewers.
Place the kebobs in a shallow pan, and top with marinade. Broil or grill quickly, about 3-4 four minutes, just until the fruit gets the slightest bit soft. Remove from heat.
Thread grapes or strawberries onto each skewer. Serve by arranging kebobs on a platter, with the dipping sauce in the middle.
Total Calories Per Serving: 332 Total Fat as % of Daily Value: 2% Protein: 4 gm Fat: 2 gm Carbohydrates: 75 gm Calcium: 121 mg Iron: 1 mg Sodium: 19 mg Dietary Fiber: 9 gm