Posted on October 25, 2012 by The VRG Blog Editor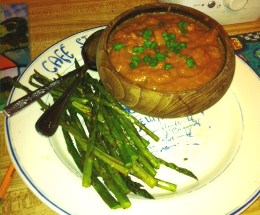 By Valerie Shore, VRG Intern
If you're looking for great vegan recipes for the holidays, Vegan for the Holidays is the book for you!
Autumn is in the air, and that means holidays as well as my personal favorite – pumpkin flavored everything. Of course, it's difficult to find many of these fall indulgences that are vegan, but there's always a quick solution – making your own! Vegan for the Holidays has thousands of recipes from Thanksgiving vegan favorites to delicious Hannukah, Christmas, and Kwanzaa meal ideas. There was one Kwanzaa recipe in particular that caught my eye when browsing the book: the Curried Pumpkin-Peanut Soup. Combining three of my favorite things, this sounded like a sinful soup.
I coerced my mom, who normally is very cautious about vegan foods, to try this recipe out with me for dinner over the weekend. In terms of preparation, this was a snap. It didn't take long at all to cut up the celery, onion, and carrot and throw it in the pot, then adding the pumpkin, peanut butter and flavorings – and it was done! I like to let my soups simmer for an hour or two to let the flavors meld, and I took the time to prepare a side of roasted asparagus to go along with it. Since my mom and I prefer things to be a little spicier, I added some black pepper and red pepper flakes to the soup, as well as a small pinch of cayenne. When it finally came time to eat, the first spoonful was like a dream – an unexpectedly perfect mix of pumpkin and curry, with a backdrop of spicy peanut-y flavor that completely infused the vegetables inside the soup. It was amazing, and my mom couldn't agree more. The added spiciness suited the flavors of the soup, without overwhelming or muddling it. My mom is already picked out more recipes to try from Vegan for the Holidays, and even a few desserts to send out to family around the winter holidays.
Click here to grab your copy of Vegan for the Holidays from the VRG bookstore »