Posted on November 12, 2012 by The VRG Blog Editor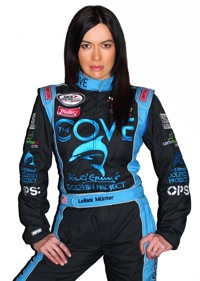 By Valerie Shore, VRG Intern
"Mainstream" and "Veganism" aren't two words that people would always associate together, but Leilani Munter is working to close that gap. Leilani became vegetarian at only six years old and is now a newly reformed vegan ARCA racecar driver who is using her position to bring awareness to many environmental issues in her races. ARCA, the Automobile Racing Club of America, has a mix of both hobby and professional racers and is a regional stock car racing club, similar to NASCAR. Leilani advocates her issues of choice by having the outside of her car advertise them, so that they appear on-screen for all ARCA fans to see. It's difficult to raise funds for advertising like this, but Leilani is determined to see her cars on the track.
Getting sponsorship is hard, Leilani claims. Since she is an activist who has such solid beliefs, companies shy away from supporting her. Leilani races maybe once a year, when she can get all of the different funds put together, because it does take a while. In February 2012, Leilani raced at Daytona with a race car decked out in messages about "The Cove," the Academy Award-winning documentary about the dolphin and whale slaughter that is happening in Taiji, Japan. Leilani ended up having a tire on the car burst, but it actually ended up being a blessing in disguise – the downtime allowed the media to focus on her car and prompted discussion about the issue from the commentators. That's why her newest project, a "Powered by Plants" race car, is so important for her. Essentially, the "Powered by Plants" race car will be a vegan-themed race car promoting a plant-based diet and bringing awareness about veganism to the fans of ARCA. Leilani hopes to be sponsored by vegan and Eco-friendly companies that agree with her cruelty-free message. She says she has always been more of an activist than just a driver, and refuses to sacrifice what she believes in for sponsorship.
In even more of an effort to dispel myths about the vegan community, Leilani also hopes to have a vegan chef present at the raceway when her "Powered by Plants" car races, preparing vegan food for all of the crowds at the stadium. She believes one of the best ways to getting through to non-vegetarians is through non-judgemental, friendly ways – and what's more friendly than free food? Many of us have experienced times when someone will scoff at the idea of "vegetarian meat," but the truth is that it's good. When she was married, Leilani had an entirely cruelty-free reception, with all vegan food. She says that many of her guests were apprehensive, but afterwards came up to her and were surprised by how much they actually enjoyed the food. Leilani hopes that the crowds at her race will experience a similar epiphany, and perhaps reverse some of the stigmas they have about the vegan/vegetarian community.
However, one of the problems she's facing is the fact that some vegan companies, according to her, aren't willing to sponsor her pro-plant car because the audiences at ARCA aren't in "their demographic." "How else do you reach new customers if you don't go outside of people who are probably already eating your product?" Leilani asks. But, she is not giving up on her "Powered by Plants" car. Leilani wants people to know the impact of what they choose to put on their plate and how meat alternatives can be sustainable options. To learn more about Leilani's "Powered by Plants" race car, check out her website at http://leilanimunter.com.