Posted on March 26, 2013 by The VRG Blog Editor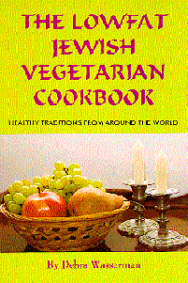 Looking for vegan Passover recipes? Happy holidays!
Matzo Meal Pancakes
From No Cholesterol Passover Recipes by Debra Wasserman
Makes 8 small pancakes
3 small ripe bananas, peeled
½ cup matzo meal
¾ cup water
2 teaspoons oil
Mash bananas in a small bowl. Add matzo meal and water. Mix well. Heat oil in a frying pan over medium heat. Form 8 small pancakes in heated pan and fry for about 10 minutes until brown on both sides.
Pear and Apple Slaw
From Vegan Passover Recipes by Nancy Berkoff
(Serves 5-6)
1 pound (about 3 cups) fresh pears
½ cup (about 4 ounces) green or tart apple
2 Tablespoons lemon juice
1 cup finely shredded green cabbage
1 cup finely shredded red cabbage
2 Tablespoons oil
1 Tablespoon vinegar
½ teaspoon black pepper
Wash and dice pears and apples (don't peel) and toss with lemon juice. Add green and red cabbage and toss. In a cup, mix oil, vinegar and pepper until combined. Toss with vegetables until well coated. Chill for at least 30 minutes before serving.
Note: Make a double batch of this recipe, as the flavor gets even better the second day!
Syrian-Style Okra with Dried Fruit
From The Lowfat Jewish Vegetarian Cookbook by Debra Wasserman
(Serves 4)
½ pound okra, chopped
½ small onion, finely chopped
1 teaspoon oil
1 Tablespoon water
1½ cups dried fruit (about 8 ounces prunes, apricots, and/or raisins, etc.)
½ cup prune juice
½ cup tomato juice
¼ lemon, minced (rind and fruit)
Stir-fry okra and onion with oil and water in a large frying pan for 5 minutes over medium heat. Add dried fruit, juices, and lemon. Simmer 15 minutes, stirring often. Serve warm or chilled.
Oh, and don't forget… Star K (orthodox) said quinoa can be used if certified Kosher for Passover. The OU on their website says it can be a local decision, so ask your rabbi. You easily can make sweet or spicy dishes with this grain or simply use it instead of rice as a base for vegetable-based dishes you are preparing.