Posted on August 19, 2013 by The VRG Blog Editor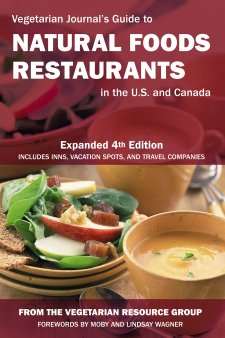 These vegan restaurants were recently added to our online restaurant guide. To find restaurants in your area, visit: http://www.vrg.org/restaurant/index.php.
Grasslands
http://www.grasslands.to/
478 Queen St., W., Toronto, ON M5V 2B4
(416) 504-5127
Vegan/contemporary. Grasslands, near the heart of Toronto, is an upscale restaurant that offers elegant dining and all-vegan cuisine. The menu is small but creative with dishes like Mustard Crusted Tempeh, Seitan Roast, and Skewers (with tempeh, tofu, and market vegetables). Reservations are accepted. Open Tuesday through Sunday for dinner. Closed Monday. Full service, wine/beer/alcohol, VISA/MC, $$-$$$.
Love Shack
http://www.loveshackmemphis.com/
2886 Walnut Grove Rd., Memphis, TN 38111
(901) 323-2288
Vegan/juice bar. This small juice and smoothie bar is Memphis' only vegan drive-thru, offering a wide array of juices, smoothies, lattes, and homemade baked goods. Try the Pomme Carrote Cannele which is a fruit cider containing apple, carrot, lemon, and cinnamon. Choose from a variety of smoothies including the Avocet-Lait which is a blended avocado shake with coconut, coconut milk, pineapple, stevia, and lime. Outdoor seating is available. Open Monday through Saturday. Closed Sunday. Counter service, take-out, fresh juices, smoothies, espresso/cappuccino, soymilk, VISA/MC/AMEX, $.
My Nature
http://www.mynatureocmd.com/
1301 Atlantic Ave., Ocean City, MD 21842
(410) 289-1808
Vegan/raw foods/organic. Vegan options in Ocean City are no longer limited to fries and salads! Come to this raw oasis to try a variety of raw/vegan salad bar options including mashed cauliflower "egg" salad, raspberry crepes, lentil burgers, and more. Save room for a shot of wheatgrass or a banana split with almond crumbles. My Nature also doubles as a bookstore and indoor garden – many ingredients used in the entrées are grown in the store! This eatery is located on the boardwalk, beneath the Phillips Beach Plaza Hotel on 13th Street. Open daily for three meals. Counter service, take-out, catering, fresh juices, soymilk, VISA/MC/DISC, $$.
Upton's Breakroom
http://www.uptonsnaturals.com/breakroom/
2054 W. Grand Ave., Chicago, IL 60612
(312) 666-7838
Vegan/café. Upton's Breakroom is an all-vegan café in West Town. Menu items are inexpensive and tasty. Try their Tempeh Sandwich, Fried Bacon Mac, Pastrami Sandwich, or BLT — everything is vegan! The café is attached to Upton's Naturals factory; they manufacture seitan products. Open daily for three meals. Counter service, take-out, VISA/MC, $.
Vegan Paradice
http://www.veganparadice.com/
846 Texas St., Fairfield, CA 94533
(707) 428-0110
Vegan/natural foods. Vegan Paradice offers delicious, homemade, and creative vegan meals. Some of their unique menu items include the Sausagy Cheez Sandwich, Terrific Tofu Burger, and Surprise Me! Chili Dog. This gourmet café prepares their food thoughtfully with the freshest of ingredients. Vegan Paradice is a locally-owned, husband and wife family business. Outdoor seating is available. Open Sunday through Thursday for lunch. Closed Friday and Saturday. Counter service, take-out, delivery, catering, VISA/MC/AMEX/DISC, $.