Posted on December 23, 2015 by The VRG Blog Editor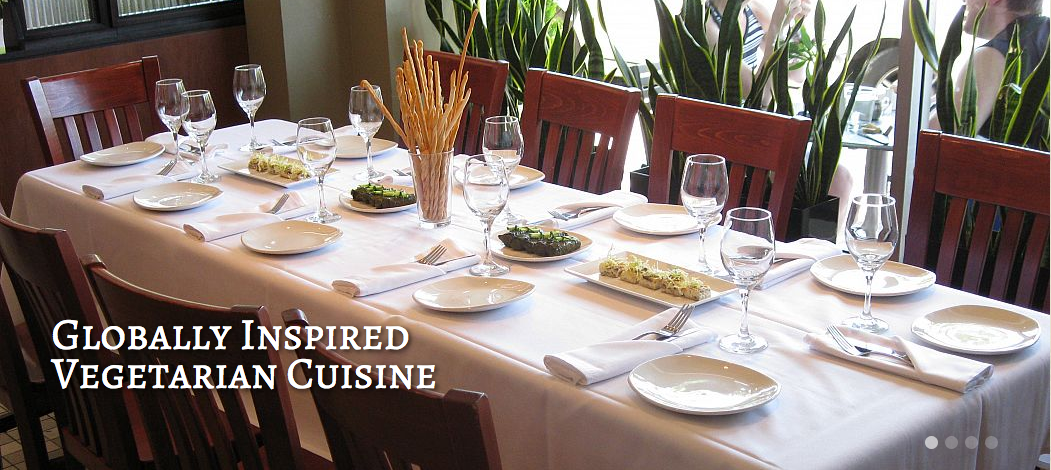 The Blind Faith Cafe, decorated with festive holiday lights and a sophisticated, earth-toned interior is situated on a cozy avenue in Evanston, Chicago, where I had just taken an audition at Northwestern University. Upon entering the cafe, we learned quickly that this cafe was unique; along with the traditional restaurant setting, Blind Faith Cafe also housed a bakery.
I ordered the Thai Peanut Noodles and the vegan chocolate cake from their on-site bakery. The Thai Peanut Noodles are vegan and gluten-free, described as "rice noodles and garden vegetables sautéed in spicy Thai peanut sauce, topped with crispy tofu, pickled ginger and peanuts." The dish proved to make a satisfying, yet light meal that pleasantly lacked any heavy oils or cloying sweetness. The flavors were hearty and substantial, with a delicate balance of sweet, salty, spicy, and tangy notes accompanied by crunchy, chewy, and crispy textures. We finished our night with a slice of vegan chocolate cake with vanilla frosting, which had everything one would want from a chocolate cake: rich chocolate flavor and aroma paired with creamy, sweet frosting. We both thoroughly enjoyed dining at the Blind Faith Cafe, a restaurant with a creative menu diverse enough to please different palates, friendly and attentive service, and an on-site bakery.
Blind Faith is in The Vegetarian Resource Group's online restaurant guide. Here is a link for anyone who wants to learn about other vegetarian restaurants around the USA and Canada: http://www.vrg.org/restaurant/index.php
Here is a link to Blind Faith's website: http://www.blindfaithcafe.com