Posted on December 31, 2015 by The VRG Blog Editor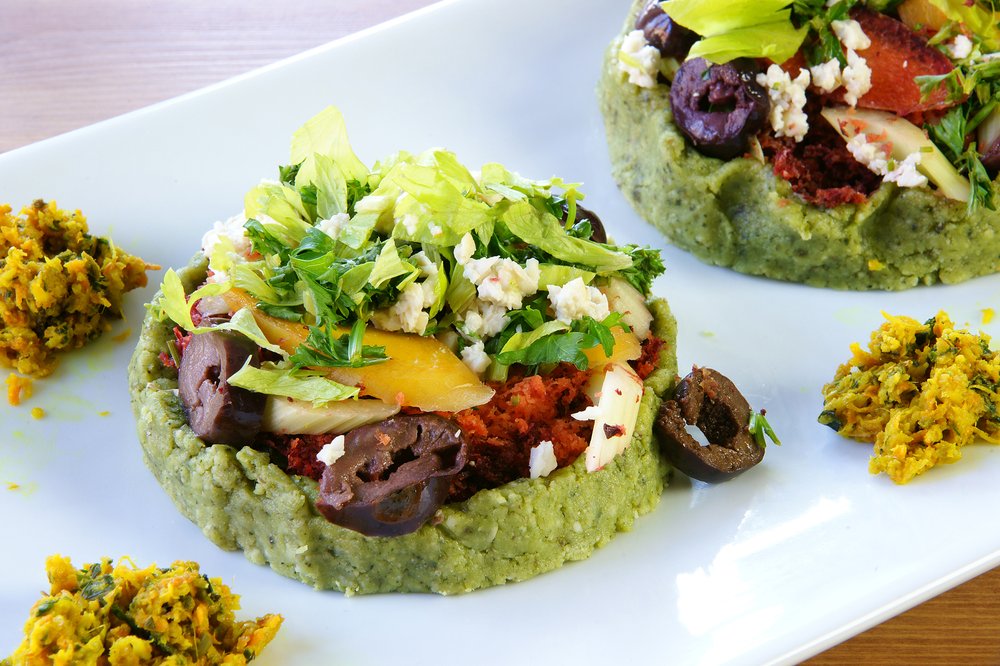 The Vegetarian Resource Group maintains an online Guide to Vegan/Vegetarian Restaurants in the USA and Canada. Below are some recent additions. The entire guide can be found here: http://www.vrg.org/restaurant/index.php
eLOVate Vegan Kitchen & Juicery
1705 Ocean Ave.
Santa Monica, CA 90401
eLOVate has an eclectic menu featuring a number of dishes ranging from classic cafe cuisine to creative fusion dishes. Check out popular items like the Jackfruit Tacos or the Crabless Cakes. Or opt for a flight of cold pressed juices. Be sure to look into the desserts as well. Free parking available with validation. Accepts reservations.
Gnome Café
109 President St.
Charleston, SC 29403
Simple design gives Gnome Cafe a fresh and clean atmosphere. From the look of it, you might expect to find a lot of salad on the menu. You'd be wrong! This menu is chock full of comfort food. For breakfast (which is served all day) have a burrito, a fresh bagel, pancakes, a hemp sausage biscuit, or the southern grit bowl. For lunch you'll see options from all over the map including taco salad, pad Thai, the bulgogi Korean bowl, or go all-American with a Reuben or a buffalo fried chicken sandwich. Sides include mac and cheese, onion rings, and Brussel sprout slaw.
Homegrown Smokehouse and Deli
1628 SW Jefferson St.
Portland, OR 97201
This unique smokehouse and sub shop is complete with a deli counter stocked with an array of homemade, sliced "Schmeats" which you can purchase by the pound! There's smoked "Be-If", smoked salami, smoked pastrami, and maple ginger "H-Yam". They also have a variety of sides, just as you would find in any deli counter, such as slaw, potato salad, beans, and their own "creamy mac-noncheese". Sandwiches include standards like the "Philthy Nocheese Stake", a take on the Philly cheese steak, and originals like the "Macnocheeto Burrito". In answer to your next question: Yes, it's a mac and cheese burrito.
icreate Café
130 King St.
Pottstown, PA 19464
iCreate café is the perfect place to hang out. Not only are they a café, but they also have movie nights, live musicians, and computer training classes available. They are well known for their vegan food and organic coffee. Some of the available vegan dishes include veggie Paninis, falafel wraps, and a platter of hummus and baba ghanouj with pita and veggies. They also offer vegan ice cream and other desserts. If you are looking for some entertainment and good food this is the perfect café to visit.
Purple Sprout Café
341 E Dundee Rd.
Wheeling, IL 60090
The Purple Sprout offers a wide selection of vegan fare with many gluten-free and raw options. For breakfast, stop in for crepes filled with either fruit or a chickpea and vegetable scramble. The lunch/dinner menu offers interesting selections such as the raw cashew and basil pizza, or the black bean and hemp burger. In addition, be sure to see what is available in their constantly changing deli and hot food cases. They offer a wide range of desserts, many of which are also raw. At the juice bar you will find an amazing array of fresh juices, juice blends, smoothies, and shots.
Sugar Plum Sweet Shop
324 15th Ave. E.
Seattle, WA 98112
Part of Seattle's well know "Plum Restaurants" family of vegan establishments, Sugar Plum is located in the Capitol Hill area and offers vegan soft serve ice cream with a selection of cones and toppings, as well as brownies, cookies, cupcakes, muffins, tarts, and other baked confections.