Posted on January 25, 2016 by The VRG Blog Editor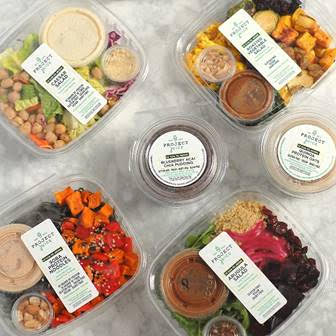 Project Juice states that they will be offering these seasonal dishes in their stores in Northern and Southern California. For locations, see: http://www.projectjuice.com/locations
Menu Items and nutritional information (complete ingredient lists are available upon request from Project Juice):
· Soba Protein Noodles with Roasted Sweet Potato and Almond Thai Dressing
o This dish combines macrobiotic black bean soba noodles, which are lightly tossed in coconut aminos and toasted sesame oil, with roasted sweet potatoes, red bell peppers, kale and crunchy cashews. It's served in almond Thai dressing.
· Arugula Salad with Roasted Beets & Quinoa and Pomegranate Vinaigrette
o Arugula, roasted beets, quinoa, pickled onions, dried cranberries, candied pecans, pomegranate vinaigrette.
· Caesar Salad with Chickpeas & Cashew Parmesan and Caesar Dressing
o This salad combines romaine lettuce with kale, carrots, red cabbage and chickpeas, tossed with lemon juice and cracked pepper. The cashew Caesar dressing and vegan cashew Parmesan, made fresh with nutritional yeast, rounds out this dish.
· Roasted Vegetable Salad with Black Rice and Fig Balsamic Vinaigrette (*available in NorCal only)
o This seasonal item is full of roasted veggies – turmeric roasted cauliflower, Brussel sprouts, delicata squash and kale – paired with forbidden black rice and golden raisins, freshly roasted almond slivers and balsamic dressing.
· Veggie Spring Rolls with Thai Sesame Dipping Sauce
o Made with rice papers. Rolls are paired with a creamy Thai sesame dipping sauce.
· Blueberry Acai Chia Pudding
o Chia seeds, blueberries, acai.
· Quinoa Protein Oats
o With maple syrup drizzle and vanilla and candied walnut toppers.
The dishes range from $6.95 to $11.95 and are now available at all Project Juice locations.
The contents of this posting, our website and our other publications, including Vegetarian Journal, are not intended to provide personal medical advice. Medical advice should be obtained from a qualified health professional. We often depend on product and ingredient information from company statements. It is impossible to be 100% sure about a statement, info can change, people have different views, and mistakes can be made. Please use your best judgment about whether a product is suitable for you. To be sure, do further research or confirmation on your own.
For information on quick service chains see http://www.vrg.org/fastfoodinfo.php
For information on vegetarian restaurants, see http://www.vrg.org/restaurant/index.php