Posted on February 05, 2016 by The VRG Blog Editor
Dandies All Natural Vanilla Marshmallows have been a favorite vegan treat since they hit the market in 2008. While they are by no means a health food, they are a wonderful cruelty-free alternative to traditional marshmallows, which are made with gelatin, an animal-based ingredient. I love tossing a few Dandies in a mug of vegan hot cocoa and snacking on the mini version by the handful right out of the bag. You can even melt them down to make crispy cereal treats.
During a recent snow storm, while watching the fire crackle away, I got the sudden urge to see how Dandies would fare when toasted over an open fire. Would I be able to recreate a favorite childhood memory with a vegan version of marshmallows? I had never tried it before, thinking they would char when exposed to the hot flames, or maybe they wouldn't be able to stay firm on the stick, melting away into a sugary mess.
I popped a Dandies marshmallow onto a perfectly-sized piece of kindling and held it over the fire. Much to my surprise and joy, the 'mallow started to slowly puff up to almost twice its size. Then, right on cue, it started to caramelize into a golden brown color around the edges. Eyes wide, I twirled my stick, giving it an even roast. The sweet, gooey, slightly-burnt taste took me right back to summer camp and it was even better than I remembered. Too bad I didn't have any vegan chocolate and graham crackers on hand!
It's not a hugely important part of life, but the fact that vegan kids everywhere can enjoy the time-honored tradition of roasting marshmallows, huddled by the fire, surrounded by friends, maybe with a few folk songs thrown in for good measure, is something I love knowing the possibility of.
You can find Dandies Marshmallows nationwide at grocery stores and natural foods stores. See http://dandiesmarshmallows.com for a store locator to find your nearest Dandies, or buy online at http://www.thevegetariansite.com/index.htm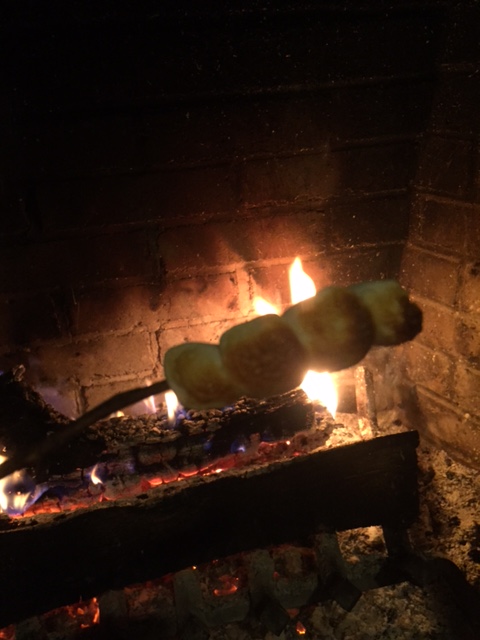 By Samantha Gendler