Posted on March 08, 2016 by The VRG Blog Editor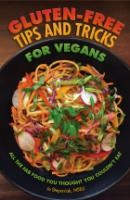 Jo Stepaniak has written another terrific vegan cookbook. Some vegans need to be on a gluten-free diet for health reasons and this book will be tremendously helpful to them. To start off, you'll find a list of gluten-containing grains and related foods that should be avoided. Next, there's a list of gluten-free grains and related foods vegans can use instead. You will also find a chapter on gluten-free baking basics and recipes for a GF all-purpose flour mix, GF pizza crust, GF pie crust, etc.
In the recipe section you'll find 70 different dishes you can prepare from breads to breakfasts to soups and salads to gravies and main dishes. And of course, you'll find a selection of desserts you can prepare at home.
Some of the recipes include vanilla-current scones, gluten-free chapatis, breakfast grits, tri-color quinoa salad, millet chili, miso white sauce, spinach and chickpea curry, pad Thai mashup, glazed lemon pound cake, and super-fudgy brownies. Nutritional analyses are also provided.
You can purchase this cookbook from The Vegetarian Resource Group at:
http://www.vrg.org/bookstore/index.php?main_page=index&cPath=1&sort=20a&page=4