Posted on April 19, 2016 by The VRG Blog Editor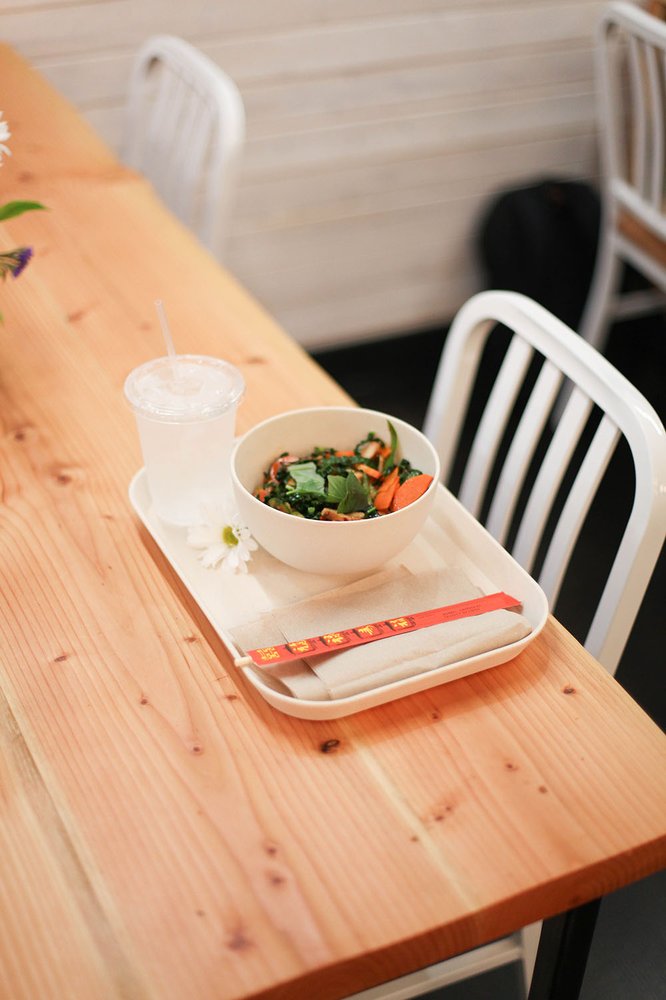 Exhausted and craving a hearty meal after visiting the Chicago Institute of Art, my sister and I trudged into the nearest restaurant we could find. Tucked along East Adams Street, Brightwok Kitchen was a random choice but unexpectedly turned out to offer us a great lunch experience. Our meal at the restaurant, a self-described Asian-inspired, build-your-own-bowl, veggie-focused company, showed us that Brightwok Kitchen lived up to its claims. A bright and clean interior with modern styling felt welcoming and safe. Although the line was long, we moved quickly as workers offered choices of sauces, bases (white rice, brown rice, rice noodles, or salad), proteins, and vegetables. We watched as they fried our selections in an assembly line of woks. I chose tofu, white rice, and their homemade spicy Korean orange sauce. For the vegetables, I chose carrots, purple cabbage, bean sprouts, and kale. My sister chose rice noodles and Thai basil sauce, with broccoli, purple cabbage, bean sprouts, and butternut squash for her vegetables. The generous serving arrived quickly and fresh from the wok.
The spicy Korean orange sauce in my bowl added a tangy kick but was not overwhelmingly spicy. I loved the balance of texture and flavor between the meaty and firm tofu, crunchy and fresh array of vegetables, and the creaminess of the sauce, all mellowed by a bed of freshly cooked rice. My sister's variation, with Thai basil sauce and rice noodles instead of rice, was hearty and had a rich flavor with earthy undertones of Thai basil. After finishing the meal, we felt satisfied and too full to even try anything from their selection of sides, which include spicy banana chips and spicy edamame hummus, and their extensive drink menu filled with coffee and tea.
I appreciate that Brightwok Kitchen goes the extra mile by listing the sources of certain foods, like the tofu from Phoenix Bean in Chicago or the tea from In Pursuit of Tea in New York and Rishi Tea from Wisconsin. On their website, they state that their menu is gluten-free, dairy-free, peanut-free, and vegan, besides the meat protein choices and the optional fried egg. (It's always good to ask questions though.) Also, all the plating and utensils the restaurant offers is either recyclable, reusable, or compostable. For anyone looking for a quick, nutritious, filling, and customizable meal, go visit Brightwok Kitchen, which is walkable distance from some great art centers like the Chicago Symphony Center, Chicago Architecture Foundation, and the Chicago Institute of Art. They also offer take-out, delivery, and catering and are open Monday to Saturday for three meals. To learn more about Brightwok Kitchen, visit www.brightwok.com.
For information about vegetarian restaurants around the USA and Canada, go to
http://www.vrg.org/restaurant/index.php