Posted on May 06, 2016 by The VRG Blog Editor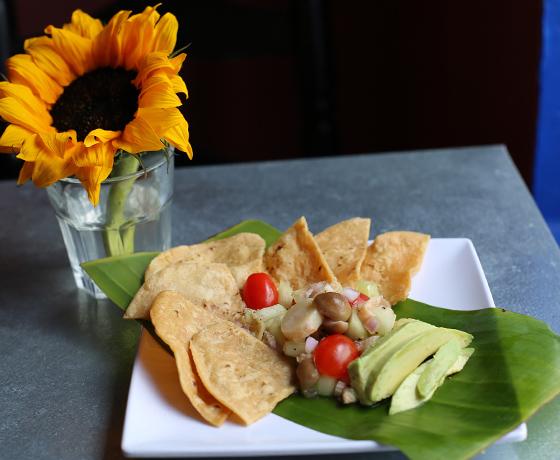 The Vegetarian Resource Group maintains an online Guide to Vegan/Vegetarian Restaurants in the USA and Canada. Below are some recent additions. The entire guide can be found here: http://www.vrg.org/restaurant/index.php
To support the updating of this online restaurant guide, please donate at:
www.vrg.org/donate

Apteka
4606 Penn Ave.
Pittsburgh, PA 15224
f you're looking for a hip and casual Central and East European vegan restaurant with a unique drink menu, look no further than Apteka. Choose from the 'small plates', like cykoria i sliwki: Belgian endive or pickled prune with beech and oyster mushrooms. From the 'big plates', try their pierogies, and for dessert, try a tarta jablkowa, an apple tart with dried fruit compote. Along with their pierogies, they are also known for their full bar.
Blossom De Jour Express
1000S 8th Ave.
New York, NY 10019
Located in the Columbus Circle Subway Station Turnstyle area (enter at 57th or 58th Streets), this take-out restaurant offers items such as Un-Chicken Avocado Griller, Spicy Green Bowl, Quinoa Burger, Burrito Grande, soup, and desserts.
Brooklyn Whiskers
760 Bushwick Ave.
Brooklyn, NY 11221
Brooklyn Whiskers is a vegan retail and wholesale bakery. They offer a variety of pastries, pies, cookies, and cupcakes, as well as breakfast and sandwich options. If you are looking for a nice start to the day, stop in and try one of their rotating pastries, a tofu scramble served on a warm croissant, and coffee. If you are there in the afternoon, you can try their Balsamic Yam sandwich, which is served with cashew spread and arugula, and you can try one of their many desserts. They have a variety of gluten-free options, and even offer delivery service within New York City.
Fruition Vegan Kitchen
472 High St.
Medford, MA 02155
The eclectic menu at Fruition Vegan Kitchen is sure to have a dish to please everyone. Dishes range from classic like the Greek Salad to inspired like the Jerk Seitan Bowl. Be sure to check out the rotating selection of desserts. Closed between lunch and dinner, so call ahead for hours.
Garden Café
14860 Olde Hwy. 80
El Cajon, CA 92021
They are located in the Red Caboose across from Flinn Springs County Park. Enjoy coffee, tea, smoothies, and grab-and-go items such as Spicy Thai Peanut wrap, Mediterranean wrap, raw chocolate pudding, and more. They have outdoor seating.
Graze
1888 Eastland Ave.
Nashville, TN 37206
Graze is focused on providing deliciously nutritious plant based foods sourced from local farms and businesses. Whether or not you're an herbivore or localvore, you're sure to find something you'll like among the selection of entrees, small plates, custom freshly pressed juices and smoothies, cocktails, and desserts.
Juice Bar & Healthy Grill
330 Magnolia Ave.
El Cajon, CA 92020
This café uses local and fair trade ingredients whenever possible. Dishes offered include Acai or Pitaya Bowl, Italian Seitan Sandwich, Chickpea Salad Sandwich, BBQ Jackfruit Burger, as well as several raw salads. They have outdoor seating available.
La Botanica
2911 N. St. Mary's Strip
San Antonio, TX 78212
Offering a variety of alcoholic beverages, La Botanica in the St. Mary's Strip may be more like a bar with vegan food than a vegan restaurant. The food has Louisianan, New Mexican, Mexican and Texan influences and options include tacos, ceviche, and empanadas. Music plays and there are board games available.
Leaf Teahouse
212 N 9th St.
Boise, ID 83702
Leaf Teahouse is committed to providing high quality, loose-leaf teas from around the world. The daily menu features a selection of fresh salads, healthy small plates, and snacks to complement their wide variety of teas that can also be purchased in bulk. As Leaf Teahouse provides a community space for local musicians, this is a great place to relax with a soothing beverage and meal.
Paisley Vegan Kitchen
630 Brevard Ave, Ste A
Cocoa, FL 32922
Visit Paisley Vegan Kitchen for completely vegan comfort food made from scratch. For patrons with dietary restrictions, the restaurant has dedicated gluten-free work spaces and fryers. Start off your meal with an appetizer, like their Chesapeake Bay Crabless Cakes, and follow with some of their macaroni and cheese or mushroom ravioli. For dessert, try their peanut butter chocolate cheesecake. The menu also includes a selection of salads and sandwiches.
Postmodern Foods
762B Walker Rd.
Great Falls, VA 22066
and
2920 M St. NW
Washington, DC 20007
Enjoy organic fresh juices, raw dishes including Massaged Kale Salad, Raw Taco Salad, and Pad Thai with Spicy Almond Sauce. For dessert you can order Chia Pudding or Raw Donut Holes.
Start From Scratch Bakery
9543 South Dixie Hwy.
Pinecrest, FL 33156
You can either visit this vegan establishment or order goods online. Baked items include cookies, pie, and cake. For lunch or dinner try soup, salad, sandwiches, and more.
Tamiri Bites
12809 66 St. NW
Edmonton, AB T5C 0A4 Canada
Tamiri Bites is bakery that produces treats that are vegan, raw, gluten-free, and refined-sugar free. Don't leave without trying one of their fifteen flavors of cashew-based cheesecake, raw cookies, or a savory Pad-Thai bite to-go. For a nut-free dessert, try their coconut bites. Visit their website to find out the several coffee shops, restaurants and supermarkets that carry their products.
The Butcher's Son
1941 University Ave.
Berkeley, CA 94704
The Butcher's Son is a vegan delicatessen offering a wide variety of traditional deli foods with a vegan twist! Try a croissant for breakfast, or a bagel with toppings on the weekends. The lunch menu is complete with sandwiches, salads, and desserts. Some favorites include the Pulled Pork Sandwich and the Fried Mozzarella & Meatball on Garlic Bread.
The Herbivorous Butcher
507 1st Ave. NE
Minneapolis, MN 55413
The Herbivorous Butcher is a brother and sister owned company that sells everything a butcher sells, but vegan! Stop by to pick up some vegan meat, jerky, cheese, and butter. Try their yucca chicken apple sausage, huli huli ribs, bulgogi, dill havarti, smoked gouda, or a spring chive butter for vegan versions of typical butcher selections. For a meal, The Herbivorous Butcher provides a to-go sandwich selection that changes week by week.
Unity Vegan Kitchen
415 Jessie St.
Vegan Kitchen is a gourmet vegan food trailer located in East Side Food Park. Made entirely from scratch on premises, their menu consists of entrees like their quinoa tofu salad and sun dried tomato pesto and tofu sandwich along with a weekly special served Wednesday through Sunday. Also, don't leave without a dessert! Try their pineapple cobbler or avocado pecan chocolate chip cookies. Unity Vegan Kitchen is great for anyone looking for a quick, convenient, and hearty dining experience.