Posted on June 23, 2016 by The VRG Blog Editor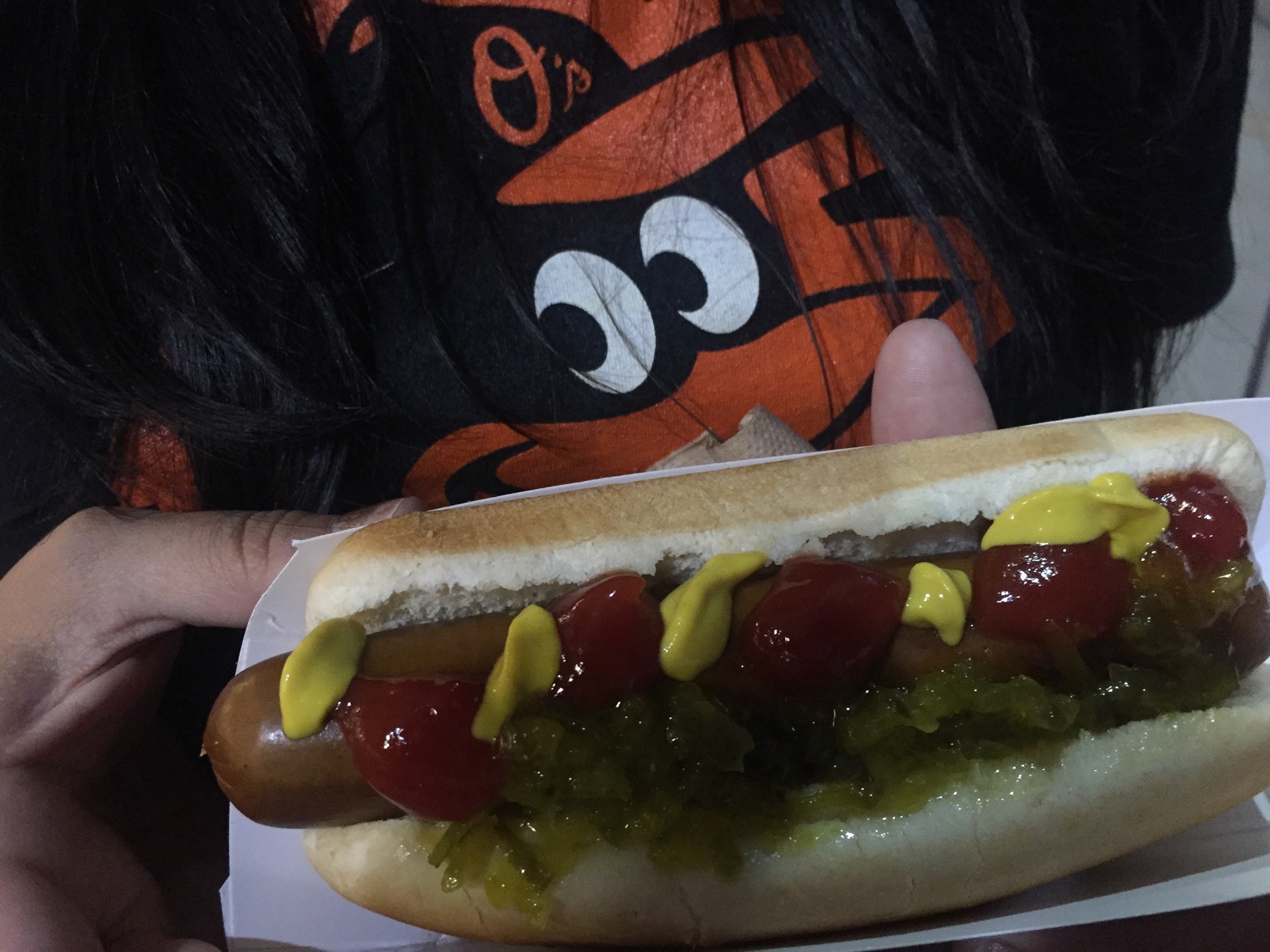 A VRG staffer attended the Orioles game last night, eager to find out how available Field Roast vegan dogs and burgers would be. Happily, we can report that we saw the vegan dogs and burgers at many O'What a Dog and Baseline Burger locations on each level. The items are listed on the menu board as "Vegan Dog" and "Vegan Burger" clearly so that you don't have to wait in line at the stand to find out if it is one that serves the option.
When our staffer ordered her vegan dog, the cashier said "I'll have to check if we have any left! Those things sell out quickly!" Luckily, they did, and it was hot and ready quickly….and delicious!
If your'e vegan and vegetarian at the ball game, be sure to come on an empty stomach to continue showing just how in-demand veg options are!
Other vegetarian options available at Oriole Park at Camden Yards:
Cheese Pizza (Pizza Boli Stands)
Nachos (Nacho Portables)
Fries (Baseline Burgers, Das Sausage Haus, and Baltimore Burger Company)
Soft Pretzels (O' What A Dog)
Hand Rolled Soft Pretzel (Pretzel Kiosk)
Vegetarian Edamame BAO (TAKO-Asian)
Salads (Pizza Boli Stands, Eutaw Market, Dempsey's Restaurant)
Veggie Wrap (Eutaw Market)
Fresh Fruit (Eutaw Market)
Vegetarian snack items (Eutaw Market)
Vegan Hamburger and Frankfurters-(Located at O' what a Dog's and Baseline Burgers.)