Posted on September 16, 2016 by The VRG Blog Editor
The Vegetarian Resource Group maintains an online Guide to Vegan/Vegetarian Restaurants in the USA and Canada. Below are some recent additions. The entire guide can be found here: http://www.vrg.org/restaurant/index.php
To support the updating of this online restaurant guide, please donate at:
www.vrg.org/donate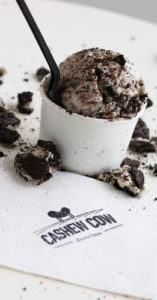 Cashew Cow
16 S. Eastbourne Ave.
Tucson, AZ 85716
They specialize in non-dairy "ice cream" derived from a cashew base. Choose from many flavors including Vanilla, Strawberry, Lemon Poppyseed, Chocolate Chip Cookie Dough, Cookies & Cream, and many more.
Chuminh Tofu & Veggie Deli
1043 S. Jackson St.
Seattle, WA 98104
Chef Tanya opened Chuminh Tofu & Veggie Deli to provide the public with healthy and ethical food. There are many different menu options ranging from sandwiches and smoothies to traditional Vietnamese plates. Try the Pad Thai or the Bún Tàu Xào!
Equelecua Cuban Café
1120 W. Florence Ave., Unit C
Inglewood, CA 90301
Equelecua offers authentic Cuban cuisine with a vegan twist! Owner Caro Lafaurie and Chef Julito Ortega transformed traditional Cuban dishes to meatless masterpieces. Be sure to try the Alitas (the spicy agave wings) or the Camarones al Ajillo. Equelecua is conveniently located within walking distance to LAX.
Grow Your Roots
220 Terence Matthews Cres.
Ottawa, ON K2M 0E2
For breakfast dine on Nola Granola Parfait, Morning Scramble, bagels, and more. For lunch or early dinner enjoy soups and salads, Panini, BBQ tofu, veggie burger, and more. Weekend brunch items include Apple Pie Panino and waffles.
Karmah
343 Kerr St.
Oakville, ON L6K 3B7 Canada
At the end of each day, Karmah donates its compost and uneaten food to local animal sanctuaries where animals were saved from slaughter, so satisfy your hunger and eat for a good cause! Food is prepared daily, juices are pressed on site, and desserts are created fresh in the restaurant's bakery. All food and beverages are vegan and soy free with some gluten-free options available. Food includes bowls, tacos, and wraps. A wide variety of beverages includes juices, smoothies, hand-crafted nut milks, and coffee drinks sure to please all tastes. Dine in or grab and go.
Munch On and Beyond
1346 Wetmore Rd.
San Antonio, TX 78247
Five individual businesses have partnered together under one roof to bring a variety of vegan, gluten-free, grab-and-go meals, snacks, sweets, and drinks. My Tea Soul features tea and baked goods; Enlighten Veggie Food offers gluten free and vegan food, like burgers, tacos, and ice cream; Viva Vegeria sells vegan tamales and Golden Horn of Plenty is a resale shop, benefiting San Antonio dog rescue.
Nourished Food Bar
131 Dean A McGee Ave. Ste. 115
Oklahoma City, OK 73102
A small space focusing on take-out with limited seating. While the structure of the menu will stay relatively the same — hearty salads, soups, snacks/bites — the ingredients used will change often, depending on the season and what we can buy from local farmers. Some items that have been available include house-made cashew cheese, hummus sandwich, potato leek soup, and kale salad. Everything is gluten free as well.
Plant Matter Kitchen
162 Wortley Rd.
London, ON N6C 3P7 Canada
Lunch items include Mac & Cheese, Curry Wrap, Veggie Burger, pizza, soup, and more. Dinner cuisine includes Pizza with side soup and salad, Shepherd's Pie, Caesar Salad, and more. Sunday brunch dishes include Breakfast Burrito, Mega Bowl, and more.
Press Food & Juice
426 Rhode Island St.
Buffalo, NY 14213
Choose from fresh produce and have a juice cold-pressed especially for you or buy one of the pre-bottled juices from the refrigerator; miniature shot-style juices are also available. Press offers a variety of breakfast, lunch, and snack items, including coffee, tea, pastries, salads, wraps, and soups. Dessert items include ice-cream, smoothies, and cocoa. An open kitchen allows patrons to see the food being prepared. All ingredients are organic and all food items are vegan; many food items are prepared raw. Some gluten free options are available. Menu availability changes often, so check their Facebook page or call for a current menu.
The V Spot
12 Millers Ln.
Dundas, ON L9H 2S9 Canada
This vibrant café serves a wide variety from fries smothered in their chili affectionately referred to as "Hot Mama's Three Bean Chili" to a Coconut Curry Chickpea wrap. You can also get a quick boost with their fair trade coffee or cool down with a refreshing Berry Patch smoothie made with coconut water. Sit cozy indoors or enjoy a bit of sun on their private back patio. The V Spot is perfect for a quick and delicious lunch solo or with friends.
Vegan's Delight
3565 Boston Rd.
Bronx, NY 10469
Enjoy Dal Patties, Wheat Meat Curry, Ital Stew Peas, Ginger Beer, Sorrell, and more. They are located off the next-to-last stop on the 5 train in the northern Bronx.
Virtuous Pie
583 Main St.
Vancouver, BC V6A 2V1 Canada
Virtuous pie offers a heavenly yet sinful dining experience. What better place to indulge than a vegan restaurant serving mainly pizza and ice cream? Their pizzas range from a standard/not-so-standard Margherita pie made with cashew cheese and fresh basil to one called Stranger Wings topped with crispy buffalo cauliflower and vegan blue cheese. Their ice cream has eclectic flavors like Basil and Peach Jam. Sit back and enjoy plant based pizza served on hand-made pizza plates in a crisp, modern atmosphere.