Posted on October 12, 2016 by The VRG Blog Editor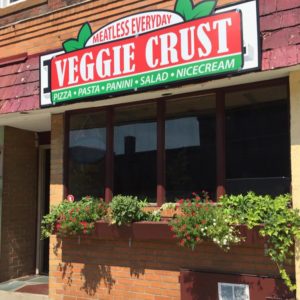 Crusts are available as thin whole wheat at this pizzeria/ice cream vegetarian establishment. You can build your own pizza from 6 different sauces and 15 toppings. Most of the specialty pizzas have a vegan option: for example, the spicy Cauliflower Manchurian or the Curry Leaf Pesto Portobello can be constructed with vegan cheese instead of dairy-based cheese. They also have Vegan Alfredo Sauce as an option. And you can try Vegan Bolognese Penne as well. A fully stocked juice bar offers a wide selection. You can finish your meal with vegan "Nice Dream" (coconut-based) for dessert.
Veggie Crust & Nice Cream is located at 445 Somerville Ave., Somerville, MA 02143. They can be reached at (617) 764-4605. They are open for lunch and dinner daily.
Be sure to visit their Facebook page: www.facebook.com/pureveggiee
and their website: http://www.vegcrust.com