Posted on October 24, 2016 by The VRG Blog Editor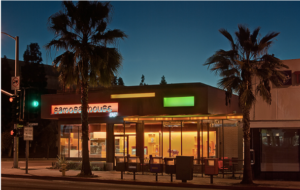 Thank You Very Much to Samosa House in Los Angeles, CA for Supporting VRG's Outreach to Young People!
Samosa House is an entirely vegetarian Indian restaurant and market offering both northern and southern Indian food. They have many unique dishes such as Banana Curry, Hara-Bhara Kabab (spinach and peas kabob), and Soy Tikka Masala (soy nuggets with tomato sauce and coconut milk). They also offer a vegan Mango Lassi (a beverage). After you have enjoyed your meatless meal, check out the Indian spices, sweets, teas, and much more in the store!
Samosa House has been a landmark since 1979. They are located at 11510 W. Washington Blvd., Los Angeles, CA 90066. They are open daily for lunch and dinner.
For more information on this restaurant see: http://www.samosahouse.com/