Posted on December 02, 2016 by The VRG Blog Editor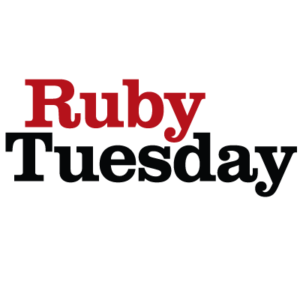 By Jeanne Yacoubou, MS
After setting a location on Ruby Tuesday's Allergen & Lifestyle Menu
page http://www.gipsee.com/rubytallergen/Loc.aspx vegan diners may
access information on menu items designated by this restaurant chain as
"vegan."
Ruby Tuesday's vegan definition appears after clicking on the question
mark next to the word "vegan" on their Allergen & Lifestyle Selections
filter:
Vegan: No Meats, No Poultry, No Fish, No Eggs, No Milk
After choosing the vegan filter, a screen appears with the following
terms of use:
…[T]he following menu options [are] based on information obtained from
our food suppliers. Every effort is made to keep this information
current and accurate. However, ingredient changes may occur due to
substitutions, preparation variation, and regional availability of products.
…We will update these online menus as our menu selections,
ingredients, and/or preparation techniques change. Please visit our
website upon each visit for the most current allergen/sensitivity and
nutritional information available…
…[F]ood prepared in our kitchens may contain…milk, eggs…fish and
shellfish. While every effort is made to minimize the risk of cross
contamination, we cannot guarantee that our food products are…vegan.
[VRG Note: Ruby Tuesday bolded words in last paragraph.]
From the Lunch and Dinner Menu at Ruby Tuesday, the vegan filter
reveals that the Garden Fresh Salads & Combinations are "okay to eat."
The Garden Vegetable Soup appears there as well.
Among the Fresh Sides on the Lunch & Dinner Menu, the vegan options that
are "okay to eat" are the following:
baked potato
green beans
grilled zucchini
steamed broccoli
grilled Brussels sprouts with champagne apple vinaigrette
The Brussels sprouts are listed as consisting of Brussels sprouts,
onions, liquid margarine, GSP seasoning (which is garlic, salt and
pepper), and champagne apple vinaigrette.
The Loaded Baked Potato is vegan ("okay with modifications") only when
ordered with scallions alone. (Butter blend, sour cream, cheddar cheese
and bacon are normally served with this item.)
On the Fit & Trim Menu, the vegan filter identifies the following options:
Garden Vegetable Soup
green beans
grilled zucchini
steamed broccoli
From the Featured Items choices, the vegan filter shows only the Garden
Fresh Salads & Combinations as "okay to eat." The Garden Vegetable Soup
also appears.
On the Kids Menu, Ruby Tuesday lists the following as "vegan…okay to eat."
Buttery* Pasta
Buttery* Pasta with Linguini
Gluten-Free Buttery* Pasta
Gluten-Free Tomato-Basil Pasta
Pasta Marinara with Linguini
Tomato Basil Pasta
*According to the website, the "buttery" in the kids' options given
above refers to "liquid margarine."
At the Fresh Garden Bar, the vegan filter presents the following as
"okay to eat":
fresh greens
spinach
iceberg lettuce
garden greens
spring mix
veggies
baby bellas
broccoli florets
green peas
pepper strips
red onions
carrots
cucumbers
tomatoes
zucchini
toppings
black olives
edamame
saltine crackers
sunflower seeds
For this report, The VRG did not investigate the sauces and dressings
available at Ruby Tuesday. Interested readers may contact the restaurant
chain or ask a Ruby Tuesday manager for more information.
Since complete ingredient statements for each menu item component do not
appear on the Ruby Tuesday website, those concerned should inquire by
contacting this restaurant chain:
https://www.rubytuesday.com/footer/feedback/guest
The contents of this posting, website and our other publications,
including Vegetarian Journal, are not intended to provide personal
medical advice. Medical advice should be obtained from a qualified
health professional. We often depend on product and ingredient
information from company statements. It is impossible to be 100% sure
about a statement, info can change, people have different views, and
mistakes can be made. Please use your best judgment about whether a
product is suitable for you. To be sure, do further research or
confirmation on your own.
For information on other chains, see http://www.vrg.org/fastfoodinfo.php
For information on vegetarian and vegan restaurants, see
http://www.vrg.org/restaurant/index.php