Posted on January 04, 2017 by The VRG Blog Editor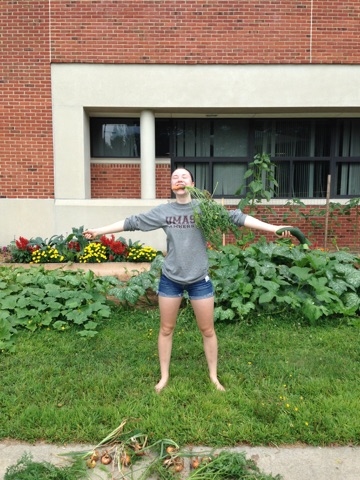 Before classes even started, I was known as "the vegetarian." Ten other Bowdoin freshmen and I were on a four-day pre-orientation trip to a Native American reservation. We stopped at Aldi's to shop for our meals for the week. Apparently I established myself as the resident veggie-expert. My trip-mates followed me around as I wheeled my cart through the produce section searching for salad ingredients and vegetarian pizza toppings. They genuinely inquired about my vegetarianism: "Do you miss meat? How do you get protein? Should I eat kale? Why are you a vegetarian?" Even though one boy immediately established himself as the avid "meat-lover" and another girl pronounced, "I've never eaten salad," I engaged them in conversation with a smile—showing them how to eat a cheap, healthy, and simple vegetarian diet.
Our meals were the highlight of the entire trip. We had a blast in the kitchen: baking, boiling, chopping, tossing, and sautéing. I couldn't tell them not to put pepperoni on the other pizza or make tacos without meat—I just showed them the yummy and easy possibilities for vegetarian alternatives.
The other day, I grabbed a meal in the dining hall with the "meat-loving" boy from that trip. He sat down across from me with a salad. On that trip, I also learned about the harsh realities of diet on Native American reservations. There are increasing rates of obesity and diabetes, and I had to look no farther than the bologna sandwiches and sipping soda served to the kids at the Rec Center. But there was hope, and to my delight, it came in the form of vegetables!
Newel Lewey helped established raised garden beds at over 100 homes on the reservation. He brought us to the greenhouse he built at the language-immersion school where elementary students come to learn the Passamaquoddy language and garden-literacy at the same time! I couldn't believe it—someone who shared my passion, yet in a completely different place! I spent 30 minutes talking to Newell about the challenges and rewards associated with transforming the way a community sees food. He opened my eyes to food justice—the idea that everyone, no matter their race or socioeconomic status, should have equal access to healthy, wholesome food. I wrote down his email so that I can ask him to speak at Bowdoin!
My favorite club at Bowdoin is the Bowdoin Organic Garden (BOG) club. In the summer/fall I harvested and delivered garden produce directly to both dining halls on campus (the dining halls label BOG ingredients). This promotes in-season, organic, plant-based meals.
My favorite event I participated in through this club was serving garden-fresh hand-milled corn tortillas, salsa, peppers, and kohlrabi to the campus community! I loved this event because I got to teach people about foreign-sounding vegetables like kohlrabi and talk about why it's so rewarding to eat a home-grown, plant-based diet! I also gleaned with the BOG, which is when volunteers go to a local farm and harvest all excess produce from the fields that would otherwise go to waste because of appearance or quality. Then we deliver that produce to a soup kitchen in Brunswick, which I also volunteer at.
I always strive to be better. That's why I am trying veganism! It's great to have a support network of other people (i.e. people from BOG) who are also food-conscious—we keep each other honest and share ideas! My college makes it super easy—they label everything and always have a vegan and vegetarian main course and even vegan dessert! However, I recognize that although my college does a lot to accommodate special diets, they should make plant-based meals a priority.
Last month, Katie Scott from the New England chapter of the Humane Society visited me at Bowdoin. Katie's job is to implement Meatless Monday programs in cafeterias and dining halls all over New England. I met with her to talk about implementing a program at Bowdoin. I heard from upperclassmen that Bowdoin attempted Meatless Mondays a few years back, but it only lasted until the football team protested the campaign. Obviously, there might be a few challenges to renewing this program but Katie and I are hopeful and committed. My next steps include meeting the head chefs and ask what exactly happened when they tried Meatless Mondays. Then I want to propose the idea to the Organic Garden and see if we can network with eco-reps and other food-oriented clubs on campus to put out surveys to the campus community about Meatless Mondays.
I am infinitely grateful for this scholarship! I couldn't be happier at Bowdoin! Thank you for making it possible!
For information about applying to the 2017 Vegetarian Resource Group college scholarships (deadline is February 20, 2017), see: http://www.vrg.org/student/scholar.htm
To donate towards VRG scholarships, internships, and other outreach to young people and foodservices, donate at http://www.vrg.org/donate
Join VRG at http://www.vrg.org/member/2013sv.php
Here is more information about Lauren.
http://www.vrg.org/blog/2016/06/23/connecticut-student-wins-10000-vegetarian-resource-group-scholarship/