Posted on January 11, 2017 by The VRG Blog Editor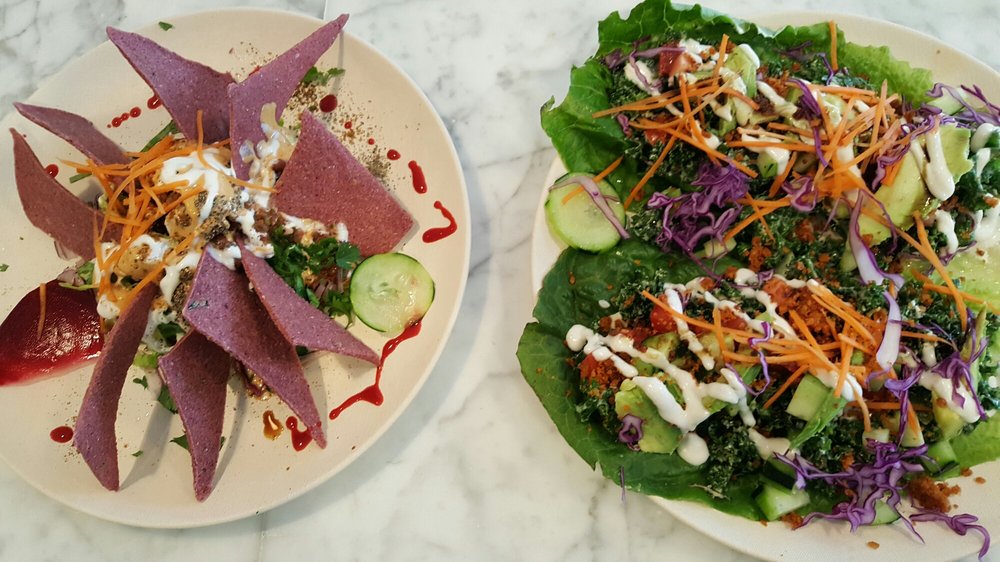 Wild Living Foods in Los Angeles
The Vegetarian Resource Group maintains an online Guide to Vegan/Vegetarian Restaurants in the USA and Canada. Below are some recent additions. The entire guide can be found here: http://www.vrg.org/restaurant/index.php
To support the updating of this online restaurant guide, please donate at:
www.vrg.org/donate
Awai
2277 Bloor St. W.
Toronto, ON M6S 1P1 Canada
Awai is a vegan fine dining experience! They serve innovative dishes such as Confit Artichoke Ravioli and Truffle Paella. Gratuity is included in the menu prices.
Café Verve
115 E Beaver Ave.
State College, PA 16801
This completely vegan cafe serves a number of fun options to dine in or take on the go. The coffee and tea menu features drinks that can be made with soy, almond, or coconut milk. Savory options include the Walking Waffles or the All American Burger. Be sure to check out the selection of sweet baked goods while you're there!
Good Rebel
1591 Dundas St. West
Toronto, ON MK6 1T9 Canada
Good Rebel is a vegan grocery store that offers plant based "meats", "cheeses", "fish", and "dairy products". You can order a sandwich at the deli counter – menu changes daily.
Sanctuary Vegan Café
151 N. Seven Oaks Dr.
Knoxville, TN 37922
Sanctuary Vegan Cafe serves appetizers, salads, sandwiches, and entrees, plus they have a kids menu. They strive to use organic products whenever possible. They have gluten free options. The owners hope to use the profits from the restaurant to open a sanctuary for rescued farm animals.
Shangri-La Vegetarian
7400 3rd Ave.
Brooklyn, NY 11209
This restaurant is located in the Bay Ridge Area of Brooklyn. Shangri-La offers Asian cuisine with a modern healthy twist. Enjoy dishes including the General Tso's Soy Protein (Breaded medallions of sautéed soy protein with steamed broccoli in a spicy brown sauce) or Pineapple Fried Rice (Brown rice sautéed with sunflower seeds, broccoli and browned tofu topped with diced avocado) with one of their many fresh iced or hot teas. Order online for a speedy delivery.
Splurge Juice Bar & Café
18505 NW 75th Pl., #119
Hialeah, FL 33015
Splurge is owned and operated by a mother and her daughter who are devoted to helping folks achieve a healthy life by eating plant based foods. They serve juices, bowls, wraps, and breakfast. There is a "Becoming Vegan" section on their website containing multiple resources for people who are thinking about making the switch to veganism.
Wild Living Foods
760 S. Main St.
Los Angeles, CA 90014
Wild Living Foods is located in Downtown LA. It is a "grab-n-go" style eatery that offers organic and raw plant based foods. The kelp pastas, Pablo burgers, and pizzas are highly recommended.