Posted on January 19, 2017 by The VRG Blog Editor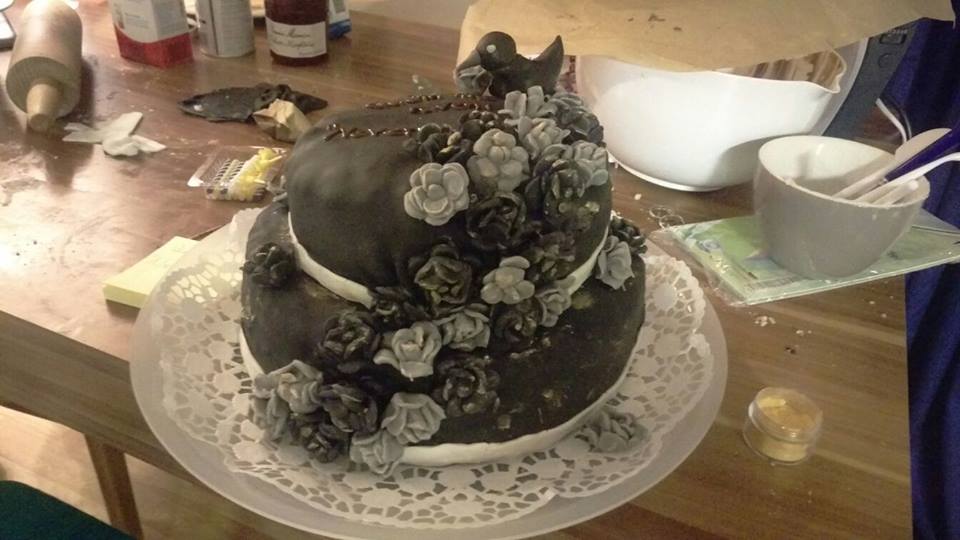 By Alicia Hückmann, former VRG intern from Germany
This vegan cake was a birthday present for a good friend who is a huge fan of E.A. Poe. My best friend and I spent an entire day in the kitchen to make it and the result was definitely worth the hard work. Even though our mutual friend is not vegan, she was overwhelmed and didn't seem to miss any non-plant ingredients!
Since Baltimore is not only the city in which I spent this past summer as an intern at the VRG but also the place where Poe is buried, I am even happier to share the recipe with you.
Please note: You will be placing ingredients in 2 different bowls, thus why amounts listed twice in some cases.
3¾ + 3¾ cups all purpose flour
2+2 tbsp baking soda
2+2 tbsp baking powder
1½ + 1½ cups sugar
2 + 2 tsp vanilla extract
Grated rind of 2 + 2 (organic) oranges
6 + 6 ounces oil
14 + 14 ounces sparkling water
1 jar red jam (strawberry, cherry, etc.)
2 round baking pans (10-inch size)
2 packages Soyatoo Whipping Cream
OR
13 + 13 ounces heavy coconut cream
Coconut milk
1 tsp vanilla
10 Newman-O's cookies (flavor: original)
1 bar vegan chocolate
24 ounces black fondant
5 ounces white fondant
5 ounces black, silver, grey, and/or white fondant
2 differently sized blossom cutters
Edible golden glitter
3 tsp sugar paste (Mix 2 tsp sugar and 2 tbsp water in a cup)
Cake Pen
Preheat your oven to 350 degrees. Sift the flour, baking soda, and baking powder in two separate bowls and add the sugar, vanilla extract, and the grated rind, then stir well. Roughly mix the dry and the liquid ingredients using a dough scraper (baking the dough will dissolve all remaining lumps). Pour the batter of the first bowl into one baking pan and the batter of the second bowl in another baking pan. Put both into the oven for 35-40 minutes. Test the cakes for doneness using a toothpick before taking it out. If a toothpick inserted in the center comes out clean, the cake is done. Let it cool for a while before you remove the cake from the pan.
While the cakes are still in the oven, start preparing the cream. In Germany, Soyatoo's coconut whipping cream is a convenient vegan alternative for dairy whipping cream. As this product is currently not available in the USA, I recommend using heavy coconut cream (by Edward and Sons, for example) instead. Mix it with a few teaspoons of coconut milk if you prefer a creamier texture for your cake. If you decide to use coconut cream, make sure to let it cool for at least 24 hours before adding any ingredients!
Once your cream base is ready, pour it into two seperate bowls (13 ounces each). For the Newman-O's cream, mix with vanilla and 10 crumbled cookies; for the chocolate mousse, stir the cream with 1 bar of melted vegan chocolate. Let both bowls cool in the fridge for about an hour.
In the meantime, take one of the two cakes and cut out a smaller circular cake with a diameter of 6 inches (e.g. by using a template made from paper). Cut both cakes horizontally, then spread the chocolate mousse on the lower half of the smaller cake. If there is any left, mix it with the cookie cream before spreading it on half of the bigger cake. Put both upper halfs back on top and coat all surfaces with the jam.
Evenly roll about 16 ounces of the black fondant until it is very thin and put it on top of the bigger cake (a second pair of hands might be helpful for this step). Repeat with the remaining 8 ounces of fondant and the smaller cake. Both cakes should be mostly covered. Now apply some jam to the center of the bigger cake and put the smaller cake on top. Roll out the white fondant in a linear shape and cut out two ribbons (about 30×2 inches and 20×2 inches). Spread some jam on both before wrapping them around the lower parts of the two cakes.
Now roll the remaining pieces of fondant and cut out 1-2 dozen pairs of flowers using the cutters. For one flower, you need a pair of differently sized blossoms and a <1/2 inch teardrop-shaped piece of fondant. Brush the middle of the smaller blossom with the sugar paste before attaching the center. Gently wrap the petal around the center. Repeat with the larger blossom. Decorate each flower with a little bit of golden dust. Let all flowers dry for an hour before applying them to the cake using the sugar paste. If you stick flowers to the sides of the cake, make sure they are supported by at least one flower underneath. With the remaining black fondant, make a raven figure by sticking a 1 inch ball to a 2 inch torso and decorating it with eyes and a beak in a different color. Use two toothpicks as legs and let dry for an hour before pinning it on top of the cake. Depending on how much space there is left on the upper surface of the cake, you can also add a quote by Poe, birthday wishes, etc. with a cake pen.