Posted on February 08, 2017 by The VRG Blog Editor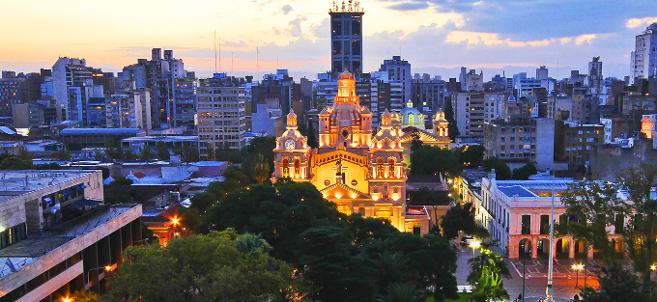 By Madeline St. John, former VRG intern
I recently returned to the United States from Cordoba, Argentina. I was there for five months as part of an exchange program. Before I left, friends and family worried that I would have problems being vegetarian while there, because Argentina has a reputation for its impressive meat production and consumption.
Cordoba, in the center of the country, far from the sea, and in neither the north nor the south, is the second largest city in Argentina (the first being Buenos Aires). It is a city of students. There are more or less six universities in Cordoba, and the largest, the Universidad Nacional of Cordoba (UNC), where I studied, has more than one hundred thousand students. Because of this, it was not very difficult to find vegetarian options during my stay in Argentina.
On top of this, it helped that I lived with a vegetarian host family. It was a requirement of my program to live with a host family, and I was lucky that they put me with the only vegetarian host family. This family introduced me to various vegetarian options (they were lacto-ovo vegetarian) and when I went out to eat, I found other vegetarian food.
With my host family, we ate a lot of pasta and pizza. In general, there is a lot of "Italian" food in Argentina. We also ate a lot of rice with vegetables, beans (especially garbanzo beans), and vegetarian empanadas filled with vegetables or textured soy product. Vegetarian empanadas are sold in most places where they sell empanadas.
We also often ate vegetarian milanesas. Milanesa, normally made with some type of meat which is breaded and fried or baked, can be made vegetarian with soy, wheat, or eggplant. Frozen vegetarian milanesas could be found in the supermarket and are very easy to prepare.
At some point during my stay, I realized that the majority of the food in Argentina is Argentinian. There were Mexican and Peruvian restaurants in Cordoba, I found soy sauce in a supermarket, and sushi seemed to be in style. However, I missed the diversity of food that we have in the U.S. I didn't realize until I travelled how much of the food in the U.S. is actually from other parts of the world: Mexican, Japanese, Chinese, Indian, Thai…I missed these options and the vegetarian options that come with them. However, I survived, obviously, and I now have a new appreciation for the variety of food in the United States.
From what I saw, my host mom did the majority of her shopping at Cordoba's Mercado Norte (North Market), a large indoor market in the north of the city, where the food is high quality and cheaper than in other places. There are various markets in Cordoba, some outdoors, where they sell affordable food in large quantities.
My host family's house also has a vegetable garden, where they grow lettuce, chard, corn, and other plants and spices. The climate and soil in Cordoba are very good for growing vegetables. However, because it is so large a city, there are also many supermarkets and vegetable stands. So it isn't necessary to have access to a garden. It is possible to find any fruit or vegetable in a supermarket or vegetable stand.
In addition to supermarkets and vegetable stands, there are also many restaurants in Cordoba, which often had vegetarian options. Unfortunately, it is a harder to be vegan in Argentina than lacto-ovo vegetarian, because the majority of vegetarian options seemed to contain some sort of cheese or animal product (because of the Italian influence, I imagine). However, I did find a completely vegetarian restaurant, where they sell tasty vegan options. It is called Sol y Luna, and there are various locations in the city of Cordoba.
On the UNC campus, there are also various cafes and kiosks where they sell vegetarian empanadas and sandwiches, and snack food, with affordable prices. Also on campus there is a dining hall, which costs four pesos (about 30 cents), per meal. (I suppose it is subsidized by the government, because it is ridiculously cheap). If there is not a second vegetarian option in the dining hall that day, they will give you two portions of the vegetarian side dish. Either way, it is quite a lot of food, but it is an especially large portion for four pesos.
Once in Argentina, it is easy to travel the country. Although the distances are long, and the cities and touristy areas are far apart, the buses are very comfortable. During my stay, I travelled to many other provinces: Salta, Jujuy, Misiones (to see the waterfalls of Iguazu), Chubut (in the North of Patagonia, to see penguins and seals), and Buenos Aires. In the buses between provinces, they sometimes give you food, but in general it is not vegetarian and it is definitely not vegan. So, if you travel on one of these buses, take food! In general, as a traveler, it is good to think about your options and buy and take veggie snacks with you.
As a final note, I would like to say that it is definitely possible to keep up a vegetarian/vegan lifestyle in Argentina. In this day and age, with more people becoming conscientious about what they eat, and more and more vegetarian options coming on the market, it is easier than ever. In addition to my host family, various friends of theirs were vegetarian, other students in the Universidad Nacional de Cordoba were vegetarian, and there is a Facebook group for vegetarians in Cordoba, with lists of restaurants and vegan recipes.
Even in the second highest per-capita beef-consuming country in the world (the United States ranks fourth, if you are wondering), it is possible to live an alternative lifestyle–for your health, for your religion, for animals, for the environment, or whatever your reason may be–and to find others who will support you.
For a recipe for a vegan oatcake that I learned to make from an Argentinian friend, see below.
Vegan Oatcake
(Serves 8)
½ cup oats
½ cup water
2 cups self-rising flour
½ cup sugar
1 Tablespoon baking powder
¼ teaspoon salt
2 apples
1 mandarin orange or orange
Oil
1. Mix the oats and water and let it sit.
2. In a bowl, mix the flour, sugar, baking powder, and salt.
3. Grate the apples and orange and mix those with the dry ingredients.
4. Put oil in a baking pan and cover it with flour. The larger the pan, the thinner the cake.
5. Add the mixture of oats and water to the other ingredients. Mix it all together, but not too much.
6. When you put the mixture into the pan, do it smoothly, moving the bowl back and forth to put air into the dough.
7. Bake at medium heat (about 350 degrees) for 20-30 minutes, until it is cooked through and brown on the edges.