Posted on February 14, 2017 by The VRG Blog Editor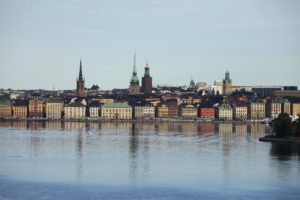 By Julia Mathew
According to a March 2016 study conducted by Novus for Djurens Rätt, the largest animal rights and welfare group in Sweden, when asked "Are you a vegetarian or vegan" 5% of individuals responded that they were vegetarian and 3% said they were vegan. However, the parameters of the terms 'vegan' and 'vegetarian' were not clearly defined so the study results could be skewed. Many vegetarians and vegans live in the capital city of Stockholm and Skåne, or the southernmost county of Sweden. Younger generations are becoming increasingly aware of the environmental impact of animal agriculture and are changing their diet and lifestyle as a result. According to a poll run by Demoskop and commissioned by Djurens Rätt, Sweden's largest animal welfare and rights organization, Swedish individuals in the 15-34 year old demographic most commonly associated themselves with vegetarianism or veganism. Among non-vegetarians, the poll further stated that there was an increase in interest of purchasing vegetarian products, going from 26 to 37 percent in a single year.
Having visited Sweden multiple times, I have always been thrilled to see the expansion of the vegan movement in such a historically animal product-based society. Veganism is becoming a sort of trend among Swedish youth, as information on the environmental and non-ethical aspects of animal products are becoming more widespread in Scandinavia. There are many popular Swedish bloggers who are changing outsiders' perspective on plant-based food through their colorful, modern, and artful social media accounts.
Of the Swedish cities I have been to, such as Stockholm, Gothenburg, Uppsala, and Malmö, I have never had any problems eating vegan in my experience. Stockholm is a beautiful city encompassed by water due to its 14 inclusive islands. There are countless vegetarian and vegan friendly restaurants and cafes throughout the city. Most cafes have plant-based milks available. Oatly is among one of my favorite plant-based milks and is becoming an increasingly popular non-dairy milk option in cafes. Oatly is a Swedish oat milk company that produces various vegan products such as milk, creamer, yogurt, fruit juices, and ice cream. Astrid och Aporna is another great Swedish brand that has its own line of products, as well as its own fully vegan grocery store in both Malmö and Copenhagen. Look out for these brands if you're in Scandinavia!
Vegan-friendly Restaurants, Cafes, and Shops
• Bagar'n Horstull (Hornstull T-bana): Serves vegan semlor, cookies, and sweets; some vegan options available
• Chutney (Katarina-Sofia): Serves Mediterranean plates, burgers, and tofu dishes; 100% vegetarian and vegan-friendly
• Delivore (Hornstull): Serves bagels, sandwiches, smoothies, salads, and milkshakes; 100% vegan
• Govinda (Södermalm): Serves various Indian dishes, has a weekly menu; 100% vegetarian and vegan-friendly
• Hälsocafét (Södermalm): Serves salads, raw pizza, chili, burgers, fruit bowls, and cakes; 100% vegan
• Hermans (Katarina-Sofia): Offers a hearty buffet which includes mixed salads, potato and pasta dishes, bread, pastries, and various dishes; 100% vegetarian and vegan-friendly
• Hermitage (Gamla Stan): Offers a hearty buffet serving soups, daal, potato and rice dishes, salads, curry, and various dishes; 100% vegetarian and vegan-friendly
• Naturbageriet Sattva (Gamla Stan): Offers pastries, bread, sandwiches, tea, and coffee; vegan-friendly
• Reload Superfood (Vasastan): Serves acai bowls, hearty salad bar, sandwiches, smoothies, and raw cakes; vegan-friendly
• Sally Voltaire & Systrar (Norrmalm, inside Åhléns City): Serves soup, sandwiches, and various salads; serves some fish but has many vegan options
• Södermalm Vegetariska (Södermalm): Serves moussaka, nacho and falafel plates, burgers, chili, wraps, and vegetable stir fries; 100% vegetarian and vegan-friendly
• Sthlm Raw (Hornstull): Serves salads, soups, sandwiches, wraps, and pastries; 100% vegan and mostly raw
• Lao Wai (Vasastan): Serves various tofu, noodle, seaweed, vegetable, and soy protein dishes, as well as homemade ice cream; 100% vegan
Specialty Shops & Health Food Stores
• Goodstore (Hornstull, Katarina-Sofia): Carries various Swedish and imported vegan food products and cosmetics; 100% vegan shop
• Paradiset (Södermalm): Offers produce, various vegan food products, and cosmetics; vegan-friendly
"Opinion Polls". Djurens Rätt. Updated 19 Janurary 2017.
"One in ten Swedes is vegetarian or vegan, according to study." Independent. 24 March 2014.
Ibid.