Posted on February 16, 2017 by The VRG Blog Editor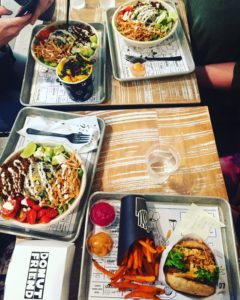 By Heather Francis, VRG Volunteer
Chloe Coscarelli first won national attention after winning Cupcake Wars on the Food Network station. Following this impressive debut, she released three cookbooks. Next, the by CHLOE franchise was created after Chloe teamed up with ESquared Hospitality. The chain currently has four restaurants in New York City (two more are expected to open), one in Los Angeles, and Boston is expecting two locations to open (the Seaport location is opening February 23rd). There is a By CHLOE bakery (SWEETS By CHLOE) on Bleecker Street in NYC. All of their baked goods are made in house daily, and their food is all made from scratch. Did I mention the restaurant has healthy options, too?
The menu is vegan, and has a breakfast, lunch/dinner, and a delicious dessert menu. I crave By CHLOE. It's at the top of my favorite vegan places, and most likely sits at number one. I have eaten there three times and am already planning the next time
The first time I went I tried their vegan Caesar with a side of sweet potato-cashew cheese sauce topped with crispy vegan shitake mushrooms. To go, I got their massive cinnamon chocolate chip cookie. The mac and cheese had to have been the best part of the meal. The mac and cheese is crazy creamy; I envy the recipe.
In Los Angeles I ventured once again to By CHLOE. A few of my coworkers had dinner, and while they all ordered beautiful quinoa taco salads, I decided on the massive Guac burger. I'm not lying when I say it's the tastiest veggie burger. The patty is made with black beans, sweet potato, and quinoa, and the sandwich is topped with salsa, crunchy tortilla strips, guacamole, onion, and their own delicious chipotle aioli. It's truly a mouthful. I advise you to order it with a side of sweet potato fries. I promise you'll never want to eat a veggie burger anywhere else following this experience. They even have ketchup made with beets. The creativity and unique vibe of this restaurant is incomparable to another.
A month later following the Women's March in NYC, a friend and I went to By CHLOE for dinner. In this excursion I decided on the Quinoa Taco salad. Now, some people could say that this salad could be made at home, but I'd like to argue that because of the powerful and unique combination of ingredients in the salad. Packed in the salad is spicy seitan chorizo, tomato, avocado, quinoa, black beans, corn, and tortilla strips. On top is vegan crema, and an agave lime vinaigrette. All of this is topped on a bed of shredded lettuce. It's massive and worth every penny. The dressing itself is one of a kind, and the mix of toppings creates a perfect balance to this beautiful salad.
I 100% recommend traveling to this restaurant whenever you're in NYC, Los Angeles, and soon to be Boston. There is no other like it. My next venture will definitely be to SWEETS By CHLOE on Bleecker Street in NYC.
If you want more information visit their website: http://eatbychloe.com and Instagram @eatbychloe