Posted on March 02, 2017 by The VRG Blog Editor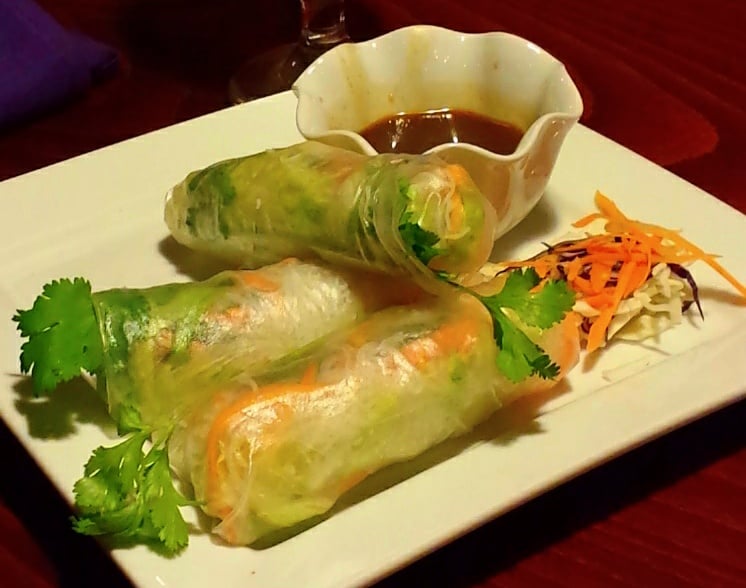 By Anna Lam, VRG intern
Bangkok Royale is easily one of Waco's many hidden gems. Perched in an unassuming red brick building along the Brazos, it serves up urban Thai-style cuisine to the people of Waco, many of whom are Baylor students. The first time I visit the restaurant is at dinner time. The lights are dimly lit and cultural sculptures and paintings bedeck the walls of the dining area. It's a humble space, not exceeding the size of a small house.
My first visit I've been urged by a fellow vegan friend to try the pineapple fried rice, sans eggs and subbing in tofu for meat (they don't use fish sauce in their fried rice recipe). It sounds delicious. Sorry in advance to the high-carb, low-fatters and health gurus. This is a place meant to indulge the senses, not necessarily promote longevity. And indulge it sure does. A quick peruse through the menu reveals the bountiful choices of curries, stir-frys, and noodle dishes—a mouthwatering prequel to the meal. I order the fried rice, and it comes on time served in a steaming, glistening pile. My first bites in, and my taste buds are enveloped in the warm embrace of savory flavors paired with the explosive sweetness of pineapple and the nutty earthiness of toasted cashews—it's an absolutely heavenly experience.
After a meal like that, it was only fair that I go a second time to see what else I could find. The second time I visit Bangkok Royal is during lunch hour, and this time I inquire specifically about vegan options. The server mentions several menu items that can be easily adjusted to suit my dietary preferences and recommends the "Hot Garden," a vegetable only dish including an assortment of vegetables sautéed and smothered in their house chili sauce. That and the other vegetable only dish also happen to be the cheapest items on the menu—double win! I go with the Hot Garden (asking for no fish sauce) and get a salad on the side.
The salad comes first. It's a dainty dish consisting of a base of iceberg lettuce, shredded carrot, and red cabbage doused in a sweet, tangy peanut vinaigrette. It's a crisp, refreshing starter and turns out a great way to whet the appetite for the main course.
When my food arrives, I immediately realize I've done something right. My plate is decorated with a charming, aromatic mix of broccoli, baby corn, carrots, mushrooms, bell peppers, green beans, bamboo shoots, onion, tomato, cabbage, and basil next to a soft mound of steaming jasmine rice. My first bite is an exotic explosion of flavor. I realize I'm having a Ratatouille moment like that of Anton Ego in the Disney film; I'm tasting my childhood. I remember the traditional Isan Thai flavors of my heritage in those bites. It's been so long since I tasted cooked basil removed from Italian cooking and married with garlic and soy sauce instead.
So, do I recommend Bangkok Royal? I give it a hearty, resounding "Yes!" Not only is the food truly excellent in terms of quality, but it can accommodate for those looking for cruelty-free fare. But it's also pertinent that you keep in mind to ask specifically about vegan food. Definitely indicate to the server that you are vegan, that way they can help you make a more informed decision and you can assure yourself you're not contributing to demand for animal products in any way. Especially when eating at Asian restaurants, there can be hidden ingredients like fish sauce and chicken broth that may not be listed on the menu, and this is true for Bangkok Royal. For instance, they won't state on their menu whether there is fish sauce or not, so you should definitely inquire to ensure your meal is totally cruelty-free. At Bangkok Royale, many of the dishes can be altered by leaving out fish sauce, which in my opinion doesn't change the quality of the food. You'll definitely leave satisfied.
For information about veggie restaurants in the USA and Canada, see http://www.vrg.org/restaurant/index.php