Posted on March 24, 2017 by The VRG Blog Editor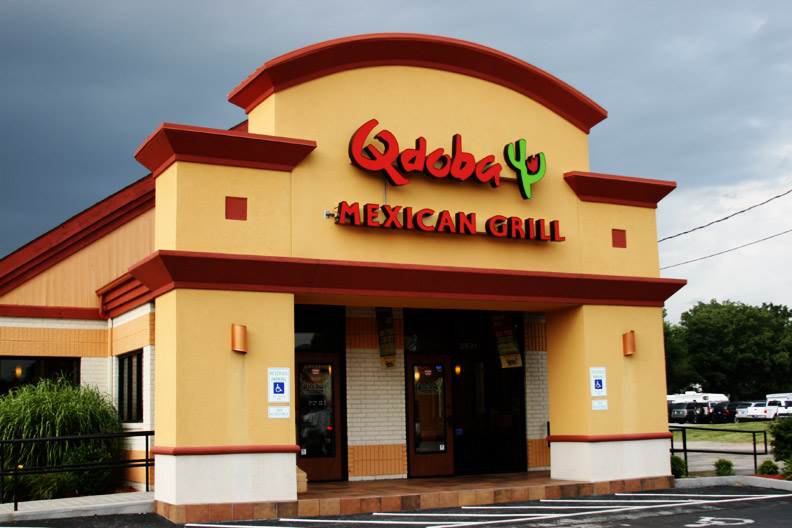 By Jeanne Yaoubou, MS
The VRG invited Qdoba in September 2016 to tell us about their vegan menu options. This is how Meg Prejzner, Brand Manager at Qdoba, replied:
"Absolutely, I am happy to share as Qdoba has quite a variety of options to cater to our vegan guests, including burritos (wrapped or bowl), Loaded Tortilla Soup, Knockout Tacos and taco salads.
Our menu is completely customizable, so those guests looking to avoid animal products can absolutely do so by customizing their dish to fit their tastes. For instance, our Bohemian Veg Knockout Taco does contain cotija and shredded cheese but any guest can absolutely ask that we do not include those items on their meal to fit their dietary preferences. Plus, our all-inclusive menu encourages our guests to load up on their favorite vegan options like guacamole, pico de gallo, beans, rice, fajita veggies, etc. at no additional costs. If a vegan guest is looking for more protein, double down on black beans. If they love guac, top it off — there's no extra charge!
…[O]ur team members are also happy to swap out gloves or utensils when building any meal — we just ask our guests to let our team know of their individual needs and the team is happy to help further from there."
(Note: One supplier of Qdoba's cojita cheese lists "rennet" as an ingredient with no further specification. The other cheese suppliers for the Bohemian Veg Knockout Taco cheeses list only "enzymes" without source information.)
Qdoba lists its complete United States Ingredient Statement on pages 2-10 of this PDF file:
https://www.qdoba.com/static/downloads/allergen_chart_and_ingredient_statements__us.pdf
Based on our own assessment of their Ingredient Statement (i.e., no non-vegan or possibly non-vegan ingredients present) and before asking any further questions to Qdoba, the following Qdoba menu items appear vegan:
• black bean corn salsa
• black beans
• fiery habanero salsa
• flour tortilla (one type)
• guacamole
• pico de gallo
• pinto beans
• roasted chile corn salsa
• salsa verde
(Note: Sugar-containing menu items or those with other questionable ingredients are not included in this preliminary list nor are any fried products. See below for more information on menu items with these characteristics.)
We followed up with Qdoba in September 2016 and asked specifically about several microingredients in these and other entrée components listed in their Ingredient Statement. We also inquired about preparation and cooking methods.
We received a reply in January 2017 from Nicole Dionisopoulos, a PR Specialist who had worked with Qdoba's culinary team in gathering the following information. Here is our Q&A exchange:
Q: Are any of the following prepared in meat broths or contain meat-based flavors?
– black beans
– brown rice
– cilantro lime rice
– pinto beans
A: No.
Q: Are the ingredients in the following menu components animal-derived?
– brown rice, cilantro lime rice: capric/caprylic triglycerides, mono and diglycerides, calcium stearate
– corn tortilla: natural flavors and enzymes
– flour tortilla (one type): mono- and diglycerides
– red chile sauce: natural flavor
– salsa roja: natural flavor
– tortilla soup: flavoring, disodium inosinate, disodium guanylate
– whole wheat flour tortilla: mono and diglycerides, natural flavor, sodium stearoyl lactylate, enzymes
A: No.
Q: Are any of the following cooked in oil in which meat products have been prepared?
– corn tortilla chips
– corn tortilla strips
– corn taco shells
– flour tortilla bowl
– potatoes
A: No.
Q: Is there any cross-preparation of the following along with meat products or animal fats? Are they prepared on the same grill surface with meat products?
– fajita vegetables
– seasoned potatoes
A: No.
According to Qdoba's ingredient statements, several menu components contain sugar. Because the chain told us (see above) that certain questionable microingredients also present in the items are not animal-derived, these menu components would be vegan except (possibly) for the sugar:
– brown rice
-cilantro lime dressing
-flour tortilla (one type contains dextrose)
– mango salsa
– red chile sauce
– tortilla soup (dextrose as well as sugar)
– whole wheat flour tortilla
The VRG asked Qdoba how they defined the words "vegetarian" and "vegan," but as of this posting have not received an official reply to this question.
See their Ingredient Statement at: https://www.qdoba.com/static/downloads/allergen_chart_and_ingredient_statements__us.pdf 
The contents of this posting, our website, and our other publications, including Vegetarian Journal, are not intended to provide personal medical advice. Medical advice should be obtained from a qualified health professional. We often depend on product and ingredient information from company statements. It is impossible to be 100% sure about a statement, info can change, people have different views, and mistakes can be made. Please use your best judgment about whether a product is suitable for you. To be sure, do further research or confirmation on your own.
For information on other chains, see
http://www.vrg.org/fastfoodinfo.php
For information on vegetarian and vegan restaurants, see
http://www.vrg.org/restaurant/index.php
To support The Vegetarian Resource Group research, donate at
www.vrg.org/donate
Or join at http://www.vrg.org/member/2013sv.php