Posted on April 12, 2017 by The VRG Blog Editor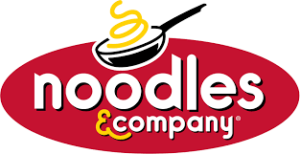 By Jeanne Yacoubou, MS
The 11th General Question on the Noodles & Company FAQ page http://www.noodles.com/faq/ viewed in April 2017 appeared as follows:
Q: I am a vegan. What menu items can I eat?
A: While there is no commonly accepted definition for vegan*, we define it as menu items that don't contain meat, fish, dairy, eggs or other animal products. If your definition matches ours, try these menu items:
• Japanese Pan Noodles
• Tossed Green Side Salad with balsamic vinaigrette
• Penne Rosa without cream and cheese
• Whole Grain Tuscan Fresca without cheese
• Spaghetti with Marinara without cheese
*Our dishes may contain sugar and/or wine.
From this FAQ answer on vegan entrées, Noodles & Co. provides a link "for more information" titled Watching What You Are Eating? http://www.noodles.com/wp-content/uploads/2016/07/3634-WEB-NUTRITIONALS-0716_r2.pdf
Page 1 of this 11-page document repeats the FAQ information. On page 2 there is a chart titled "Here's what you are eating" which displays a vegetarian icon "v" next to certain entrées and/or entrée components which are…"defined by us as dishes excluding meat and fish." (The icon's definition appears at the bottom of page 2.) This icon also appears on print menus in this chain's restaurants. There is no analogous vegan icon at Noodles & Co.
At the end of the same FAQ answer there is a second link http://www.noodles.com/made-different/ that leads to a red rectangular button labeled "See our full ingredient list" (which appears on the left after a little downward scrolling from the page's top). The ingredients are listed alphabetically by component in a seven-page document (which is a shortened version of the 11-page document mentioned above). This listing is the most up-to-date; the longer PDF lists ingredients of dish components and entrées which have recently been removed from the menu (see below for details).
http://www.noodles.com/wp-content/uploads/2017/03/INGREDIENT-STATEMENT_03.01.172.pdf
The first five pages consist of the ingredient statements for individual dish components. The remaining two pages comprise the Dish Reference Chart. Thus it is necessary to scroll up and down or to open the document in two separate tabs and move between them when analyzing the ingredients in each component of entrées in order to determine their vegan status.
Appearing on the bottom of pages 1 and 3 of the 11-page document under the subtitle "Of Interest" is this disclaimer:
We have peanuts, tree nuts, soy, milk, eggs, fish, shellfish and wheat/gluten in our restaurant, and there may be cross contact with your food because of shared cooking equipment. In addition, because we offer so many unique flavors, not every ingredient we use is listed in our menu descriptions.
From January 2017 through March 2017 The VRG corresponded with Danielle Moore, Director of Communications at Noodles & Company, for more information about this chain's vegan menu offerings. For this article quoted information is from Danielle except if otherwise noted.
The VRG asked Danielle if the last disclaimer sentence implied that some ingredients were not listed on the chain's website. She explained that "In the description of each dish we are highlighting the unique ingredients of each dish. However, under the ingredient list on the "Made Different" tab of our website we disclose the full ingredient list for each dish we have in our restaurants. Keep in mind we are always updating and changing our menu and there may be some delay between updates."
Besides the asterisked reference to sugar and wine in their vegan FAQ placed immediately below their vegan entrée suggestions, ("*Our dishes may contain sugar and/or wine"), Noodles & Company states nothing else about sugar or wine (such as the sugar whitening method or wine clarifying agent) on their website.
We asked "When you state in your definition of 'vegan': 'Our dishes may contain sugar and/or wine' are you implying that your sugar and/or wine may have been processed with animal products or definitely have been so processed? Would your response differ on a case-by-case basis?"
Danielle replied:
"Based on the complexity of our supply chain we cannot guarantee which items on our supply chain may or may not contain sugar that has been processed through bone char or wine that had been processed through isinglass. This applies to all items [we serve containing sugar or wine]."
Readers may note that all of the dishes Noodles & Company lists in its vegan FAQ response contain sugar. The Penne Rosa and Fresca entrées are made with white cooking wine.
In the ingredient statement for the Japanese Pan Sauce used in the Japanese Pan Noodles dish, "sugar" appears three times. "Organic cane sugar," which by definition has never been whitened through cow bone char, appears once. "Natural flavour" appears twice.
When The VRG asked if these natural flavors could have originated from animal sources, Noodles & Co. told us that
"Unfortunately, there are instances where supplier partners won't disclose that level of detail with us so we cannot guarantee the source of all of our ingredients."
Readers may note that natural flavors are also present in the balsamic vinaigrette for the side salad that is listed by Noodles & Co. in its vegan FAQ.
The VRG noticed in several places in the ingredient statements "natural flavor/flavour."
We learned:
"As for the spelling of "flavor" this is merely to remain compliant with both Canadian and US labeling at the same time so our products may cross the border. This doesn't mean that we have product coming from Canada."
Noodles & Company offers seasoned tofu on its menu. We asked if, apart from its sugar and natural flavors (both of unconfirmed processing method or source) the seasoned tofu were vegan. Danielle replied "Correct." Furthermore she added, "You can substitute or add tofu to any dish on our menu."
The VRG wondered if a vegan guest could order unseasoned tofu, simply sautéed in oil with vegetables and possibly soy sauce or a few spices. Noodles & Company replied: "NO. We currently do not have restaurant procedures for this."
At our request, Danielle later explained further: "Regarding the tofu, we cook all of our tofu in our Japanese Pan Noodle sauce which contains gluten. The restaurants do not prep tofu without it, so there is no way a guest can custom order the tofu without the sauce."
(By saying this, Danielle also explained why "organic tofu" listed on the allergen chart on p. 2 of their 11-page PDF is marked as containing both wheat and gluten allergens. This listing is for seasoned tofu.)
Here is the complete ingredient statement for the Japanese Pan Sauce used on Noodle & Company's tofu:
Water, Soy Sauce (Water, Salt, Sugar, Soybeans, Wheat, Molasses), Molasses, Rice Vinegar Dressing (Rice Vinegar, Water, Sugar, Salt), Lemon Juice (Water, Lemon Juice Concentrate and Lemon Oil), Sesame Oil, Sriracha (Chile, Distilled Vinegar, Water, Sugar, Salt, Garlic, Natural Flavour, Maltodextrin, Xanthan Gum and Citric Acid), Ginger, Natural Vegetable Base (Vegetables and Concentrated Vegetables [Carrot, Celery, Onion, Tomato], Yeast Extract, Salt, Organic Cane Sugar, Maltodextrin [from corn], Natural Flavour, Canola Oil, Barley Malt Extract [gluten], Dried Onion, Dried Potatoes, Dried Garlic), Modified Corn Starch, Garlic and Citric Acid as a Preservative
Also on page 2 of Noodles & Company's informative PDF http://www.noodles.com/wp-content/uploads/2016/07/3634-WEB-NUTRITIONALS-0716_r2.pdf Bangkok Curry and Thai Curry Soup are listed with the vegetarian icon next to them. The Bangkok Curry contains sodium caseinate (a dairy derivative). One formulation of the Thai Curry Soup contains lactose (milk sugar). They both contain sugar and natural flavors.
In March 2017 The VRG noticed that these two dishes were no longer on the menu although they were still listed on p. 2 of the PDF file. Danielle relayed to us: "Yes, we did remove the Thai Curry Soup and the Bangkok Curry from our menu on February 15 [2017]."
As we were finalizing this article we noticed that the Whole Grain Tuscan Fresca no longer appeared on the website menu although this dish when ordered without cheese still appeared in the list of vegan entrées on the FAQ page under the 11th general question as mentioned in the first paragraph of this article.
We asked Danielle about the Whole Grain Tuscan Fresca and received this reply in March 2017: "It is no longer on the menu and cannot be ordered. That being said, we are bringing Pasta Fresca back on May 3." For more information on Pasta Fresca please contact Noodles & Company directly.
Interested diners may note that the Pad Thai at Noodles & Company contains fish sauce.
Lastly, we inquired about kitchen protocols at Noodles & Company:
Q: Do your restaurants have specially-designated prep areas, cooking utensils, grilling surfaces and storage bins for all-vegetable ingredients vs. meat and/or dairy products?
A: Due to the nature of our menu and back of the house procedures we cannot guarantee complete removal of cross contact.
Ingredient-minded readers may note that Noodles & Company is one of the few fast casual restaurants that has a Prohibited Ingredient List. Carmine and cochineal (always insect-derived) and L-cysteine (usually animal-derived) appear on it. http://www.noodles.com/wp-content/uploads/2016/07/Prohibited-Ingredient-List_0716.pdf
The contents of this posting, our website, and our other publications, including Vegetarian Journal, are not intended to provide personal medical advice. Medical advice should be obtained from a qualified health professional. We often depend on product and ingredient information from company statements. It is impossible to be 100% sure about a statement, info can change, people have different views, and mistakes can be made. Please use your best judgment about whether a product is suitable for you. To be sure, do further research or confirmation on your own.
For more information on quick service chains, see http://www.vrg.org/fastfoodinfo.htm
For information on vegetarian and vegan restaurants, see http://www.vrg.org/restaurant/index.htm
To support The Vegetarian Resource Group research, donate at www.vrg.org/donate
Join at http://www.vrg.org/member/2013sv.php