Posted on April 24, 2017 by The VRG Blog Editor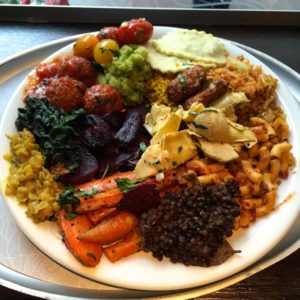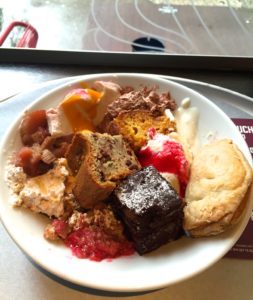 By Julia Mathew
Last April, around Easter, I visited Switzerland and went on my usual search for vegan-friendly establishments. I spent a few days in Geneva then went to Zürich, where I heard much hype, from both vegans and non-vegans, about a well-renowned restaurant called "Hiltl." According to the Guinness World Records, Haus Hiltl is known as the oldest continuously run vegetarian restaurant in the world. Hiltl is a rather upscale but down to earth restaurant, offering a wide variety of buffet-style vegetarian food and a vast amount of vegan options as well. The buffet is priced based on weight per plate, so Hiltl can be quite expensive. I spent around 30 CHF ($30) on my dinner plate and another 20 CHF ($20) on dessert. I had also completely submerged both my dinner and dessert plates with as many vegan options as possible. However, it is important to note that Switzerland is one of the most expensive countries in the world. My entire trip to Switzerland was quite pricey due to high-living costs and a nearly equal dollar to Swiss franc ratio.
For dinner, I had an assortment of cooked and roasted vegetables, such as carrots, beets, artichoke, and spinach, as well as a small serving of daal, or lentils. Hiltl offers many other satiating Indian inspired vegetarian and vegan dishes. My favor dinner selection was the vegan meatballs and tomato sauce. The ravioli and macaroni with pasta sauce were also really nice and were well complimented by the roasted vegetables. The couscous and rice dishes were well seasoned and went well with the vegan chicken bites.
Much to my surprise, there was a wide selection of vegan desserts available. I loaded my dessert plate with an assortment of cakes, pastries, and puddings. I tried a vegan rhubarb crisp for the first time, which I surprisingly really enjoyed. The chocolate mousse was very light and fluffy and went well with the banana bread. I also had a creamy Jello-like peach mouse topped with fruit sauce which was delicious. The berry cobbler was rather tart but paired nicely with the other modestly sweet desserts.
Overall, I was really impressed by Hiltl and would definitely recommend it to anyone visiting Switzerland who's willing to spend extra for a high quality vegan meal at a world-renowned restaurant. The food was wonderful and each dish was flavorful and well prepared despite being buffet-styled. My dinner at Hiltl was easily one of the best meals I've had in my entire life. The atmosphere of the restaurant is very welcoming and the quality of the food is superb, making it a very memorable and worthwhile experience.