Posted on May 01, 2017 by The VRG Blog Editor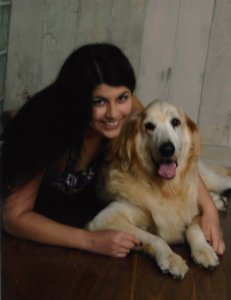 On Easter at five years old Samantha Illius looked up from her family meal and complimented the food her mom and grandmother slaved over in the kitchen. Her uncle said, "It's baby cow."
"Needless to say, I was sickened by meat and scarred by this event for the remainder of my life," stated Samantha. After a five year struggle with her family because she had allergies to nuts and soy, Samantha became a strict vegetarian at ten.
In sixth grade Samantha started putting vegetarian brochures into mailboxes and continued in other housing developments throughout high school. She put out information in her church and started a business www.gottahavsoaps.weebly.com selling cruelty-free vegan soap.
Her Vice-Principal said, "I am familiar with her impact on our school lunches. She came to me … and I guided her toward the business director for our district. She took off from there. She scheduled meetings with the director and our head kitchen staff. She persuaded them to provide additional vegetarian selections which proved to be a success. Because of her influence, more and more students are benefiting from vegetarianism."
Samantha was told by the school district business department that her meatless efforts have had an impact and that over $22,000 of the school's lunch budgets have shifted over to purchasing non-meat alternatives as opposed to animal products. At her school's health fair, she requested samples from Dole Food Company, and gave away 720 fruit cups and 480 cans of pineapple juice, as well as materials such as a vegetarian food pyramid.
Samantha has given numerous vegetarian presentations in and out of her city, including over 20 in January of this year. A biased reference stated, "Not only has Samantha stood up in front of hundreds and hundreds of kids, but she sets up every single presentation on her own. She just walks into a school and speaks with administrators, always following up. And you know how hard it is getting around the bureaucracy of public schools…"
Samantha has a long term dream of becoming a writer who inspires open-mindedness and acceptance in others. She states, "With this I hope to make the world a more loving and caring place. In my free time I completed a manuscript after three years and countless drafts, which I'm finally working to garner publication for … I will continue vegetarianism and changing lives as long as I live."
The deadline for the next Vegetarian Resource Group college scholarship contest for high school seniors is February 20, 2018. For details and information about other winners, see: http://www.vrg.org/student/scholar.htm
To support Vegetarian Resource Group internships and scholarships, donate at: www.vrg.org/donate and indicate the purpose.