Posted on May 11, 2017 by The VRG Blog Editor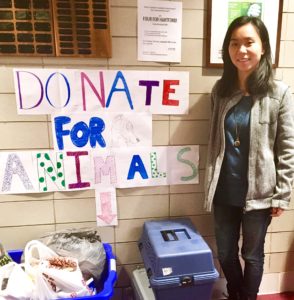 Leah Kelly became vegetarian in sixth grade after watching undercover animal rights videos, and within a few years she and her family became vegans. Leah said, "I have always been unusually empathetic. In 5th grade, I would go home crying after witnessing some boys bullying a girl with a disability day after day. I talked to my elementary school principal about the bullying and we created the first anti-bullying club in the school."
When Leah started school in 10th grade, she founded an animal rights club Coalition for Animal Respect and Equality (CARE). With all the group's accomplishments, she learned hard lessons that made her stronger and more prepared for future situations. "I've learned that most people, even adults and administration, don't answer their emails even after I've tried to contact them five more times. I've learned that sometimes people just don't feel like making the same commitment that I do. I've learned that staying calm and compassionate is the best possible way to spread my message. One of the best unexpected results of becoming an activist is meeting so many incredible like-minded people. The vegetarian/vegan community is like an extended family."
Leah served on the youth advisory boards for YEA Camp, peta2, and Farm Sanctuary. She volunteered on the campaign of a state senate candidate, who speaks out on animal issues.
In 11th grade, Leah worked to implement Meatless Mondays into the West Hartford Public School system. "I had attended YEA Camp for the second time the summer prior and when I got home I planned for this goal. It was a slow process at first. One strategy I've learned as an activist is that it's always beneficial to ask for support. I reached out to the Humane Society of the United States and met Katie Scott, New England Food and Nutrition Coordinator. We started working together on a plan."
"We talked to the Food Service Director of West Hartford Public Schools, to come up with an easy lunch menu that would meet federal nutrition guidelines, while still upholding the Meatless Monday mission. Meanwhile, I made surveys to get feedback from the school community. I emailed all teachers, collected responses from students in the hallways and in the cafeteria, and even asked parents. I also sought support from the assistant principal and gained approval from the local parent non-profit organization for nutrition in schools."
"During the soft launch of Meatless Monday, we held sampling stations in cafeterias where students could taste some new meatless options. I wrote posts and articles and made handouts all for the purpose of opening people's minds to the idea of vegetarianism, even if just one day a week. In April 2016, I looked at the new school lunch menu and was so excited to see the words "Meatless Monday!" typed across each Monday box on the calendar. All 15 public schools in my town were now only offering vegetarian entrées on Mondays. Every school also offered vegetarian options every day of the week. I had helped make history."
"In May, I met with the current Mayor of West Hartford to talk about Meatless Monday and help her draft a proclamation encouraging … residents of West Hartford to try Meatless Mondays."
In order to institute Meatless Mondays, Leah had to learn the art of compromise. "Part of the conclusion we compromised on was that many of the popular already existing menu items that happened to be vegetarian would simply be moved to Mondays." These are not all vegan-friendly. However, Leah stated, "The good news is that at all 15 schools in my district, every single day of the week now offer a vegetarian option, and many of these options are actually healthier than just the Meatless Monday meals. Some examples I've found listed on the lunch menus include: various fresh salads (there is a salad bar open as well on many days), veggie burgers, vegetarian beans, Asian mixed vegetables, roasted butternut squash, seasoned green beans, seasonal fresh fruit, vegetables dishes, corn on the cob, vegetable soup, roasted chick peas, vegetarian fiesta wrap, baked potato, chili bean soup, red beans and rice bowl, three bean salad, steamed broccoli, sautéed spinach, carrot raisin salad, tomato and cucumber salad, potato salad, and steamed brown rice.
"A few months into my senior year I received a text from a student at Bacon Academy in Colchester, CT, who had heard of me from a chance encounter with a mutual acquaintance. Her school was interested in implementing Meatless Mondays and so she, her classmate, and two teachers took the day off to drive to West Hartford to sit down with me and the Food Service Director to learn about our journey … They invited me to talk to their Community Activism class in the spring. Small world. It turns out that past VRG awardee Lauren Hickey, who also worked with Katie Scott, started a farm-to-school initiative in their school district. I've recently been in touch with Lauren, who is using her VRG scholarship at Bowdoin College and has just decided to try to bring Meatless Monday there. The meeting with these girls from Colchester reminded me of something very important: a movement doesn't exist in a bubble or in a single town. It exists everywhere. Every action we take influences another. I had helped the Meatless Monday movement by inspiring people I didn't even know to follow my lead."
The deadline for the next Vegetarian Resource Group college scholarship contest for high school seniors is February 20, 2018. For details and information about other winners, see: http://www.vrg.org/student/scholar.htm
To support Vegetarian Resource Group internships and scholarships, donate at: www.vrg.org/donate and indicate the purpose.
You can send a check to VRG, P.O. Box 1463, Baltimore, MD 21203 or call (410) 366-8343.