Posted on May 16, 2017 by The VRG Blog Editor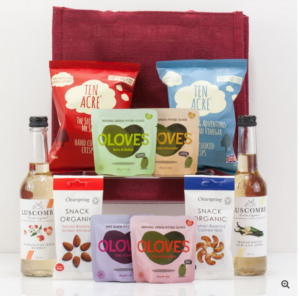 By Jeanne Yacoubou, MS
Natures Hampers is a family-owned and -operated business specializing in all-natural and cruelty-free vegetarian and vegan gift baskets and hampers perfect for picnics in the park, special occasions, and holidays. There are four main categories of hampers to choose from: traditional (ex. chocolate, tea, snacks); beer & wine; activity (ex., gardening, golf) and pamper (bath & body products). Natures Hampers also offers discounts and branding to corporate clients. Owner Jayne Morris relayed to us by email in April 2017:
"We are a vegetarian, family-run business and corporate friends of the Vegetarian Society [of the UK], although we do try to be vegan as much as possible. If you look at our website, www.natureshampers.com, we specialise in hampers that are packed with good and tasty food and drink, and that are a bit of a treat, too! We are always searching for new, interesting and artisan products.
We offer a range of beauty/toiletry hampers with products that use natural oils and scents. We don't use any products tested on animals."
Wanting to know more about Natures Hampers, The VRG asked Jayne the following questions. Here is what we learned:
Q: How long have you been open for business?
A: We have been selling hampers for about two years.
Q: Do you have a brick & mortar store?
A: We are online only and operate from a farm in East Sussex, England.
Q: What's the difference between a basket and a hamper?
A: A hamper in the UK has two meanings: one is laundry and the other is a "picnic hamper." A basket is a hamper without a lid, but we do use various containers.
Q: Do you have a vegan best seller?
A: Our vegan hampers are generally good sellers. There is a big movement here at the moment to not eat meat or to eat it seldom. Also there is a lot of conversation amongst the community (doctors, public, etc.) about how good for you it is.
Q. How helpful is the Vegetarian Society label in generating interest and/or sales?
A: The Vegetarian Society is helpful, and usually runs the occasional piece/comment if they are writing about gifts…
Q: Are all of your baskets/hampers vegetarian or vegan?
A: Our website is entirely vegetarian. I am a vegetarian (almost vegan) as are most of my family.
Q: Do you ship to the United States?
A: We are not able to sell directly to the USA market because of the various shipping and customs restrictions…although…our hampers can be purchased on Ebay in the US: http://www.ebay.com/sch/i.html?_odkw=natures+hampers&_osacat=0&_from=R40&_trksid=p2045573.m570.l1313.TR0.TRC0.H0.X%22natures+hampers%22.TRS0&_nkw=%22natures+hampers%22&_sacat=0
Q: What percentage of your products are American made?
A: We only buy a couple of products from the US. We try to source locally, so as to be as environmentally friendly as possible.
For information about other mail order sources in the USA and other locations, see:
http://www.vrg.org/links/products.htm#retailer