Posted on November 23, 2017 by The VRG Blog Editor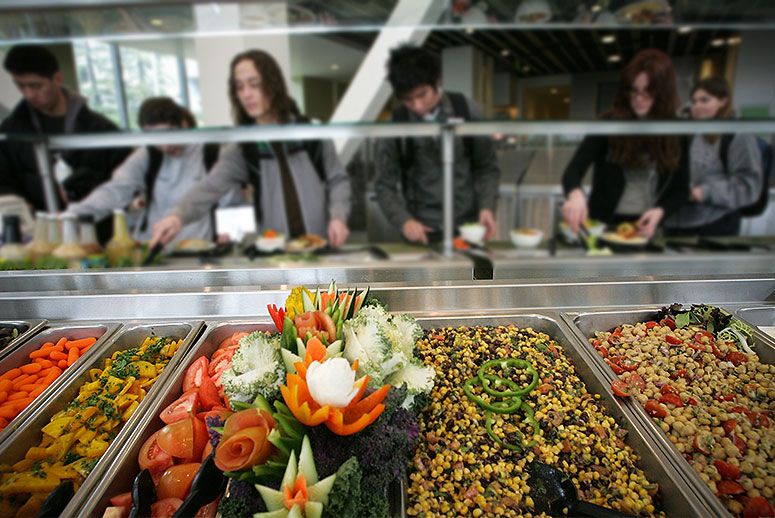 By Laneece Hurd
If you're preparing to attend a college or university, you may be wondering how you will continue to eat a vegan diet despite the change in environment. I have found that even if you are still living at home, college often brings about significant changes in your schedule, which could affect the times and convenience of your meals. While being a vegan in college does sometimes require a little ingenuity, it's not nearly impossible! Whether you're a college student living in a dorm, small apartment, or at home, I hope you find this article helpful and that it gives you a few ideas on some simple and satisfying vegan meals you can prepare.
I'm currently completing my third year and final year of community college and have been maintaining a meat-free lifestyle throughout the entire time. Because there aren't many vegan options on our small campus, I typically cook all of my meals myself and carry them with me. As a college student with lots of assignments and exams, I'm often short on time, but still want to enjoy fast, delicious meals that are relatively healthy and inexpensive as well. For fast breakfast ideas, overnight oatmeal, green smoothies, or a few slices of banana bread are my typical go-to's. I'm often on campus at lunch time, so I'll either pack a Tofurky sandwich, a veggie wrap, a kale salad with beans, or some leftovers from dinner, as well as a few snacks such as fresh fruit, nuts, dry-roasted edamame, or Larabars. For dinner, one of my favorite things to do is prepare multiple dishes in one day, which saves time throughout the week. Usually on a Sunday afternoon, or whenever I have some free time, I like to prepare a large batch of black beans, Cajun-style red beans and rice, veggie chili, or coconut curried lentils, and freeze individual portions for warm and hearty weeknight dinners to have after long days of being in class. To provide a variety of perspectives, I also consulted some other fellow vegan college students and they gave some excellent advice on how to maintain a vegan lifestyle wherever you are.
For breakfast, a couple of students wrote that they also enjoy having overnight oatmeal. Oats are a great pantry staple for college students because they are shelf-stable and are typically pretty inexpensive. To make overnight oatmeal, just combine one part rolled oats to one part non-dairy milk, and any other desired add-ins such as fruit and nuts or seeds. Stir and place in the fridge overnight. In the morning, the oats can be heated in the microwave or eaten cold and taken on the go. Some other breakfast recommendations that the students found suitable included fruit smoothies, toast with peanut butter and banana, or toast with avocado.
For vegan students who are on a meal plan, finding food in a dining hall with few vegan options can sometimes be tricky, depending on the school you are attending. However, wherever you are, there are usually a few vegan options hiding somewhere and if not, it might be beneficial to put in a request to your school's cafeteria for more vegan meals. Many schools offer tofu dishes, veggie burgers, and even some vegan meat substitutes on sandwiches and wraps. Other students mentioned that they tend to go for the vegetable soups, pasta or rice dishes, roasted potatoes, and various sautéed vegetables, just always checking to make sure they are cooked in oil or water, rather than butter or lard. All of the students recommended to check out the salad bar where you can fill up on leafy greens, beans, edamame, nuts/seeds, and many other vegetables like carrots, broccoli, cauliflower, and beets. To help bulk up the meal, one student mentioned that she likes to pick up veggies from the salad bar and enjoy them with some rice, potatoes, or pasta that she cooks herself.
For vegan college students who aren't on a meal plan, cooking meals might require a bit of creativity, depending on your living situation, but it doesn't have to be daunting. Many of the students suggested making sandwiches and wraps, with PB & J, veggies and hummus, chickpea "tuna" salad, tofu or tempeh, and even vegan deli slices, as a great option for quick and easy lunches (or dinners) that can be made in a dorm or apartment with little to no cooking required.
If you have access to a miniature refrigerator and freezer, you will want to keep it well stocked with some staples that will help you put together healthy vegan meals and snacks in a limited amount of time. Some of the students recommended having frozen fruit for smoothies and frozen vegetables for quick lunches and dinners. Other suggestions for items to keep in your refrigerator include non-dairy milks for smoothies and oatmeal and some sauces and condiments to give your meals more flavor, such as BBQ sauce, soy sauce, and nutritional yeast. If you do have access to a microwave, cooktop, or even a rice cooker, some great pantry staples to have on hand would be foods such as oats, rice, quinoa, pasta, potatoes, and canned beans. A few of the students mentioned that they often start with these as the base of a meal and then combine them with frozen vegetables or fresh vegetables, if available, to create a balanced and satisfying meal. Some of the common dinner meals that they prepare included tofu and veggie stir-fry, chili with beans, pasta with marinara sauce, lentil and vegetable stew over baked potatoes, and hearty salads, in which, one student said she often starts with leafy greens and any other vegetables she has on hand, and loads it up with quinoa, beans, baked tofu, and hummus.
For quick on-the-go snacks, be sure to check the convenience cafés and vending machines around campus. A lot of students reported finding Naked fruit smoothies, Cliff Bars, Larabars, Nature's Bakery Fig Bars, Lenny and Larry's Complete Cookies, pretzel and hummus snack packs, and even some vegan potato chips and pita chips. All universities will offer various options so be sure to check around and see what's available to you. Other common snacks that the students said they frequently have during long study sessions, included apples with nut butter, carrots and hummus, popcorn, plenty of fruit like bananas and oranges, and even dark chocolate, for when you're craving something sweet.