Veggie Bits
Finally, Pizzas with Vegan Cheese That Actually Melts!

Leave it to Tofurky to finally make all of our vegan dreams come true! The company has teamed up with Daiya™ to create 10-inch frozen pizzas topped with vegan cheese that really tastes and melts like dairy varieties do. Simply pop a pie into the oven for 10-12 minutes until the cheese melts and the thin, whole wheat crust is lightly browned. This culinary miracle comes in three zesty varieties- hot and gooey Cheese, vegan meat-laden Pepperoni, and an Italian Sausage and Fire-Roasted Veggie that could have just as easily been called "supreme."
Contact Tofurky's parent company, Turtle Island Foods, at P.O. Box 176, Hood River, OR 97031, or via phone at (800) 508-8100. More information is available at www.tofurky.com.
New Company Brings Unique Pastas and Rice Dishes to a Natural Foods Store Near You

PlantPure Foods is a relatively young company, but they definitely aren't novices when it comes to creating gourmet vegan meals. Their 12- ounce frozen entrées are surprisingly filling while remaining low in fat and sodium. Options include Java Barbequed Tempeh with Quinoa, Tangerine Forbidden Rice, and Tuscan Pesto Pasta with (vegan) Alfredo Sauce, but the best is the Sweet Potato Gnocchi with Romesco Sauce, featuring sweet roasted corn, red peppers, and onions.
PlantPure Foods also has a line of organic dry pastas that yield restaurant-quality meals in as little as 10 minutes. Who could resist trying imaginative vegan versions of Lemon Tarragon Rotini, Penne Tetrazzini, Portabella Mushroom Stroganoff, and Southwestern Cheesy Chili Mac? If you can boil water, then you're only moments away from a delicious pasta feast!
PlantPure products are available at some Whole Foods locations. Write to PlantPure Holdings, LLC, at 3560 West Ninigret Drive, Salt Lake City, UT 84104, or call the company at (866) 206-9876. Their website is www.plantpurefoods.com.
Remarkable MATCH® Products Top Most Other Meat Analogs

As longtime vegetarians and vegans, you can bet VRG staff members have sampled their share of mock meats. However, few come anywhere close to MATCH® premium meat alternatives. These products look and taste so authentic that even the most discerning carnivores won't know they're eating vegan. Staff favorites included the Italian Sausage rolled into savory meatballs, Ground Chicken stuffed with spinach and vegan cream cheese, and Ground Pork reminiscent of Southern-style chops. You can also experiment with the impressive Chopped Beef, Crab, and Breakfast Sausage varieties. In addition, the company offers a satisfying, poultry-inspired Stuffed Holiday Roast for celebrations through the year's end!
MATCH® meats are available by the pound or in larger packages for food service. To find out more, contact the brand's parent company at AB Foods, LLC, 8 Terry Hill Lane, St. Louis, MO 63131-2422, or call (314) 692-8320. You can also order these products online at www.matchmeats.com.
A Vegan Paradise ... Literally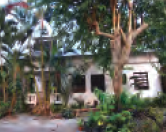 Ever wanted to have a relaxing tropical getaway without having to worry about your dining options? Maravilla Bed and Breakfast in Puerto Rico is perfect for those looking to experience a new culture, see beautiful nature, hike, and stroll the beaches while delightful vegetarian meals await. Dishes can be made according to any vegetarian specification, including vegan and raw foods. Guests can expect a variety of appetizing dishes, ranging from Carrot Cake Waffles and Hickory Tempeh for breakfast to Sweet Potato and Black Bean Soup, Seitan Stroganoff, and Wild Raspberry-Mango Parfait for dinner. Now, you don't have to fantasize about that wonderful vegan getaway anymore .... It exists in Puerto Rico!
To learn more, visit www.maravilla mountain.com, or drop the owners a line at maravillamountain@yahoo.com. Written by Veronica Lizaola, VRG Intern.