Posted on November 18, 2010 by The VRG Blog Editor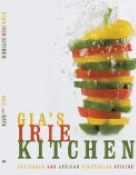 Thanks to Gia's Irie Kitchen for sharing this recipe for callou, a Caribbean/African dish.
DO YOU CALLOU?
Ingredients:
1 pound callou (also known as "callaloo", a green leafy vegetable; this can be found in markets that sell West Indian foods)
8 oz vegetable broth
½ cup chopped onion
½ cup chopped green bell pepper
¼ cup chopped seeded tomato
1 half scotch bonnet chopped
1T smoked soy chips
olive oil
1 tsp lime juice
Directions: Sauté onions, peppers, soy chips, garlic and scotch bonnet in olive oil, fold in callou and tomato add veggie broth and simmer till callou is tender.
Click here to purchase a copy of Gia's Irie Kitchen for more Caribbean and African vegetarian recipes.