Posted on August 22, 2011 by The VRG Blog Editor
By Lindsey Siferd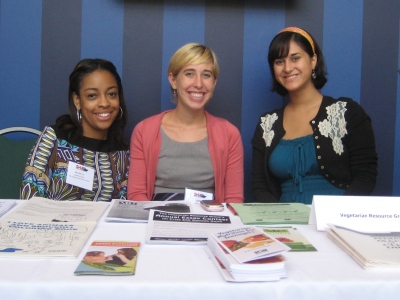 VRG Interns Jessica, Lindsey, and Yasmin staffing the VRG booth at the School Health Interdisciplinary Program conference in Towson, Maryland.
This past Monday, August 1, two other VRG summer interns and I staffed an outreach booth at the School Health Interdisciplinary Program (SHIP) conference in Towson, Maryland. Considering that the last two booths I worked at were an outdoor festival and a farmer's market in Baltimore, this conference was a very different experience.
SHIP was taking place at the Sheraton North Hotel, and I arrived bright and early on Monday morning. The VRG had a table with a tablecloth and comfortable chairs already set up, and I received a nametag as well. Since SHIP is a conference catering to health professionals, teachers, and anyone involved with the school system, we had packed a lot of materials that were directed towards children. I set up our booth with these materials, which included the "I Love Animals and Broccoli Coloring Book" and lesson plans, my new "My Vegan Plate" coloring page, the vegetarian chapter from the Pediatric Manual of Clinical Dietetics, handouts on veganism in pregnancy and childhood, being a vegan teenager, and many more. We also had all of our books on display and a colorful VRG sign.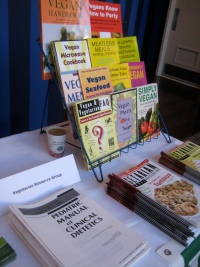 Soon after I set up, the other VRG interns, Jessica and Yasmin, arrived. It was great to do a booth with just interns, because we were able to talk to each other about our experiences with interning this summer, and also share different points of view with the people stopping by our table. Yasmin is a vegan who is head of UMBC's veg club on campus, Jessica is a nutrition major at the University of Maryland, College Park, and I am a vegetarian English major from St. Mary's College of MD, a small liberal arts school. All of these different backgrounds came together in an unique way, and we had many people ask us about why we chose to intern at the VRG and about our experiences with a vegetarian or vegan lifestyle.
Several visitors to the booth were interested in materials for their students, and they were pleased to see materials that dealt with nutrition for children. One woman took a sample of all of our materials, and said she wanted to show these to her contacts in the school system in order to help convince them to serve healthier school lunches. Several also said they wanted to check out our website's section on teens, family, and kids.
We were also surprised by the number of people that wanted materials for themselves, or their children or relatives. In this aspect, the SHIP booth was like the other two booths that I worked– people were personally interested in a meatless lifestyle, and wanted the tools to maintain one. One woman had even subscribed to our journal for several years, and was interested in buying our "Vegans Know How to Party" book for an event she was having later that month.
I think it was important for the VRG to have a table at the SHIP conference– we were able to reach a group of professionals who work within the school system, many of whom advocate for a healthier lifestyle for their students. Many people expressed their excitement at our presence at the conference, and were glad that we had free Vegetarian Journals and a variety of handouts for them to take. For the interns, it was also a way for us to experience tabling at a professional event, something which we all learned from. I hope that the VRG can continue to table at events like SHIP, and further help those in the school system aid students in pursuing a healthier lifestyle.
---
If you are interested in volunteering at a booth like the one above, please e-mail vrg@vrg.org. For a list of other ways to volunteer and get involved with the VRG, please visit http://www.vrg.org/getinvolved.php.
Donations from individuals like you help the VRG continue to sponsor outreach booths like the one mentioned above. To donate, please go to https://www.givedirect.org/give/givefrm.asp?CID=1565.