Posted on January 30, 2015 by The VRG Blog Editor
By Jeanne Yacoubou, MS
A food industry newsletter reported that Heinz Australia uses beef gelatin to clarify (i.e., make clear) its apple juice: http://www.foodproductiondaily.com/Processing/Hindus-outraged-by-beef-and-alcohol-use-in-Heinz-juice-manufacturing

Background on Juice Clarification
Many juices need to be clarified (fined) in order to eliminate a variety of suspended particles that make juice cloudy. Animal-derived clarifying agents include gelatin, isinglass (fish-derived), casein (a milk protein) or albumen (egg-derived).
Interested readers may learn more about the clarification process and find a list of common clarifying agents in the Introduction of the following article: http://www.scielo.org.ar/scielo.php?pid=S0327-07932007000400006&script=sci_arttext
Read here about the clarifying agent classification cited in the previous article: http://www.apps.fst.vt.edu/extension/enology/downloads/bentonite01.pdf
More information on clarification methods can be found here: http://www5.agr.gc.ca/resources/prod/doc/pdf/apple-jus_de_pomme_fs_eng.pdf
Heinz Australia Apple Juice
We emailed Heinz Australia several times to confirm the report that their apple juice was clarified with beef gelatin but received no response. The juice appeared to be the Golden Circle brand.
Then we contacted the Vegetarian/Vegan Society of Queensland to confirm that this information was accurate. Group member Maureen replied by email that it was correct and directed us to another report in an Australian newspaper:
http://www.brisbanetimes.com.au/queensland/no-beef-or-alcohol-in-our-juice-says-golden-circle-20140728-zxu6k.html
Heinz North America: Initial Calls
The VRG wanted to know if Heinz North America also clarified their apple juice with gelatin. We first called the Heinz consumer service line in September 2014. We were told that "juice is not clarified with gelatin." When we asked how it was clarified we were told that it was "proprietary information" and to call corporate headquarters for more information.
The VRG's initial call to Heinz' main office led to our leaving several voicemail messages to corporate employees. Our web searches suggested that Heinz North America manufactured juice only in Canada so we called the customer service line at Heinz Canada in an attempt to get more information.
Heinz North America: Follow Up Calls
After some conflicting information over a several month period, The VRG received a call back in a timely manner from a manager at the Heinz Canada consumer call center and was informed that "ascorbic acid is listed on the label and used to prevent the juice from turning brown." In response The VRG agreed that ascorbic acid keeps the juice from turning brown while it is on the shelf or in the refrigerator after opening but wanted to know if some other substance was used during the manufacturing process to remove any initial cloudiness. The manager took our questions and said she'd ask another department and get back to us.
The next day we received a call from the same manager stating that she had contacted the "R&D Department" and was told that
"gelatin is not used" to clarify the juice. She said that the R&D Department had told her "there is a filtration step through a mesh screen to help clarify the juice."
While doing follow-up, we received this information from a Heinz Canada Quality Technologist:
"Heinz Apple Juice is only distributed and sold in Canada… We only sell the 4.5 oz. Heinz Apple Juice and 1Liter Heinz Apple Juice in Canada. Heinz does not sell any other apple juices in Canada."
The Senior Technologist mentioned that Heinz produces a 1L pear juice that is also gelatin-free. She said,
"The 1L apple and pear juices are manufactured and sold only in Canada…The 4.5 oz. apple juice is manufactured in the USA and sold only in Canada…"
We asked if the American and Canadian manufacturing processes were identical and gelatin-free. The VRG received this response:
"Our Regulatory Team has advised that the apple juice concentrate used in our apple juices uses pectinase and amylase as processing aids. These items have been reviewed against our internal Heinz Vegetarian Policy, and determined that these are vegetarian…Neither [the American nor the Canadian] plant uses pectinase and amylase. These enzymes are used in the vendor process to make the apple juice concentrate, which is an ingredient in the Heinz Apple Juice. The same apple juice concentrate is used in the Heinz Apple Juice products (4.5 oz. and 1L) made by both plants…There are in-line screens in batching at the co-packers making the finished products."
Heinz' Arthur's Smoothies
http://www.arthursfresh.com/en/products.aspx
After hearing some conflicting statements, we received this information from the Canadian Senior Technologist about Heinz' Arthur Smoothies, which contain apple juice:
"I have confirmed with Marketing that Arthur's Smoothies are NOT available in the US currently…the apple juice used in the Arthur's Smoothies is not filtered and does not use enzymes or gelatin…Arthur's does not sell a product called Arthur's Apple Juice. We only sell apple juice under the Heinz brand, not the Arthur's brand…All our Arthur's Smoothies products contain apple juice…All Arthur's Smoothies are Heinz products (i.e. all Arthur's Smoothies bear the Arthur's brand, but these are all owned by Heinz; we have no Smoothies on the market that bear a Heinz logo). We make the following smoothies in various sizes:

•Arthur's Carrot Energizer
•Arthur's Grape Wildberry
•Arthur's Green Energy
•Arthur's Mango
•Arthur's Pineapple Coconut
•Arthur's Strawberry Banana
•Arthur's Strawberry Rainforest
•Arthur's Very Berry

The apple juice used in Arthur's Smoothies is not filtered by the vendor. The Arthur's Smoothies do pass through an in-line screen at the co-packer during batching."
The Heinz Canada Senior Technologist summarized all of this information for The VRG in the following table: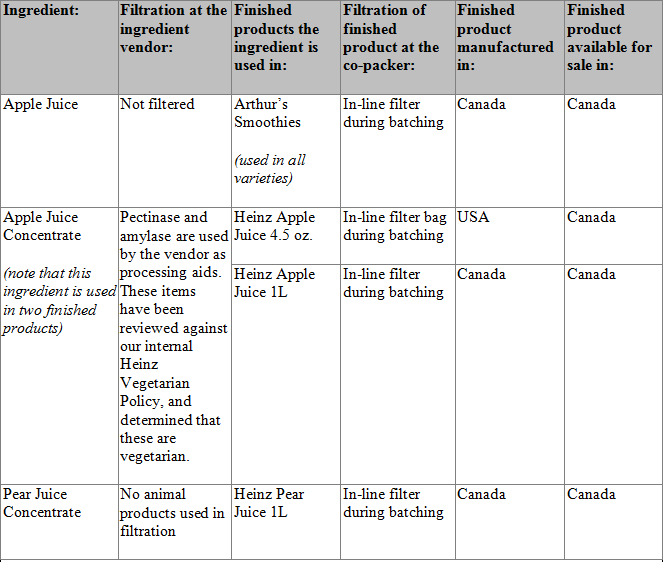 Heinz Vinegar Clarification
Regarding the clarification of Heinz Vinegar a Heinz Senior Manager in the United States told us that "diatomaceous earth is used for vinegar."
For more ingredient information, see:
http://www.vrg.org/ingredients/index.php
http://www.vrg.org/ingredients/#vinegar
To support The Vegetarian Resource Group research, donate at: www.vrg.org/donate
or join at:
http://www.vrg.org/member/2013sv.php
The contents of this posting, our website, and our other publications, including Vegetarian Journal, are not intended to provide personal medical advice. Medical advice should be obtained from a qualified health professional. We often depend on product and ingredient information from company statements. It is impossible to be 100% sure about a statement, info can change, people have different views, and mistakes can be made. Please use your best judgement about whether a product is suitable for you. To be sure, do further research or confirmation on your own.