Posted on February 15, 2017 by The VRG Blog Editor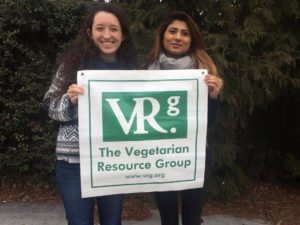 By Casey Brown, Intern (left in photo)
 
Last February, I received an email from Charles, the VRG Co-founder, asking if I would be interested in doing an internship with The VRG over the summer. I was so excited for this opportunity since it revolved around my passion: veganism. At first, I was worried I would not be able to accept the internship since I already was working part-time and scheduled to take multiple summer classes. However, The VRG was willing to work around my schedule so that I could have this experience.
The first task Charles gave me was to determine my schedule. He sent me an email of potential projects I could work on throughout the summer and additional booths that I could volunteer at. Charles customized the projects around my resume to meet my interests, so I was looking forward to all of them. Scheduling gave me practical experience that I know will help me with planning and time-management for my future careers. While I stayed on track with my schedule initially, I soon began to realize that some of my projects would take longer than I originally thought that they would, and I had to make many adjustments to my schedule over the summer.
Although I had been volunteering with The VRG through online opportunities since early 2015, I first met the staff in May last year at Green Festival, an event located in DC. Later in May, I came to the office for the Dietetic Intern Day, where I was able to meet the Dietetic interns from the University of Maryland, College Park. This was a great experience for me, as a Dietetics student, since I was able to connect with many others in my field of interest. It was also an eye-opening event since I realized that not all dietitians are entirely familiar with vegan and vegetarian lifestyles. It was really exciting to know that this was one of the interns' rotations and knowing that they would go home with many resources and an increased knowledge of vegan lifestyles thanks to The VRG.
My first official day in the office was in early June, and on this day, Charles gave me a tour of the office and a huge stack of vegan books to take home. He explained the history of The VRG to me and told me the multitude of things they are involved with. That evening, my family asked me how my day was and what my internship was like. I tried to explain everything that The VRG does, but I just wanted to say "everything." They do product reviews, restaurant guides, outreach, publish books, supply tons of resources, etc. I simply could not sum it all up.
One of my favorite projects was cooking vegan dishes for a local soup kitchen, Our Daily Bread. It was a great experience being able to donate healthy, delicious vegan meals to those in need, and it was even more exciting when we were able to visit the center. We met with the Volunteer Coordinator who told us that over one third of the people that they serve preferred the vegetarian options! This was such exciting news, and I am hopeful that many others in the community will continue to donate vegan dishes to their organization.
There were two other interns with me over the summer: Alicia and Heather. While they were here, one of the places we visited was Tuttie's Place. Here, we were able to meet with about thirty students ranging in age from 5-17, and we had the chance to teach them about the health benefits of vegan and vegetarian diets. We shared a simple vegan banana ice cream recipe with the kids, and the majority of them loved it, saying they wanted to make it again at home with their families! It was really nice being able to get involved with outreach, educate the community, and be able to see the impact we were making in the children's lives. They may not have wanted to transition to a vegan lifestyle after our event, but they were more educated, aware, and open to it. Many of them were hoping to implement a meat-free day within their households every week!
I also worked on many research projects and write ups over the summer. One project that Heather and I worked on was to determine the vegetarian/vegan options at the national parks. To do this, we reached out to each of the national parks to determine whether or not they offered vegetarian/vegan options within the parks, and many of them told us that they did. For the ones that didn't have any options in the park, we searched the surrounding area for vegan-friendly restaurants that people could visit, and we made a list of these.
We also interviewed old interns and scholarship winners for an article for the 35th anniversary of The VRG. In this, we asked each person about either their experiences interning with The VRG or winning the scholarship and how it influenced them to this day. This article will not be published in Vegetarian Journal until later this year, but it was really exciting and inspiring to hear each of their answers and to see how The VRG continues to impact their lives up to 15 years later.
I worked on many additional projects including a write-up of how to be vegan on a budget, providing tips for parents whose teen is making the transition, compiling nutritional information about all the different brands of vegan cheeses, and more. These were all interesting to work on and informative, so they can hopefully help many people who are vegetarian/vegan or considering the lifestyle.
In addition to all of my projects, I was also able to volunteer at many booths around Baltimore and DC. These included the Taking Action for Animals (TAFA) conference, Green Festival, a farmers market, Vegan Soulfest, DC Vegfest, the VSDC's Life-Affirming Thanksgiving, and others! I enjoyed each of these booths and the unique audiences that they attracted! It was an amazing opportunity to be able to connect with so many people who were either vegetarian/vegan or interested in making the transition at booths like TAFA and Vegfest. However, it was also really exciting and necessary to educate others in the community who were less knowledgeable about vegan and vegetarian diets at booths like the Green Festival and the farmer's market.
I was also able to attend the Natural Products Expo East in Baltimore. At this event, the other interns and I were able to sample many vegan products from a multitude of vendors. These items included vegan ice cream and cheeses, cruelty-free lotions, and much more. We went home that day feeling stuffed, satisfied, and overwhelmed. This event really opened my eyes to the growing market for vegan products and the increasing demand for these items.
I am extremely grateful for all of the connections I made throughout my internship as well. The VRG staff are all so kind, helpful, and welcoming, and it is always exciting to come into the office! Although I grew up in Maryland, I am not very familiar with the Baltimore area, and they told me numerous places to visit, events to go to, and restaurants to eat at! I also was able to meet and work with a few other summer interns, including a student from Germany, who I never would have met outside of this organization. Though we all worked while we were in the office, we typically tried a new vegan restaurant every week, and I was able to try Indian, Ethiopian, and multiple other cuisines that I hadn't tried before.
I am so thankful to have had this opportunity. While it was considered a summer internship, I have continued volunteering with The VRG since then. This internship has helped me make new connections with fellow vegans and Dietetics students, learn many ways to be an activist in my community, and grow my knowledge and passion for veganism. I am so thankful to Debra and Charles for giving me this opportunity.
For information about VRG internships, see http://www.vrg.org/student/index.php
To support The Vegetarian Resource Group internships and other outreach, donate at www.vrg.org/donate